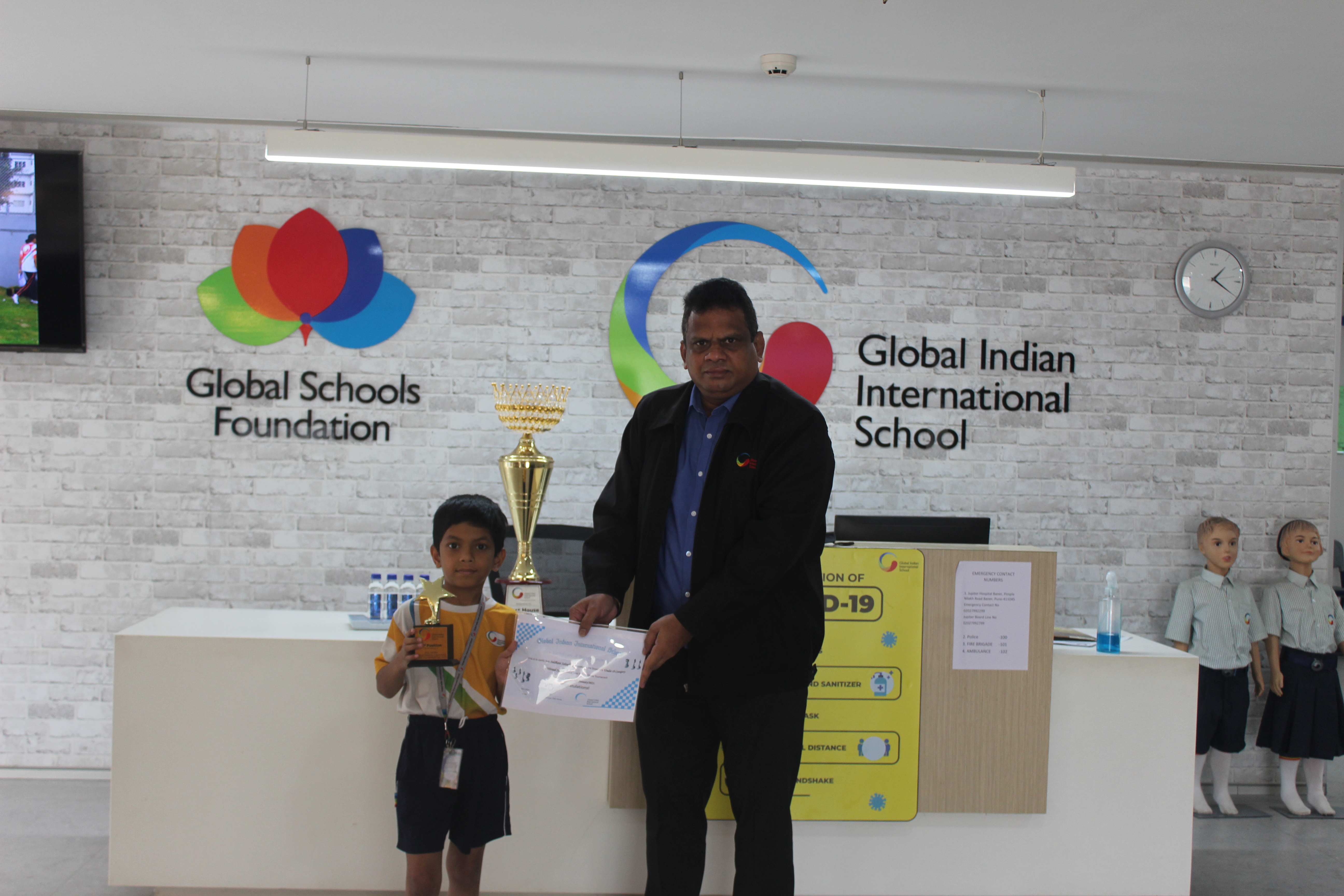 Students of Global Indian International School (GIIS), Smart Campus Balewadi recently participated in the virtual inter-school chess tournament hosted by GIIS Noida. The online competition had participants from several schools of Delhi NCR including GIIS all India campuses.
Siddhant Salunke, one of our young chess master of grade 3A made us proud by securing the second position in the Interschool tournament in the under-10 Category. He was also felicitated by the Principal Sir, Dr. N.K.P Ashok Raj at the campus.
The mega online chess tournament received a whopping number of registrations from various esteemed schools of Delhi/ NCR. Over 170 students were selected for the final participation in the Interschool chess tournament which was conducted online across three days i.e. from Jan 15th to 18th Jan 2021.
The chess tournament commenced with a grand opening ceremony by the GIIS Noida school principal- Mr. Ganesh Sharma where he declared it open by releasing balloons followed by a motivational speech. This coveted online tournament offered the students an opportunity to test, showcase and learn various techniques and skills of the game from one another during the play.
All the students participated with great enthusiasm and garnered appreciation and e-certificates for the same. There were four categories namely under-7, under-10, under-12, and under-15 for the participants to take part and showcase their outstanding calibre in the battle of minds.
It was a wonderful moment to witness such a sporting spirit during the competition. Through this medium, GIIS offered a platform that taught all to think from someone else's shoes. It is one of the greatest life lessons one can ever learn, and the game of chess helped the students with exactly that. Put simply, think from an opponent's perspective to triumph.
Under the GIIS's 9 Gems pedagogy of holistic learning, which fosters students with varied talents, encourages them to shine bright and achieve recognition on various big platforms. As per several types of research, chess is the only game which benefits young minds and transforms their mental capabilities if taken up from an early age. Chess also helps children to think logically, thereby enhancing their thinking and intellectual skills. It also encourages kids to develop resilience and sportsmanship which further encourages them to take steps ahead and become more responsible for their deeds. Kudos to the little Chess Master for this well-deserved achievement.