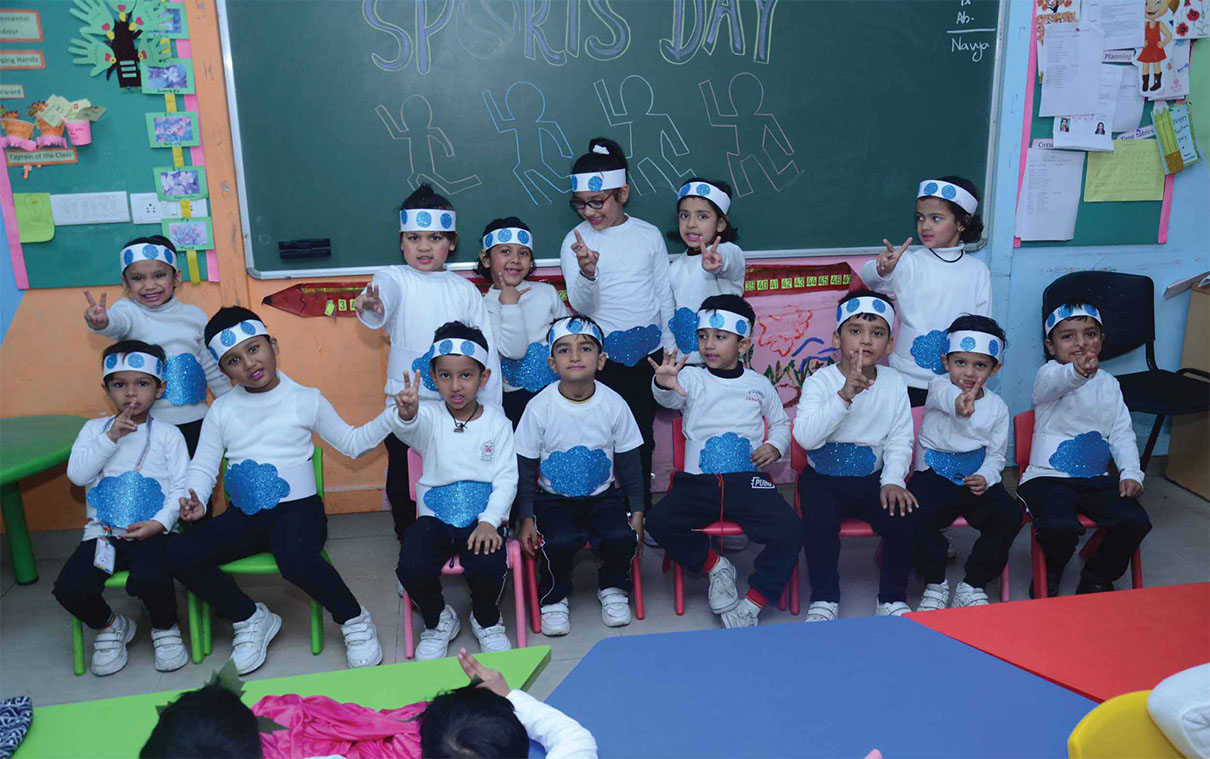 Sports, either the team-based or individual are great for children. They provide not just physical activity but also helps in building their self-esteem, confidence, and social skills while motivating them to excel in life. In recognition of the value and importance of sports in a child's life, Global Indian International School (GIIS), Noida celebrated its 7th Annual Sports Meet (Pre-primary) in the campus with full sportsmanship spirit.

The Chief Guest for the day was "Dr Arun Kumar Uppal" ex-vice Chancellor of Jiwaji University, Gwalior and Head of Laxmibai National Institute of Physical Education. He was a well-known sports personality during his school and college days.

The meet began with the welcoming of the Chief Guest by our little green ambassador from pre-nursery along with a strong message - "Go green and live green" followed by a dance performance. The Meet was declared open with releasing of balloons by Principal - Mr Ganesh Sharma, Rachna ma'am-Headmistress PP, Dr Arun Kumar Uppal, Mr Rajiv Bansal-Director Operations, GIIS India along with the pre-nursery children and sports mascot Doremon.

Flower Drill by the nursery students set the spirits high for the day. Children were dressed in green and black outfits with flower headgear and big flowers in their hands. They performed a drill with music and showcased their star moves and added vibrant colours to the event. KG students performed a "Dupatta Drill" in which they energetically and enthusiastically performed with the music. They showcased their physical motor fitness skills through the dupattas to make the surrounding alluring and delightful. It was an amazing performance that left the parents awestruck.

They participated in races like bin-bin race, save water race, broom-broom race, eco-friendly shopping race, breathe O2 race, plant a sapling, carpool race, etc. Each race was themed at promoting the idea of a Green India among students and the parents. This year's annual sports day was themed around "Ek Bharat Shreshtha Bharat". Since Delhi has been battling with the low air quality index and poor air quality, the activities were weaved around the ways of reducing air pollution and its possible solutions."

It was overall a fun-filled day which gave a strong message of- Clean, Green and Eco-Friendly India. Children learnt the spirit of sportsmen ship, patience, working as a team, being in discipline and coordination with one another. With this sports day, our students got to reinforce their learning on different aspects of 'Fit India' and how to keep the environment healthy and safe.

Lastly, our children got the opportunity to develop social and problem-solving skills. They learned to build and work on their confidence and self-esteem and accomplish tasks they have never done before while learning how to move their bodies in new and different ways.