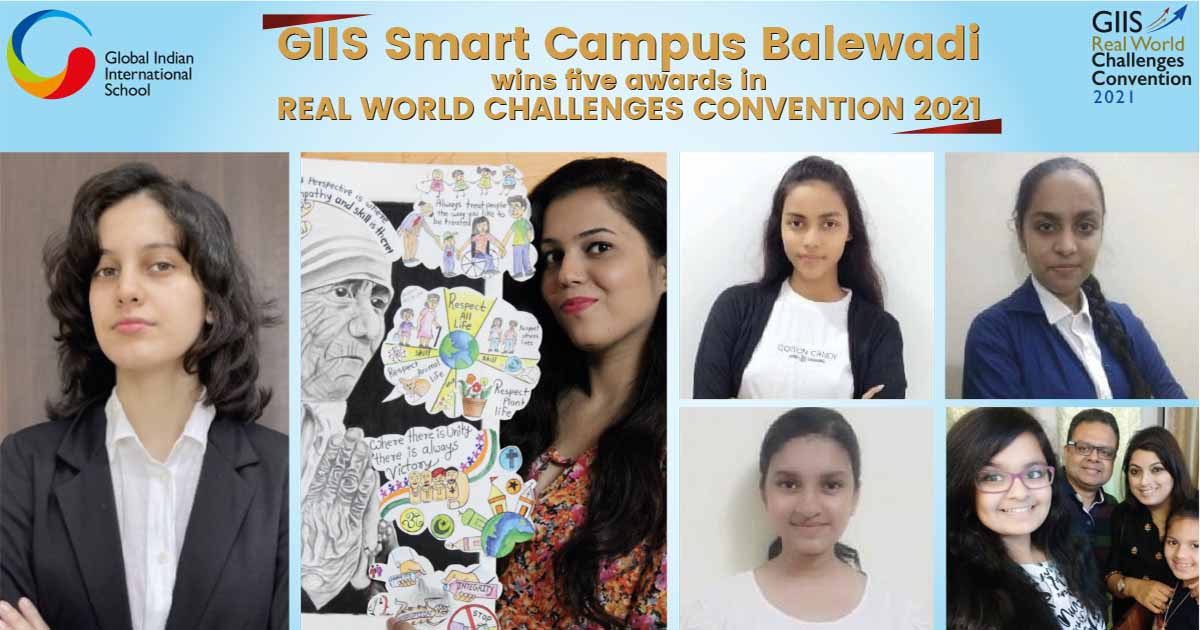 Students of GIIS Smart Campus Balewadi put on an impressive performance as they walked home with five awards in the Real World Challenges Convention (RWCC) 2021 which took place on December 1.
GSF has entered its 20th year of providing Global excellence to students across the globe. Year-long celebrations and activities have been planned across all the GIIS Campuses to commemorate this achievement.
In the 'Innovative Social & Commercial Entrepreneurship Challenge' (ISCEC)- Secondary Team Result, the trio of Harshita Shukla, Gargi Devshatwar, and Manaswini Kumar clinched the second position. Meanwhile in the 'ISCEC'- Senior Individual results, Ayushi Nawal stood in the third position. In the Transformation Turncoat- Secondary event, Aishani Acharya finished in the third position.
In the 'A Valuable Bond' event, Poonam Siddhiqui, Parent of Maira Siddhiqui clinched the second position. Meanwhile, Ms. Priyanka Patil from the Balewadi campus stood third in the event which was called 'An Educator's Perspective (Art)'.
'Innovative Social and Commercial Entrepreneurship Challenge' was organised to provide a platform for entrepreneurs of tomorrow. Participants showcased their business plans, entrepreneurial talents, and the importance of social businesses. Participants described the distinguished products and services. They presented the Marketing Plan detailing how they will reach business products/ services to customers. Most importantly they detailed about Operational Plan i.e., how the business will be operated on a day-to-day basis. Finance being the lifeblood of business, participants illustrated various sources and uses of business finance. As per the CSR policy, they also highlighted the overall social/commercial impact of the business idea.
In the Transformation Turncoat event which was an individual one, topics were given to participants 15 minutes before their speech. Participants got 1+1 minute to speak. One minute to speak for the motion and one minute to speak against the motion. The topic of the turncoat was related to the theme.
In the event, 'A Valuable Bond', which was open to family (parents, students, and family members), students with their families prepared a 2-minute video presentation on how they nurture values like empathy and gratitude in their families.
In the event, 'An Educator's Perspective' which was an individual event, teachers had to submit an essay or an art piece on the same. The participants could either submit a PDF document of a maximum of 1000 words for an essay or a scanned copy or photograph of their art piece on any medium (E.g. Drawing, Painting, Sculptures, etc.). Essays and artwork were judged separately.
Speaking about her experience of the event, Aishani Acharya, a 9th grader said "I participated in the Transformation Turncoat event. It was an enriching experience in terms of knowledge. The whole GIIS team did such a great job organizing it, including the teachers at GIIS Balewadi, who were there with students at every step, helping, guiding, and empowering them. It was very well conducted and provided us students with a platform and opportunity to share our thoughts and ideas in the form of a turncoat debate, wherein, we were able to look at the unique topics provided from various perspectives. It was a pleasure and honour to participate in this competition."