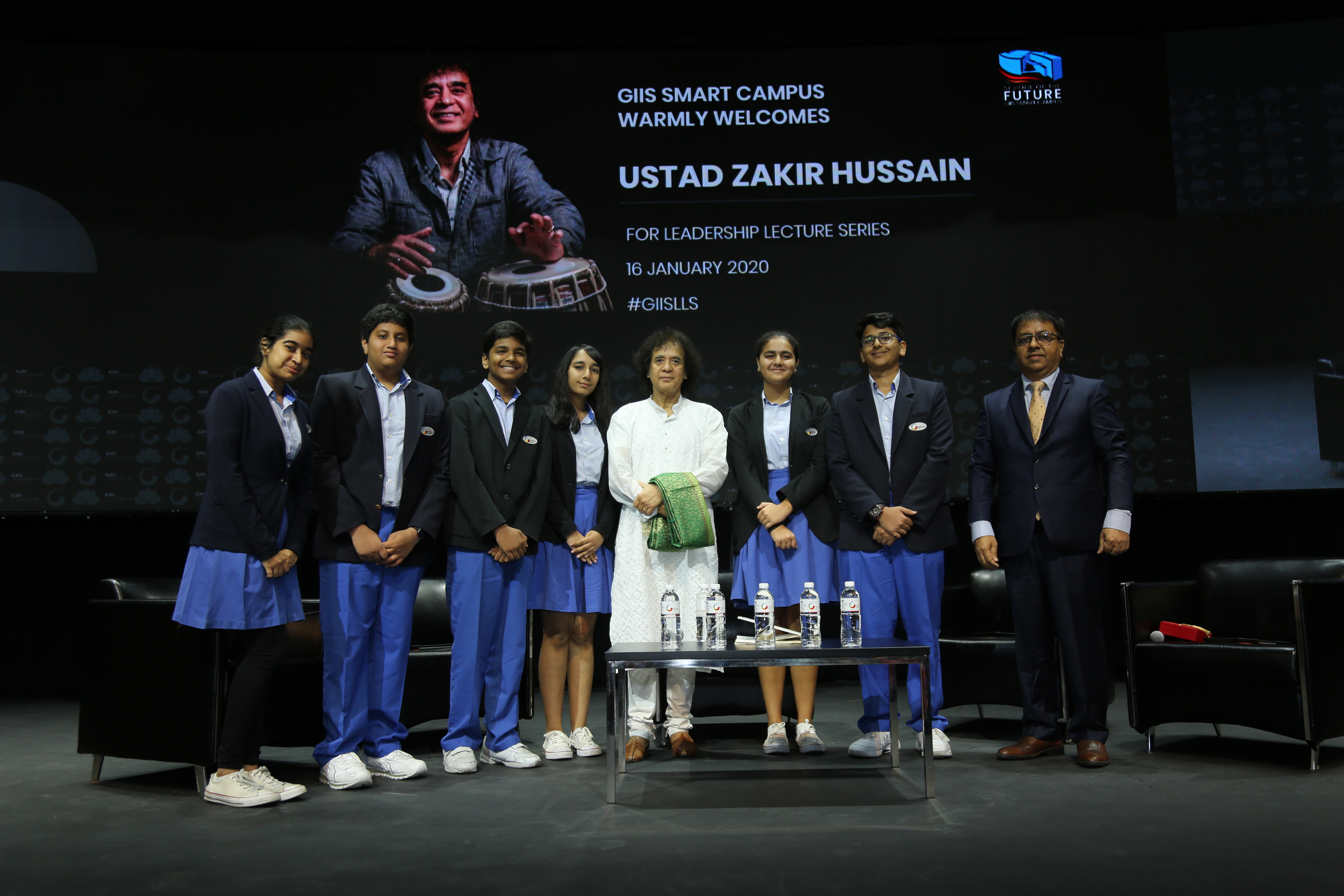 Ustad Zakir Hussain visited GIIS SMART Campus for a Leadership Lecture Series and also inaugurated the Percussion Studio amidst cheer and applause from students and staff.
The first LLS of the year 2020 turned out to be a special one as Ustad Zakir Hussain did the honours of unveiling the plaque at the Percussion Studio and also address the students in an engaging session. His friendly demeanours made the interaction joyful for the students who instantly felt connected to him.
Students at the Percussion Studio waited eagerly for him to arrive and unveil the inauguration plaque. They played a few beats to welcome the eminent table player and in return received a lot of appreciation from their performance. Mr Hussain was quite impressed with the state-of-the-art facility at the Percussion Studio and later remarked that he has not seen so many instruments together even in music schools.
During his address to the students, Ustad Zakir Hussain shared anecdotes and experiences from his childhood that helped shape his life and profession. He emphasised on the importance of education and how he was one of the only children in his locality to attend school on the insistence of his mother. He said that education is important for everyone, irrespective of the field he or she is in, as it helps in opening both the right and left side of the brain and makes life an enjoyable journey.
He captivated the audience by producing catchy beats by gently tapping his finger on the mic in his hand.
Ustad Zakir Hussain's responses to the questions asked by the panel of students during the LLS were motivating and insightful. He inspired the students to be life-long learners by saying that "the power of learning is not just limited to four walls of the school and one should learn from everything that is around."
About music, he expressed his views that "practising music has its own benefits as it acts like a therapy and a meditative art form that heals one from inside and helps in improving focus and concentration."
He was quite impressed by the smart facilities at the campus and congratulated the chairman for visualising such a school and bringing it to life.
The LLS with Ustad Zakir Hussain was a brilliant session that gave a lot of food for thought to the students and inspired them to be humble and modest even after reaching heights of success.
To view photos of the event, click here.