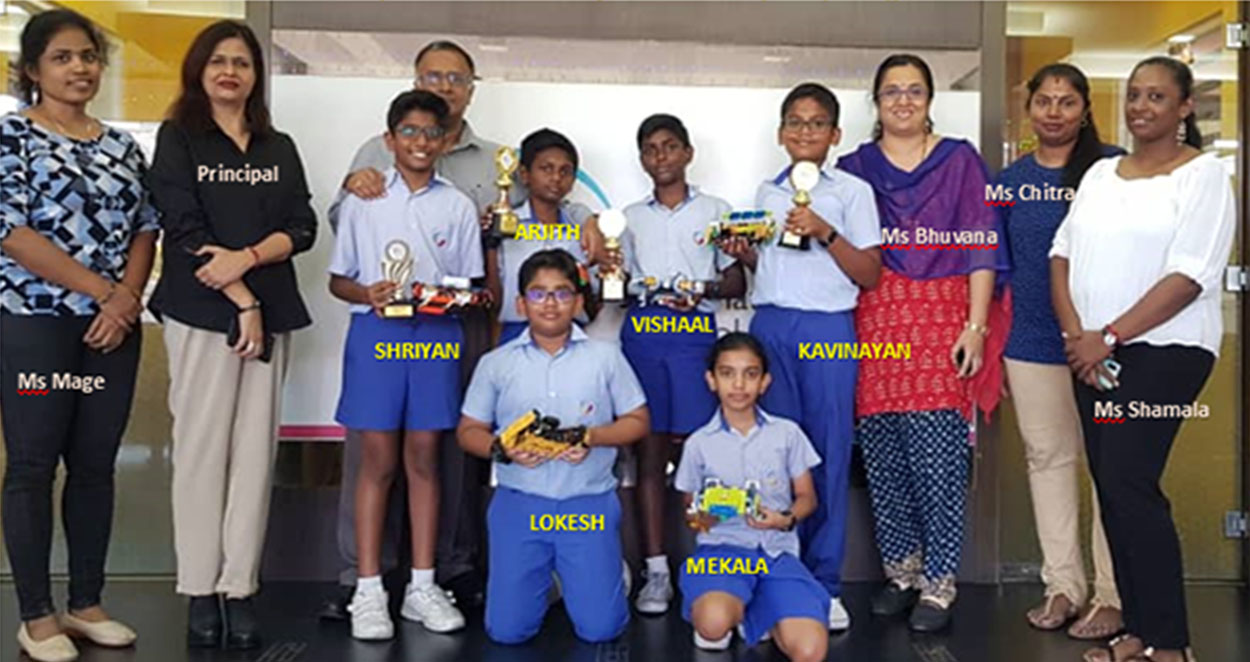 Followed by the Intra-School Robotic Competition - Steel Collared Aesthetic Challengers (SCAC) held in GIIS KL during first term of this academic year 2019-20, GIISKL participated first time and won first, second and third prizes in the Interschool Robotic Competition STEAMCUP Malaysia 2019.
VISHAAL SEKAR 7D - First Prize
ARJITH MUTHUKRISHNAN -Year 8 - Second Prize
KAVINAYEN ANBARASU - 6A - Third Prize
LOKESH RAGHAVENDRA GURURAJAN - Year 8
MUTHU MEKALA ANAND - 6C
SHRIYAN JAWAHAR REDDY KADARU - 7D
STEAM CUP MALAYSIA is an annual robotics competition organized by Robotclub® Malaysia since year 2012. The certificates are provided and endorsed with Minister of Education Malaysia. The STEAM CUP MALAYSIA (previously called as [email protected]® or STEAM MALAYSIA CUP) is ideally a robotics competition opened to the members of [email protected]® throughout Malaysia, as a platform to gather all the members for competency challenge, knowledge improvement, sharing of experience, skills enhancement and enjoyment. This year they have opened new category for schools "Bug Sumo". Various school have participated and there were 500+ participants in all categories.
GIISKL teaches STEAM (Science, Technology, Engineering, Arts and Mathematics) through the use of [email protected]® robotic kits as part of its curriculum. Our objective in GIISKL is to increase the students' interest in exploring their engineering knowledge through practical classes. All our students are using quality robotics products made in Korea. We adopt Korea and USA robotics teaching module which is customized to cater to our Malaysia students' needs and interest. We teach not only to assemble robots but also focus more on practical use of mechanical parts, programming learning, creating projects, enhance student's presentation skills and exploring to Techno Era.
Photos : https://drive.google.com/open?id=1AcsQauRfkrFFXE5ro26gd8iCVzhyF5YL
Video : https://drive.google.com/open?id=1peLIkXWTPy0bCI_ZxghUagMdye8xZF6B