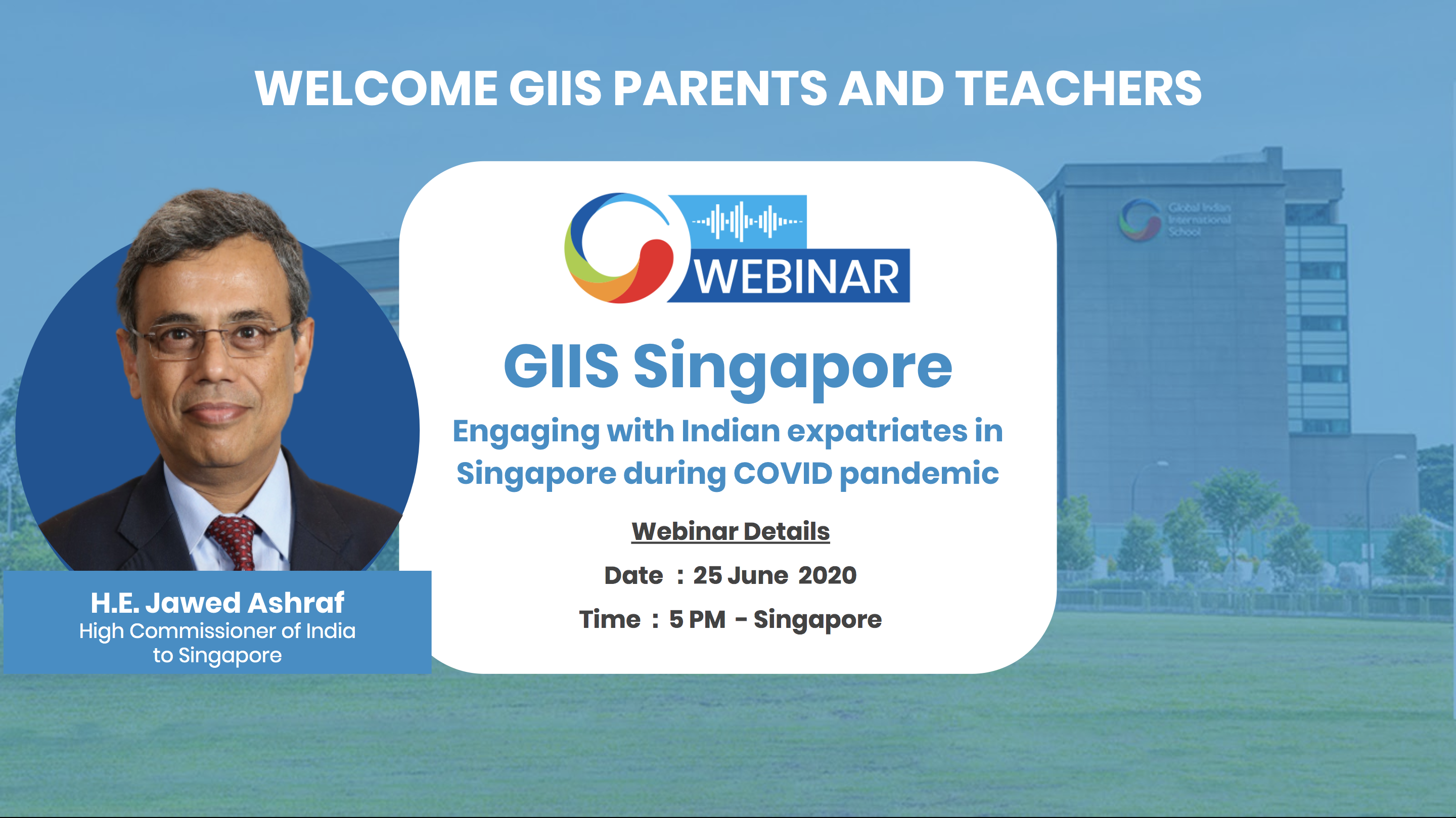 H.E. Jawed Ashraf, High Commissioner of India to Singapore, spoke to students and parents on "Engaging with Indian Expatriates in Singapore during COVID Pandemic", during a Leadership Lecture Series webinar conducted on 25th June.
More than 250 participants attended the webinar and heard Mr Jawed elaborate on the efforts taking by Indian High Commission to help Indian expats, migrant community and Indians temporarily stuck in Singapore due to the pandemic, while also highlighting the important role played by GIIS in times of pandemic.
Mr Jawed opened the speech by talking about his long association with GIIS and how the school is not an epitome of NextGen learning but also strongly upholds the strong values and aims at developing students with strong character. Appreciating the school's emphasis on Gandhian values, he said," I don't know many schools in India that have a dedicated Gandhi Centre."
Watch here Mr Jawed's appreciative comments about GIIS:
Moving further, Mr Jawed shared how Indian High Commission worked day and night to repatriate 6000 Indians stuck in Singapore due to sudden advent of the pandemic. This comprised students, tourists, people unwell, people who had to urgently reach their families in India and may others for whom it was extremely urgent to travel back to India. It was a herculean task and is still going on.
Watch the Q and A session where the panellist students ask questions for Mr Jawed:
He also spoke about how well Singapore Government managed the spread of the virus through contact tracing and containment strategy. Mr Jawed also highlighted the extreme support that was offered by the Government to the migrant labours, a large population of whom are still facing the heat of the virus. He pointed out that Indian expat community and organisations like GIIS are offering relentless support in helping the government manage the situation.
The LLS ended with Mr Atul Temurnikar thanking Mr Jawed for his immense contribution and the encouragement and guidance for the entire GIIS fraternity for the last few years.
Here is a glimpse of Mr Atul's thank you speech:
Click here to read the entire thank you speech by Mr Atul.
The LLS offered great insight to the students and parents about the problems faced by Indian expatriates and migrant community in Singapore and also motivated them to give back to the society and stay integrated with the local community as much as possible.