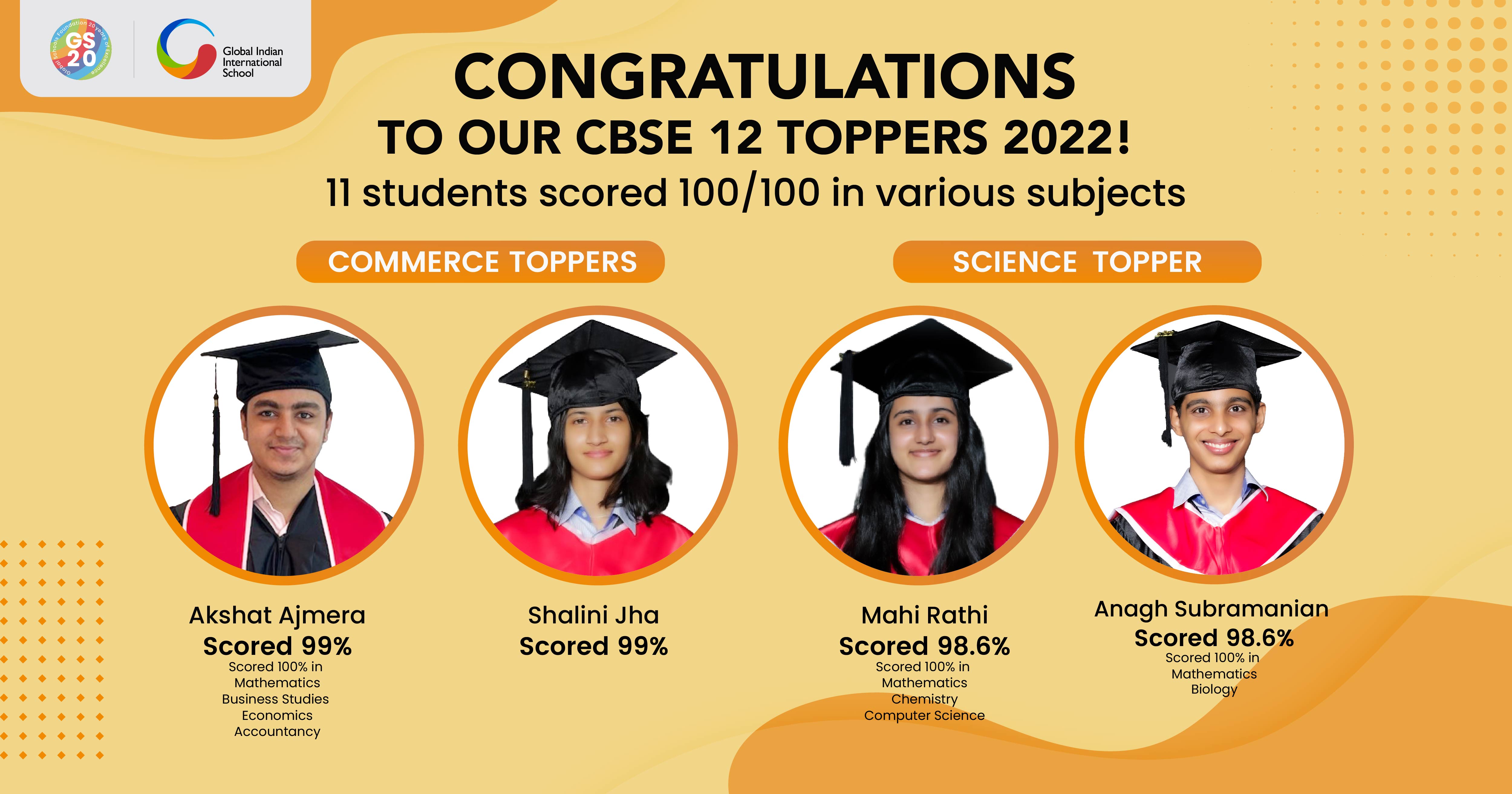 Scholars Shalini Jha and Akshat Ajmera topped the CBSE 12 Commerce Stream, while Mahi Rathi and Anagh Subramanian topped the Science Stream in the CBSE 12 Board results for the SMART Campus, which were announced yesterday.
Both Shalini and Akshat from Commerce stream emerged as toppers with 99% marks. Akshat was also a subject topper scoring 100/100 in four different subjects. Both came to Singapore from India on a Global Citizens Scholarship for Grade 11 and 12.
In the science stream, both Mahi and Anagh scored 98.6% to top the Science stream and round off the top three achievers list of the school. Mahi and Anagh scored 100/100 on three and two subjects respectively.
The overall performance of the school was excellent with the school average recorded at 85.8%.
Nearly half of the cohort scored above 90% marks, and more than 26% scored above 95% marks. 11 students scored 100/100 in various subjects.
Some of the major highlights of this year's results are:
School average is 85.8%
26% of students scored above 95%
46% of students scored above 90%
Science Stream average 88.5%
Commerce Stream average 80%
Happy with the great achievements of students, Ms Melissa Maria, Principal of GIIS SMART Campus said, ''I want to congratulate our CBSE Class 10 and 12 students for achieving such fantastic results, in the 2022 exams. We are nothing but proud to see them emerge as victorious and are sure they would create many such milestones in their future endeavours. I would also like to congratulate the teachers, coordinators, and academic supervisor for laying the stepping stones for the students to succeed and the parents for their support always."
GIIS, the first school to offer CBSE syllabus in Singapore, has been consistently producing toppers in the curriculum. Each year, its students do exceedingly well in CBSE, which has been a strong pedagogy taught at the SMART Campus in Singapore. The curriculum is a mix of 21st-century education and skill-based holistic development which makes our students global citizens.
Percentage of students scoring 90% and above Subject-Wise
75% of students in Computer Science
74% of students in English
56.2% of students in Chemistry
54.5% of students in Business Studies
51.2% of students in Mathematics
48.1% of students in Biology
40.7% of students in Economics
36% of students in Accountancy
34.2% of students in Physics
27.8% of students in Informatics Practices
Highest Scores Subject-Wise
Subject

Highest

Subject Toppers

Computer Science

100

1) MAHI ABHISHEK RATHI

2) GARLADINNE ADITYA

3) PALAKSHA DROLIA

4) SIDDHANT GOPAKUMAR NAIR

5) AVYAY DILISH

Mathematics

100

1) AKSHAT AJMERA

2) MAHI ABHISHEK RATHI

3) AJAY ARVIND

4) ANAGH SUBRAMANIAN

Chemistry

100

1) MAHI ABHISHEK RATHI

2) MATHEW PAUL

3) KARTHIK MEPURATH SRIRAMAN

Business Studies

100

1) AKSHAT AJMERA

2) MUSKAAN AGGARWAL

Biology

100

1) ANAGH SUBRAMANIAN

Economics

100

1) AKSHAT AJMERA

Accountancy

100

1) AKSHAT AJMERA

English

99

1) SHALINI JHA

2) MUSKAAN AGGARWAL

Physics

99

1) GARLADINNE ADITYA

Informatics Practices

99

1) VINIT SHAH

History

81

1) ANAGHA MUTALIK DESAI
Subject Averages
| | |
| --- | --- |
| Subject | Average(Percentage) |
| Computer Science | 91.7 |
| English | 91.3 |
| Biology | 88.4 |
| Chemistry | 87.2 |
| Mathematics | 83.8 |
| Physics | 83 |
| Business Studies | 82.5 |
| Informatics Practices | 81.3 |
| Economics | 80.8 |
| Accountancy | 76 |
| History | 75 |
Students scored 95% and above
| | |
| --- | --- |
| Student Name | Percentage |
| AKSHAT AJMERA | 99 |
| SHALINI JHA | 99 |
| MAHI ABHISHEK RATHI | 98.6 |
| ANAGH SUBRAMANIAN | 98.6 |
| GARLADINNE ADITYA | 98 |
| NANDITA RAMESH | 98 |
| MUSKAAN AGGARWAL | 98 |
| AYUSH GARG | 97.6 |
| AJAY ARVIND | 97.4 |
| PALAKSHA DROLIA | 97.4 |
| ABHINAYA RADHAKRISHNAN | 97.4 |
| HIRANMAYI PARTHASARATHY | 97 |
| KARTHIK MEPURATH SRIRAMAN | 97 |
| AABHAS BANSAL | 97 |
| SUSHMITA RAMARATNAM | 96.6 |
| AMRUTH PARAKKUNNATH | 96.4 |
| AVYAY DILISH | 96.4 |
| MATHEW PAUL | 96.2 |
| BISHMIT ROUT | 96 |
| YASH SAGAR DIGHE | 95.8 |
| MOULIK PARE | 95.6 |
| RAHUL VIJAY | 95.6 |
| SIDDARTH CHILUKURI | 95.6 |
| MATHANGI SHANKAR | 95.2 |
| NEHA CHANDRAMOHAN J | 95.2 |
| RAMACHANDRAN AISHWARYA | 95.2 |