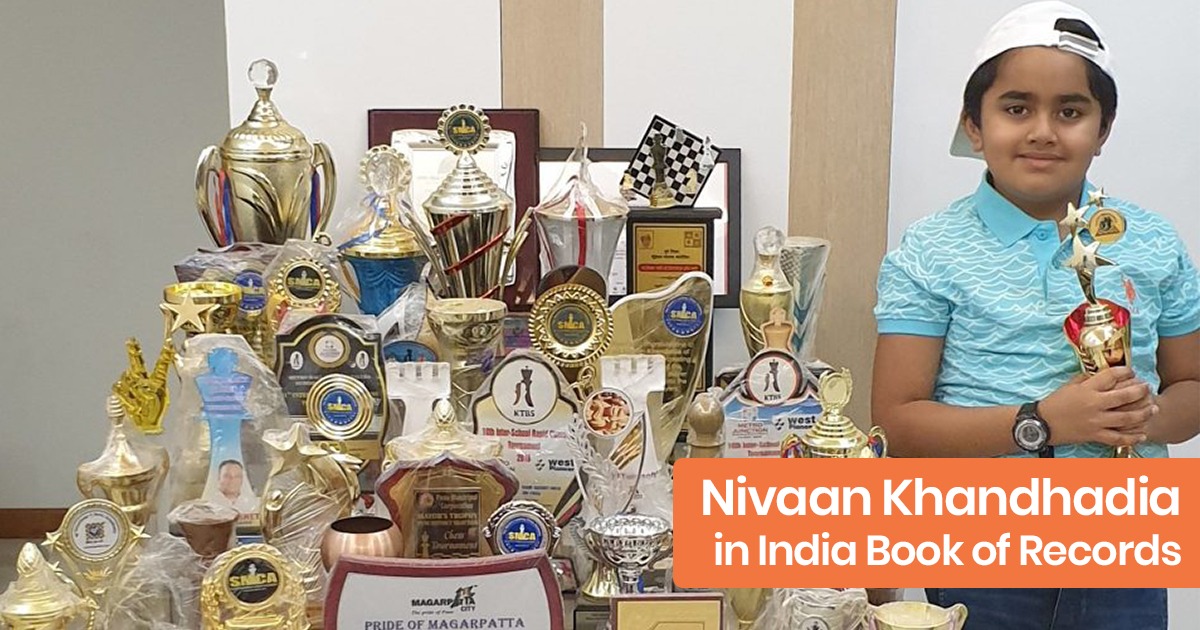 Nivaan Khandhadia, Grade 3 student of GIIS SMART Campus has been acknowledged by India Book of Records for playing most number of tournaments by an eight-year-old boy. The chess prodigy is credited with playing over 700 tournaments and championships and winning 60 trophies and 27 medals, at the age of eight.
The mention of Nivaan in India Book of Record reads, " The record for being a brilliant chess player was set by Khandhadia Nivaan Rathin (born on February 15, 2012) of Pune, Maharashtra. He has competed in 84 major Chess championships, played 648 tournament rounds, won a bronze medal in 'World School Championship' and a gold medal for India in Singapore 'National Age Championship'. He earned his Elo rating of 1137 points and World No. 10 position at the age of 8 years, 1 month and 18 days, as confirmed on March 20, 2020."
Nivaan's father Mr Rathin Khandhadia said, " the criteria to appear in the record book were quite stringent. The entire process took almost three months and there were several rounds of vetting. Following which, Nivaan's name was added in the record book. We are very happy that Nivaan's passion and acumen in chess have been recognised by the custodian of great records made by Indians."
As part of the elaborate selection process, all the relevant records, evidence of participation, certificates and photos were submitted to India Book of Records for verification following which there were personal interviews to further strengthen the claim. Only after the panel at Indian Book of Records was fully convinced of Nivaan's exceptional achievements, his name was included in the record book.
GIIS is proud of Nivaan's achievements and wishes him many such recognitions.
Being a student of GIIS, Nivaan gets a number of platforms where he can showcase his talent in chess and make a mark for himself.
Read more on the achievements of Nivaan:
Little chess master Nivaan Khandadia clinches U7 trophy
GIIS Chess experts win laurels at 60th National Inter-School Team Chess Championship 2019
Another feather in cap for young chess master Nivaan Khandhadia