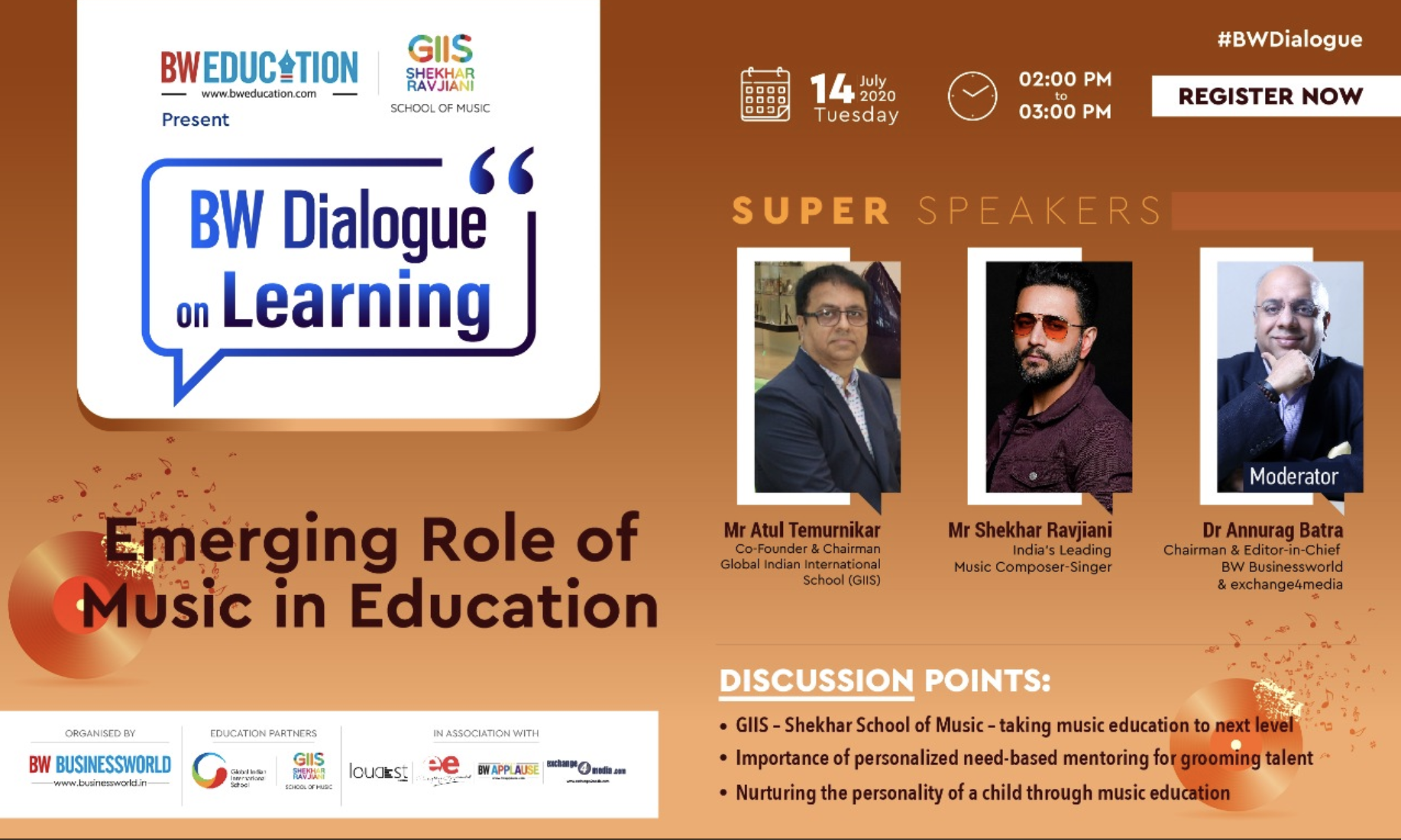 Mr Atul Temurnikar, Co-Founder and Chairman of Global Schools Foundation was together in conversation with Mr Shekhar Ravjiani, India's leading Singer and Composer, in a virtual webinar session organised by BW Education.
The BW Dialogue on Learning: Emerging Role of Music in Education witnessed a great exchange of ideas between the Chairman of GIIS and the Music Guru, both of whom have recently collaborated to launch a music school – GIIS Shekhar Ravjiani School of Music.
The conversation was moderated by Dr Annurag Batra Chairman and Editor-in-chief BW Businessworld and exchange4media. Both the speakers shared insights on issues like taking the music education to the next level, the importance of personalized grooming in teaching music and the role of music in nurturing the personality of a child.
Watch the BW Education Dialogue here:
The conversation started with the icebreaker question asked by Mr Batra on how life has been in the past 3 months since the pandemic started.
While answering the question Mr Atul shared about the vision of the futuristic school framework that comprises school of the future and holistic 9GEMS framework worked towards minimising disruption to education.
Mr Ravjiani added that he thoroughly enjoyed video session with GIIS students during the workshop. He commended the confidence and fearlessness exhibited by the students.
He also added, "Making a career in music is one approach and falling in love with music is the other. In the last 25 years, I have seen that people who focussed only on learning music, destiny on its own drives those people to become successful. We can make sure to show the students, the right path. I am going to be taking them through my experience and through the process of how a song is composed, what should be their expression via music and how should they feel while making a song. I am going to teach them a lot of fine things that are going to improve their music."
GIIS Shekhar School of Music is a novel initiative, one of its kind collaborations that will take the students' interest in music to the next level. The virtual workshops conducted by Mr Ravjiani will offer individualized training and groom the students in various areas like singing, music composition, lyric writing and more.
Click here to know more about the school.