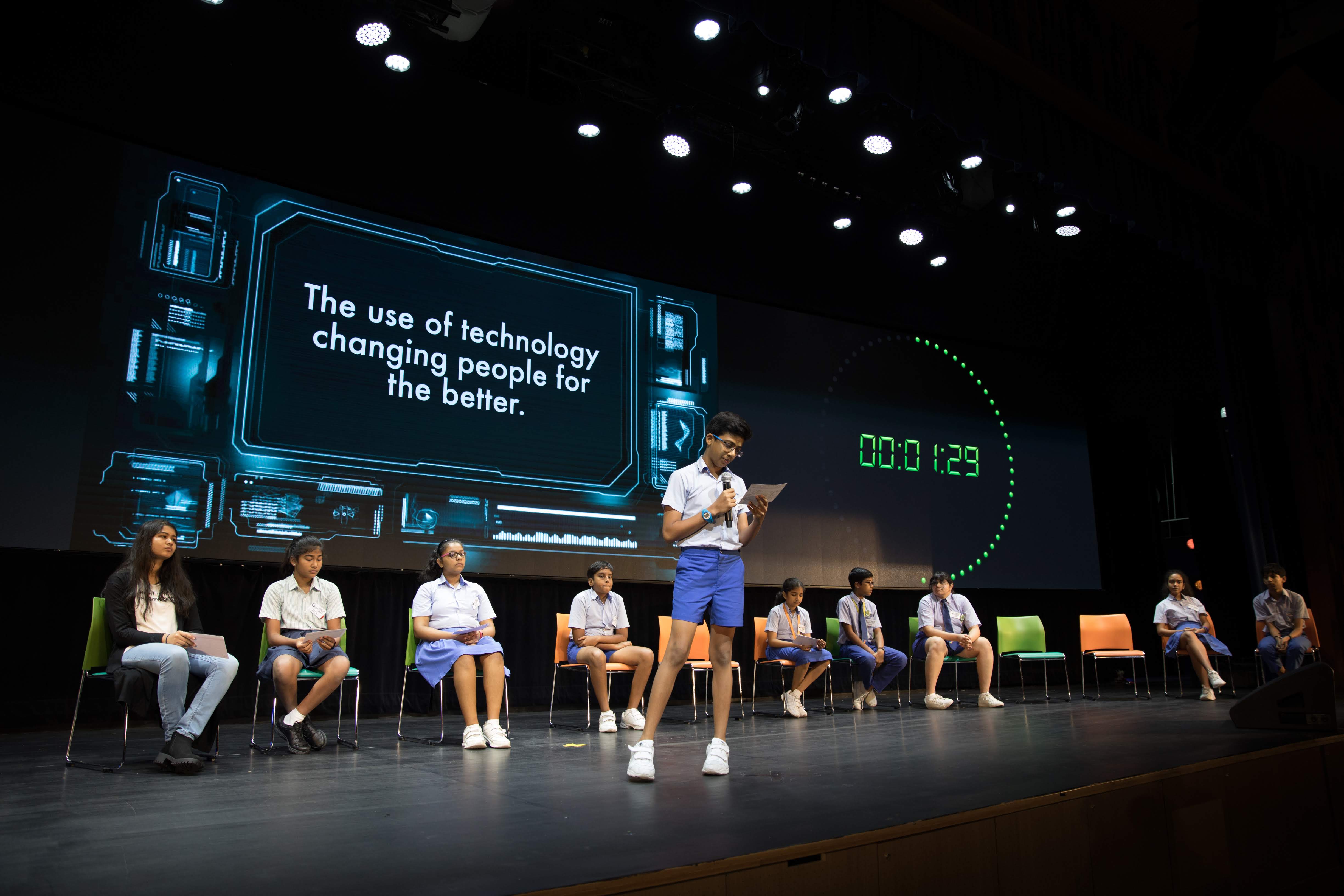 Real World Challenges Convention (RWCC) 2019 defied the rule that intellectual thinking and intelligent ideas can occur only after a certain age. The young students of GIIS demonstrated immense versatility and dynamism of ideas through group discussions and competitions that were held on 4th December at GIIS SMART Campus during the mega event, RWCC.
Gripping sessions of pre-judged and on-the-spot contests kept the students engaged for weeks. Six hundred students from GIIS campuses across the world participated in the mega competition. The overall prizes were awarded to GIIS East Coast for the Primary category and GIIS SMART Campus for the Secondary category.
RWCC 2019 was themed around: 'Towards 2050… #ICE Age'. As the format of the event goes it featured a plethora of competitions designed to instil Innovation, Creativity and Entrepreneurship, that spells for ICE in the theme.
The three ideas were reflected, elaborated, and debated upon by primary and secondary students through effective presentations, on-the-spot speeches, musical performances and essays. Interesting contests such as 'App-Novation' for digital app-making skills and 'Transformation Turncoat', oratory and debate competition kept the students on their toes. Going beyond the usual, innovative contests like 'Smart Strokes for Young Folks'- an art competition- and 'Opus for ICE'- song composition and performance saw high-levels of engagement from the participants. For pre-judged events like 'Lil Mavericks' and 'AdZapp' the winners showcased their entries on the day of the event.
The event was graced by eminent personalities from various industries like Banking and Quality. Ms Tan Soh Leng, Managing Director at DBS Bank and Ms Maya Desai, Director – IMC Ramkrishna Bajaj National Quality Award Trust, delivered powerful speeches that emphasised the role of student-led events like RWCC that instil 21st-century skills among students. With a firm belief, the GOHs conveyed that innovation, creativity and entrepreneurship are the keys to a better future.
Inspiring speeches were also delivered by Principal Melissa Maria and Mr Kaustubh Bodhankar, Deputy CEO Global Schools Foundations before the event started.
It was an overwhelming experience for the teachers to see the immense confidence and talent displayed by the participants.
The three components of 'ICE', Innovation, Creativity and Entrepreneurship are the cobblestones that make the pathway to the future. The profound success and appreciation received by Real World Challenges Convention 2019 are indicative of the fact that GIIS students truly have the potential to become responsible, global citizens of tomorrow.
Click here to see the photos of RWCC.