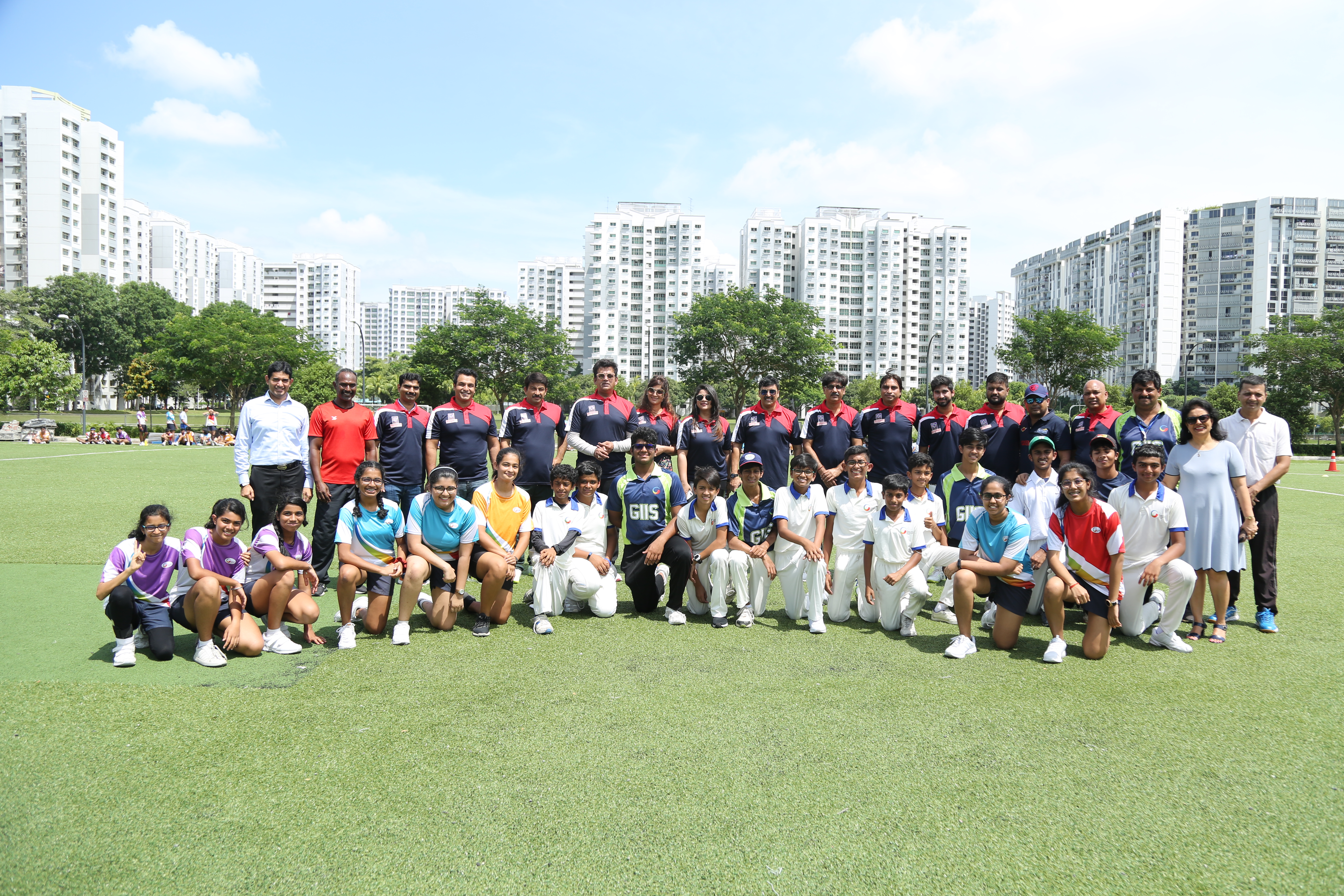 The Gold Squad students of GIIS SMART Campus enjoyed some great batting and bowling moves as they played cricket with Indian Film actors during a friendly match organised in the school's field on 6th of December.
Indian film actors like Manoj Tiwari, Ravi Kishan, Vinay Anand, Anara Gupta and Sapna Choudhary came and interacted with the students during various activities like a cricket match, podcast and interviews conducted by the students.
The day began with the main highlight, that is the friendly cricket match. Mr Manoj Tiwari and Mr Ravi Kishan served as the captains of the two teams. Mr Tiwari's team won the toss and chose to do the batting first. The audience was thrilled to see the batting skills of Mr Manoj Tiwari who scored 74 runs by hitting 9 fours and 6 sixers.
The Gold Squad team members who played in the match were - Aryan Jain, Swayam Bandyopadhyay, Darshil Agrawal, Paarth Tripathi, Rusheel Gongulur, Vihaan Hampihallikar. Apart from the Gold Squad members, other students - Risa Maria Raphael, Nidhi Dadhich Ishita Agarwal and Tansha Surendra contributed in fielding. Risa Maria Raphael received a special mention from Mr Tiwari on her courage on being the opening bowler in the first over. Singapore Junior International players Armaan Tripathi and Jeevan Santham also contributed in balling and fielding.
Mr Maneesh Tripathi, the esteemed Board member of Global Schools Foundations, was also part of one of the teams and was the only player who delivered three Dot balls in an over to Mr Manoj Tiwari.
Later, the students enthusiastically interviewed the actors and asked questions about their career, source of inspiration, role of sports in school and so on. Each of the celebrities gladly interacted with the students and a few of them also became guests for the school's podcast hosted by sudents. Some actors also visited the Gandhi Centre at the campus and watched the students put up a 5-minute play on Gandhi's life followed by the song Raghupati Raghav Raja Ram. Mr Manoj Tiwari and other actors were quite impressed with the fact that the school has a Gandhi Centre and the students are learning great values.
It was an action-packed day for the students and teachers just on the last day of the school before the year-end holidays. The friendly cricket match motivated the Gold Squad students and other interactions with the students offered them the opportunity to enhance their confidence and communication skills.