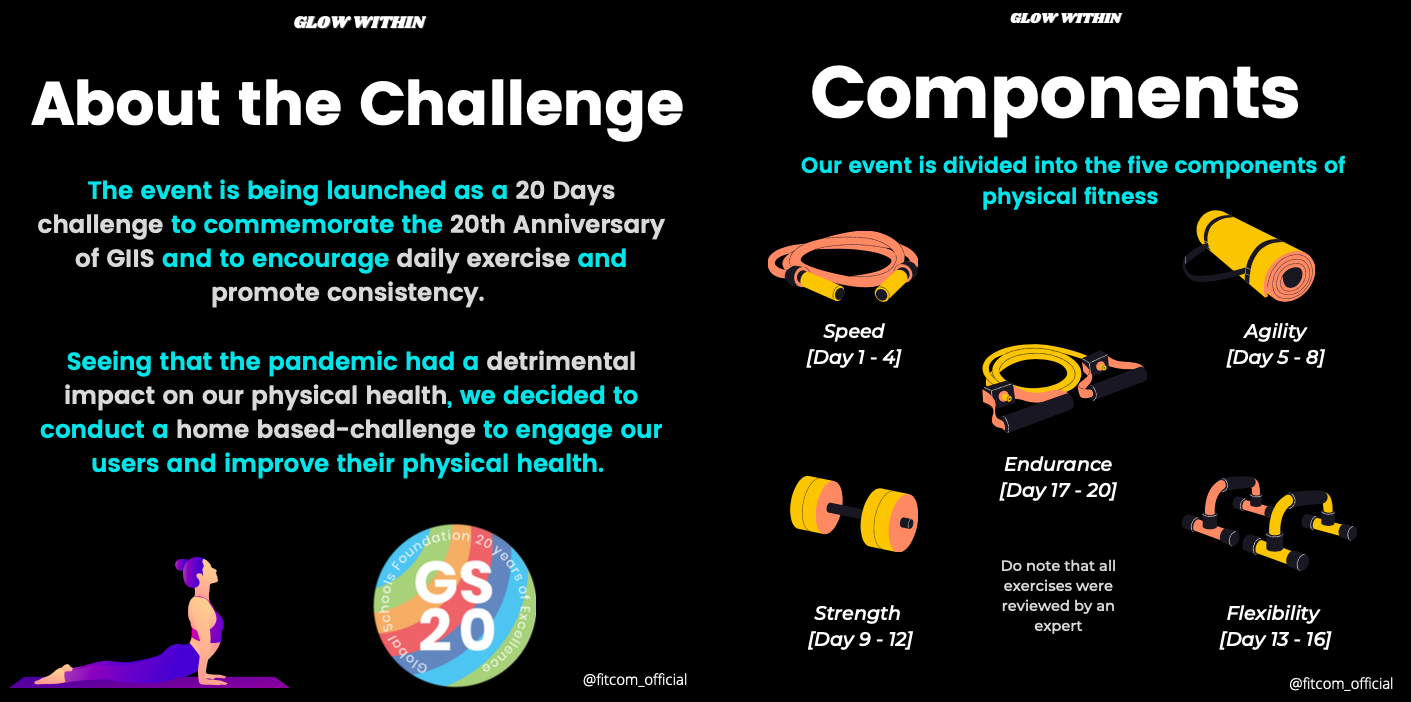 The pandemic has adversely impacted the physical health and mental well-being of everyone which has added to the urgency of inculcating healthy fitness habits in our daily routine. FitCom, a team consisting of five GIIS students Sanjita Kumar, Sahaana Kumar, Shhreya Balasubramanian, Vaidehi Bodhankar and Prakhar Bhatt has conducted Glow Within, a free-of-charge home-based workout challenge recently for parents, teachers, and students primarily aimed to encourage daily exercise and improve their physical health.
The 20-day challenge was conducted between Dec 13 and Jan 1 to commemorate the 20th Anniversary of the Global Schools Foundation (GSF). It was categorised into five components of physical fitness, i.e., speed, agility, strength, flexibility, and endurance.
The event received an overwhelming response with the number of participants reaching a total of 86. The participants were judged based on the number of points they have obtained throughout the challenge. The participating parent with the maximum points was also awarded a one-on-one yoga session with Deepshika Tripathi a qualified yoga instructor. All the participants were awarded e-Certificates.
GIIS believes in empowering its students with a holistic learning framework by providing them with platforms wherein they can explore their expertise. The school has always emphasised the importance of learning outside of classrooms and the opportunities to work on events like this encourage students to take their learnings a notch higher.
Here is the list of winners:
Adult category winner: Olivia Mathai
Category 1:
1st place: Janessa Mathai: 7C CLSP (SMART Campus)
2nd place: Ritesh Yahas Kumar, 6B CLSP (SMART Campus)
3rd place: Rithwin Arulchristhuraj, 8A CBSE (East Coast Campus)
Category 2:
1st place: Aarav Nair, 9 IG D (SMART Campus)
2nd place: Harshit Neeraj Gupta, 9A CBSE (SMART Campus)
3rd place: Saachi Tekkad, 10 IGCSE B (SMART Campus)
Category 3:
1st place: Kush Borkar, IB YR 1D (SMART Campus)
2nd place: Aakash Jayadeep, IB YR 1 D (SMART Campus)
3rd place: Nischay Narasimha Murthy, CBSE 11B (SMART Campus)