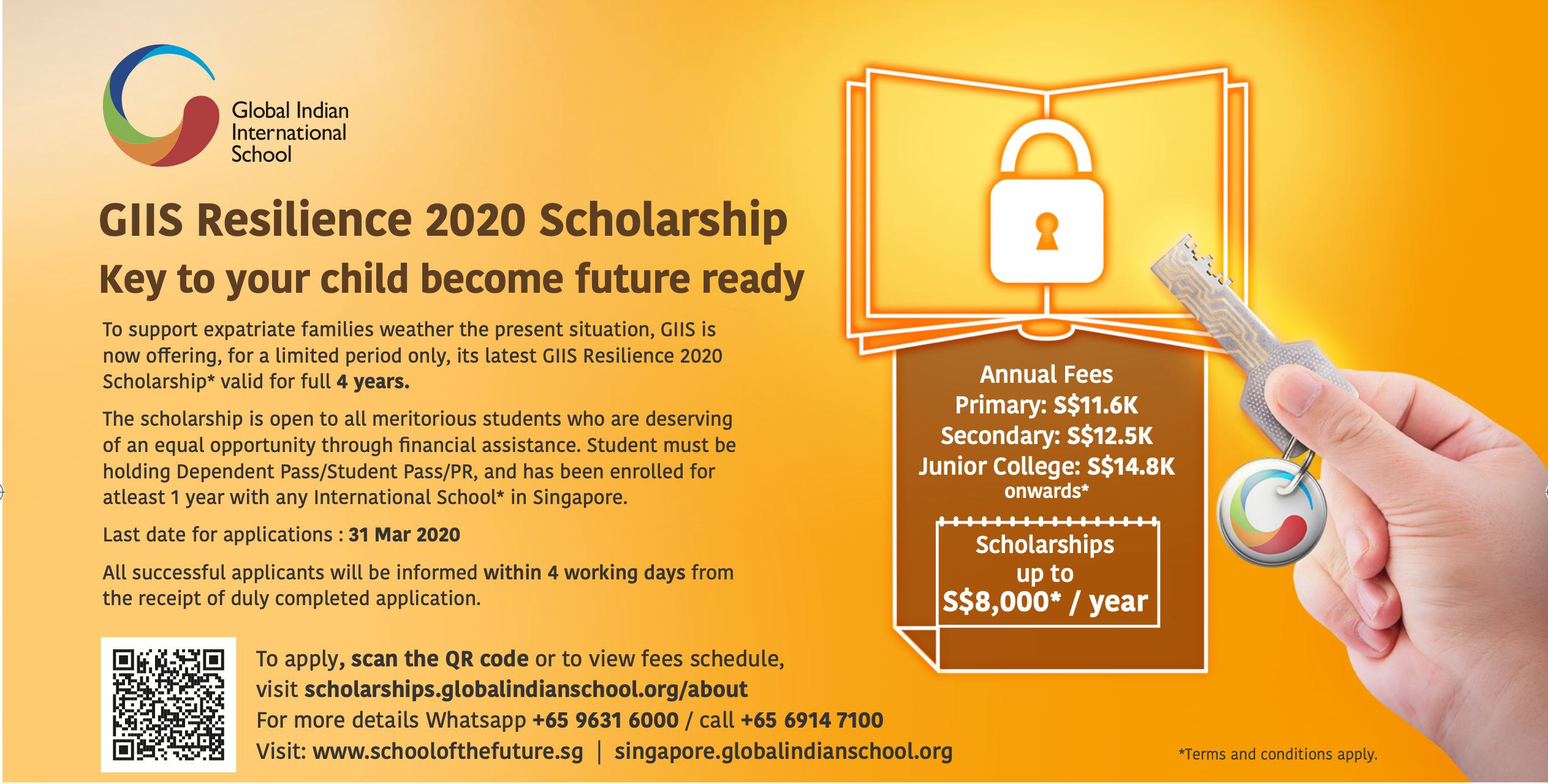 Global Indian International School has announced the 'GIIS Resilience 2020 Scholarship' today, as part of its continued effort to provide best opportunities for students in education, as well as ensure that the current economic conditions do not hinder their journey.
The scholarship, a four-year merit-cum-means programme, has been designed to give deserving students a chance to continue their studies in one of the best international schools in Singapore. The GIIS SMART Campus is known for its state-of-the-art facilities and quality education and has a history of great results in competitive examinations. Their emphasis on skills-based education for the 21st century makes the Campus one of the most futuristic of the time.
The scholarship also gives a chance to parents, who may have been affected by the current economic slowdown due to COVID-19 pandemic, to ensure that the education of their children is not adversely affected.
"Our scholarship is meant to give a platform to deserving students to continue their path to excellence. We are giving support, so that nothing comes in the way of their academic success," said Mr Atul Temurnikar, chairman of Global Schools Foundation which runs GIIS.
Students of any international school is Singapore is eligible to apply for this scholarship which provides a discount of upto S$8,000 on course fees. Siblings studying in different grades and curricula can also apply.
GIIS is a multiple curricula school where Indian CBSE curriculum and International curricula like IB and Cambridge IGCSE are offered. Students an opt for either while applying for the scholarship provided they have been studying in any international school in Singapore for the past one year, and have a valid dependant pass/studpent pass or permanent residency status.
The last date for submission of paperwork is April 10, 2020.
Those who wish to apply for the scholarship can write to [email protected] or click on the link below to know more:
https://scholarships.globalindianschool.org/giis-resilience-2020-scholarship