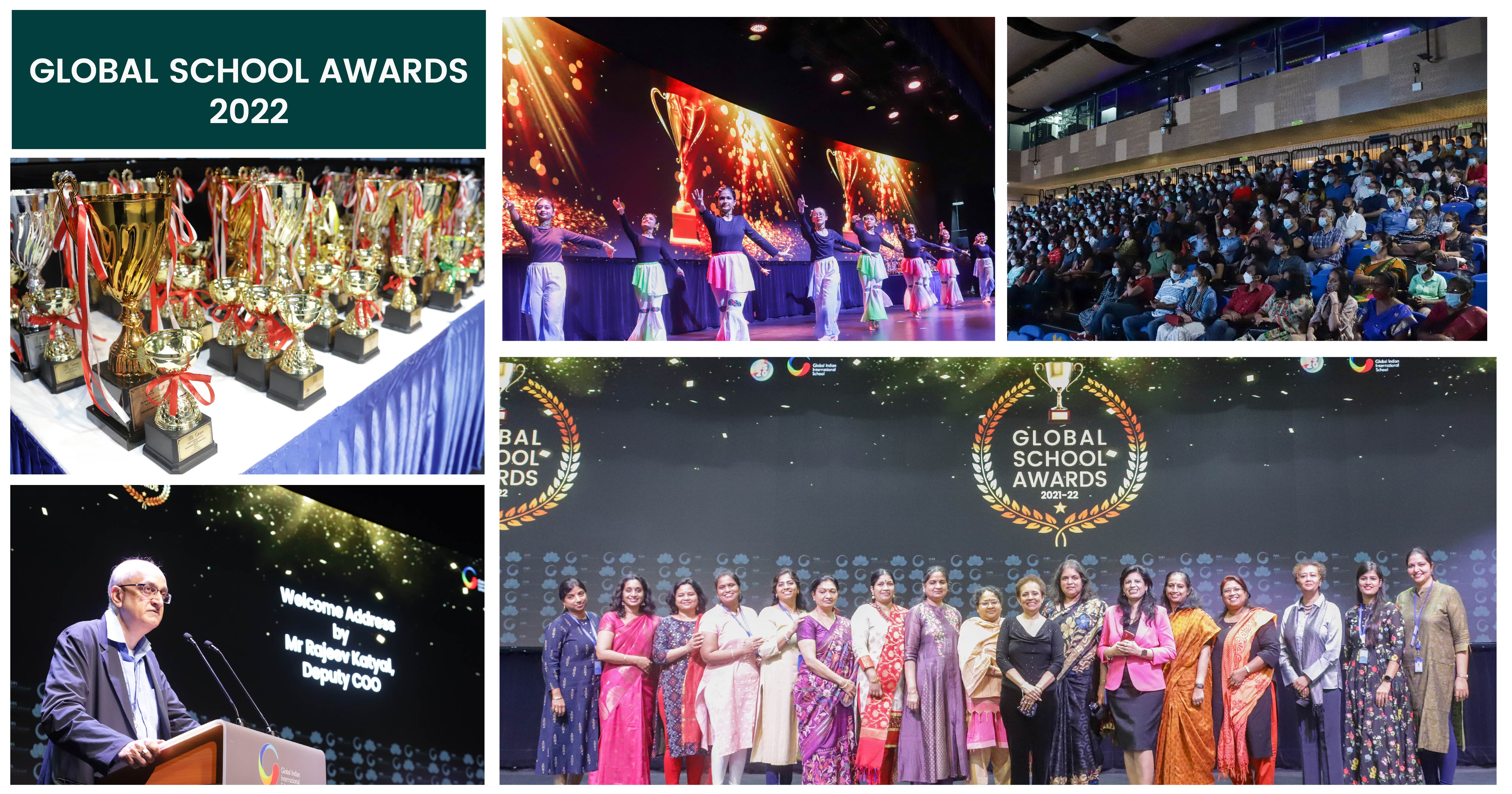 The SMART Campus Global School Awards was held on April 23, 2022, felicitating students from grades 4 to 9 for their outstanding performances in various fields, during the last academic year. The annual event appreciating students' hard work by celebrating their stellar achievements was witnessed by an auditorium full of an enthusiastic audience after two years.
This year, the celebration was even more special as the school is celebrating the 20th Anniversary of the Global Schools Foundation (GSF). The event commenced with a video showcasing the achievements of GIIS over the 20 years. Ms Melissa Maria, Principal, GIIS SMART Campus delivered the welcome address which was followed by the award ceremony. The spectacular ceremony began with the students being felicitated with the Professor MGK Menon Award for Academic Proficiency.
Nearly 364 trophies and certificates were given to the proud young achievers of GIIS. Subject Proficiency Awards and Justice CS Dharmadhikari GIIS Award for Co-Curricular Excellence were some of the prominent categories which recognised the sincerity and hard work of the students.
The school strongly believes in providing its students with an all-rounded educational experience that spans beyond classrooms. Be it sports, visual and performing arts, or any other area, the school helps every student to grow holistically through its award-winning 9GEMS framework. In line with the same belief, deserving students were awarded with, The Chandu Borde GIIS Award for Sports Excellence, GSF President's Award for All Round Excellence, and the Multiple Awards, for showcasing exemplary performance in co-curricular activities.
These awards motivate the students to strive for greatness. Additionally, recognising the students' talents uplifts their morale and warmly embraces their passion for their subjects and hobbies such as dance and music.
An eye-catching highlight of the programme was Utsav - a special music performance, composed by the IBDP students to celebrate the 20th Anniversary of the Global Schools Foundation showcasing the school's spirit. Another fusion dance performance by the students enthralled the audience.
Mr Rajeev Katyal, Deputy COO addressed the august gathering and highlighted how GIIS was happy to return to physical classes. This memorable event celebrating the exceptional achievements of the students and the 20 years of GIIS came to an end with the vote of thanks.