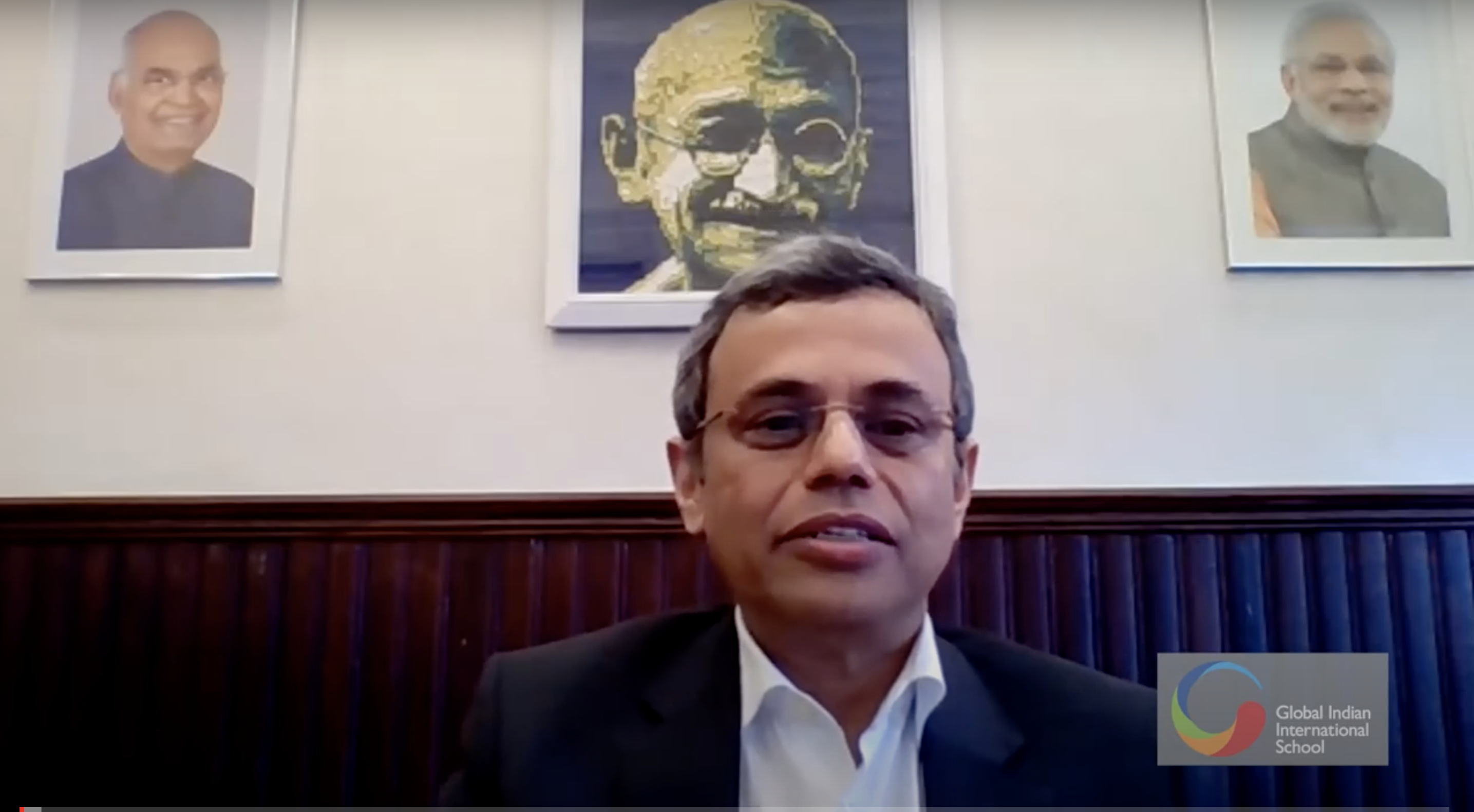 H.E. Jawed Ashraf spoke on a number of topics ranging from the Indian expat community in Singapore and managing the pandemic situation to GIIS' relentless contribution towards the Singapore community during the LLS webinar held on 25th June, 2020.
Watch the entire speech of Mr Jawed here:
Read the entire speech here:
To the entire GIIS team, students and parents who have joined in today, my greetings to you on a Thursday evening. It's unusual to meet in this setting. I'm used to coming to GIIS on a number of occasions interacting with faculty with leadership, students and parents in diverse contexts and different settings. But this is a great opportunity as before, I need to have another chance to speak to you. My association with GIIS is of course, as long as I've been here, which has been about three and a half years. right in the beginning from the time the campus was quite close to where we are here in the heart of the town, to this extraordinary smart and a really well-designed campus now in Punggol, which is always a treat to visit, where sometimes the technology can be very intimidating for people like us, but I'm sure it is a setting the tone for the young leaders of tomorrow.
It is really a sort of a benchmark in design of the school. It is not just a place of great technological innovation and inputs, it always also has great aesthetic character in designing in a way to encourage engagement, a lot of light in also provide a lot of circulation space. So it is both very open and at the same time very intimate.
SMART Campus has a well thought out design, but it also reminds us of the deepest values of the highest ideals that are important for this world. Because when you step into school, you have the opportunity to see the statue of Mahatma Gandhi. And when you step inside the building, when you see the Gandhi Learning Centre, which is actually quite
exquisite because it is both sparkling as well as very informative. And I don't know of many schools even in India that have a dedicated Gandhi Learning Centre. And so it's a school which I have been very struck by the vision of Atul Ji, and also by the speed and quality of execution because it's one thing to have a vision, quite another thing to be able to execute that vision and put it into action.
So it's that curriculum that I think promotes academic excellence. At the same time, social empathy, a sense of community service, teamwork, interest in special Bought cultivating art and culture and a deep belief in sustainability. Sustainability, I've participated in quite a few events centred around, greening the city around planting trees, around technological innovation, that is designed for, for sustainability practices. So it is all these inputs that are very important, very critical for building the leadership of tomorrow because we are entering a world in which you will not only need a high degree of academic excellence, but also a tremendous spirit of innovation and an awareness of technology because we're really entering an age where technological changes are accelerating, is the kind of change that happens once in a century, once in three centuries, actually. Not since the Industrial Revolution are we in such a transformative phase of human history.
It is also essential in a world of great diversity and now growing concerns about identities about nationalism and hyper nationalism about us versus them, for young leaders to grow up with a sense of social empathy, sense of inclusion, the ability to embrace diversity, and to speak for oneness of mankind. And at the same time, we are also in a world where the perils that our planet faces is quite visible, or we see almost on a regular basis, the fury of natural disasters of extreme weather conditions of the devastations caused by climate change. All of these things are, therefore are the challenges that the leaders of tomorrow will face and I think the school is doing a great job in building up the leadership for tomorrow, not just making them fit for great professional career. It has always been a great pleasure to interact with the students. They've been part of many events with us through these three and a half years whether it was that Mega Pravasi Bharatiya Divas or in 2018 where they ran a nice students corner with great enthusiasm and some very sharp questions to the speakers probably sharper than the speakers faced in the main hall.
They were there for the Prime Minister's visit, which were in June 2018. And of course, I have to remember that the two students who were the comperes at the very solemn ceremony to unveil the plaque of Mahatma Gandhi at Clifford Pier and during the visit of Prime Minister Narendra Modi And in the presence of ESM, Goh Chok Tong.
GIIS has been great partners for us in everything that we have done. But more than what they have done with us, I think I really value the contribution that the Global India Foundation and the global in GIIS has made to the Singapore society. It at different times I've known and I've seen them participate in community activities that is are contributing to make Singapore a better place. And that's truly an important and invaluable contribution in a sense invisibly, so, they are becoming part of a Singaporean society integrated deeply into the fabric of this nation. It is also something which I would also like to take a moment to thank Mr Atul because of the manner in which he has always come forward not just because of GIIS, which has, for example, trained hundreds of thousands of talent in the realm of art and culture and other areas of Performing Arts, but also in terms of social contribution. And this brings me to the point about the pandemic that we've all gone through for the past.
It's really just been five months since the first case of the pandemic was confirmed in Singapore, January 23. We've watched how the Indian community has reacted. Before I get into that, I'd like to say a word of compliments and appreciation for the manner in which Singapore government has handled this pandemic. We all have to recognise that at
each stage during this five month period, we all felt comfortable, confident and reassured, thought that we would be safe, and that the government would be transparent and clear in the manner in which they could share information about the actual situation. We have seen for a moment, a degree of concern arising first out of returning Singaporeans and permanent residents in the middle of March, which led to some spike in cases. And then of course, the runaway increase in the incidence of infection spread of infection in the dormitories that houses foreign workers.
Now, we have seen also how they have responded to it proactively, aggressively and in a very transparent manner to contain the spread of infection in the dormitories or which house nearly 320,000 people. So they have been very proactive in testing, in tracing in isolating the workers of the sick separately. reaching those who are healthy and taking them into safer, temporary accommodation, and in the manner in which they have responded to the welfare requirements and the social, psychological and emotional challenges that workers face when they were put in a lockdown condition in the dormitories, or they were not allowed to go to work or to step outside the dormitories and in many cases outside the rooms. And so the government made sure that they were getting paid by their employers, they got the meal that they wanted. They each had a care package with gave them a thermometer, masks and sanitizers. There was free medical facilities at each of those dormitories. And there was also very detailed thinking that went into some of those initiative for example, they were distributed over 200,000 free SIM cards. To those workers that didn't have access to Wi Fi, they made free Wi Fi available. And they even gave them free access to hundreds of television channels, which they could watch during their period of confinement. They even had recorded messages from Rajinikanth, Kamala Hassan, Sachin Tendulkar and Shankar Mahadevan for the migrant workers. They sent very special messages to the workers who were in the dormitories. I interacted with them and spoke to them and went to the dorm. They have done extremely Well, the workers were very happy. And today as we have come up with the circuit breaker, we see the situation is stable. We see that in the community spread is almost non-existent. I mean, there are incidents of infections but very negligible. We also see that it has come down to a pretty stable level within the dormitories as well.
It isn't just the government, it has been the whole of community the whole of society effort, because that can help you deal with the challenges. it requires a whole of society approach in which every sector has to contribute and each of us as individuals have to make a contribution when we observe the disciplines of safe distancing of staying in our homes and not going to crowded places, taking on the responsibilities for our own behaviour. Each of us becomes a frontline warrior in the fight against pandemic. The Indian expat community of course, has also made an enormous contribution in the course of this period.
First of all, as you are or are aware that Singapore has the largest number of cases of infected Indians, outside India and that is because there are good number of workers living in dormitories. So we've had about 15,000 cases here in Singapore, 96% of those are in the dormitories and that's 35% of all cases in Singapore which is a really large number. So we are grateful to the Singapore government and to the community for their response in dealing with the pandemic, especially for the workers. The community has stood up also I know, Atul Ji made an enormous contribution, financial and by getting his students to stand behind this effort to be there, not just in terms of financial contribution, but to devote the time and thought to support the pandemic response.
We've got some fascinating examples of community organisations of Indian associations
who have raised resources for workers who've been laid off. Those who have cooked for them. There are Indian religious organisations, temples, mosques, Gurdwaras who have contributed to this effort. And there have been instances where people have actually gone and offered themselves as interpreters for workers in dealing with medical services. Those who have done work in terms of caring for the elderly, or volunteering in different manner. We've had instances restaurants that have catered food for healthcare workers for weeks together.
So there have been numerous instances of the community coming together not only for the migrant workers but also for the larger Singapore society. But we also had to deal with a number of other kinds of challenges. For example, a lot of Indians who were here on temporary visits got stranded when there was a lockdown in India on the 24th of March, and many were elders who had come visiting their children, those who had come for business or tourism. In addition to that we had a problem of a number of workers and professionals who had been laid off they and their families had to return to India. There were students were finished their courses or students who used to finance their way Two part time work. They were all very desperate to get back to India. They were, they had run out of the means. Then we had young students like you who was 16-17 years old, who are in schools over here that they were living in hostels, and they will feeling a sense of isolation, depression and anxiety.
So at the High Commission, we had worked with the Indian community on our own, we have taken care of a large number of them in terms of accommodation, food, medicine, and even counselling services for those who are feeling that degree of anxiety, depression and a sense of isolation, being in circuit breaker condition. Indian associations who have reached out to support those who are stranded here and those who are without needs. We have groups of students for whom we had to provide dry ration because they like to cook. For others. We made arrangements with a number of Indian restaurants to provide food. This is but then began this big question, when can I get back to India. And it took about more than six weeks for the flight repatriation flights to start on that was a very trying period very difficult period for us, as well as for those who were keen to go back because you wake up every morning. And you do not know when you're, when you're going to be able to go back home, they will have some very tragic cases, people who had bereavement in their families, people who have left behind their minor children in India and because there was locked down in India, there was nobody else who could go look out for them at all. They were those whose parents or some relative or grandparents were in the terminal stages of illness, they have cancer, they had strokes they had heart attacks, the chances of dying vibe was limited but they couldn't get there. They couldn't be with their loved ones because we take travel for granted. We assume, especially if you're living in Singapore that there are eight flights to Delhi, there are seven flights to Mumbai. There are flights, direct flights to 15 cities, I can go there at the drop of a hat and suddenly all of that was taken away from you. And the value of the relationships became so critical.
We had those who had come here for treatment died but couldn't be taken back for burial or cremation. We have to make arrangements for them. For the last rites, we performed over here, daily tragic cases.
And yet it was difficult because in India, the government could not have organised these repatriation flights without a the consent of the state governments because it's ultimately the state governments who have to take care of quarantine and testing and treatment and each many of the states which are gateway states, Maharashtra, Tamil Nadu, Delhi, they were experiencing their own cases and the number rising exponentially. And the big question was, do we cater for the needs of those who are resident in our cities? Or do we cater for those who come back. Remember, this is also a time when the when the virus was on a rage on a rampage throughout your, throughout the Gulf states in many parts of Southeast Asia as well. So there were these fears, and for six weeks, we weren't able to repatriate enough people. And then the flights began. And it's a very difficult process. These are not your regular commercial flights.
On a daily basis, we were getting hundreds and hundreds of phone calls. Social media messages, email, I mean, if we open our email, be like a flood coming up. We tried to make sure we could respond to all of them. We also had to prioritise their compelling reasons. I mean, you had women who were in the 32nd 34th before pregnancy, and they needed to get back before they were barred from travelling and they didn't have the means to have the delivery in Singapore. So there was some very tight deadlines. We had the case of a lady who wanted to go home because she was in the last week of her life. She was suffering from cancer. Her only wish was to be with her mother. And it's a daily basis, we have some we have to prioritise them because the number of seats is always limited. And we have to take and everyone had to register on our portal, they have to give details about their address in India, their telephone numbers in India because we needed them for contact tracing in India.
But eventually, we've been able to manage it reasonably well. It took us some time to get our systems in shape. Ticketing was always a big issue because if you sold tickets open online and become a commercial flight And that would then invite questions on why this Air India running commercial flights and others are not allowed to, and why Singapore Airlines not being able to and this is a problem that Air India is now facing in the United States, because in the US, they started selling tickets online. For here, each ticket was approved by us, and each passenger had to be approved by us. We used to give the manifest. And we had to do this 72 hours to 60 hours in advance because we had to sell the tickets, we couldn't have one empty seat. Because Delhi would then complain, and why do you have empty seats? And why are they asking for so many repatriation flights when you don't have seats to fill. And we needed to send a full passenger manifest 48 hours in advance because the state governments needed those details to make arrangements for quarantine and for and for testing and other parameters. So it's a very complex exercise.
A lot of us spent the first few nights at the airport. We have to get people to sign indemnity bonds assurances that they pay for the quarantine and all kinds of requirements have was imposed on by the state government. But it all came through together. I mean, our objective was to try and get everyone back home as quickly as we could. It was always a source of great regret for us if we weren't able to get everyone who wanted to be on a particular flight onto that flight. There was great pressure from the Tamil community because in the first wave of flights, they were none to the Southern part of India, which is about the largest population rolling to be repatriated. Eventually, it all worked out.
We've done 34 repatriation flights so far. A lot of our officers spent our time at the airport managing even the departure processes. And to see if there are no shows, then we've got to get other passengers in 34 flights have been sent. About 6000 people have gone, but the numbers growing, we thought the number would reduce as the flight spread. And that is an indication of the state of affairs because you know, obviously, more and more people are losing jobs, more and more people are facing difficult circumstances and would like to go back home. And we hope that in the month of July, we will have a much larger number of flights operating out from here and we should be able to clear the backlog by the end of July.
So this has been an extraordinary period. We've tried to stay in touch with our community. And I'd saved this that you know this the way the community has worked here, both Singapore and for the expatriates and for the larger Indian community that comprises those who have been here for generations.
As I have always said, I've travelled around the world, the most talented, accomplished, connected and, and responsible for I've seen anywhere in terms of professional capacities, capabilities and talent in the world, not even to those who are in Silicon Valley, or in New York or London, in terms of the commitment to the community here. And in terms of their sense of togetherness, and above all, the sense of connection to the roots in India is just extraordinary. That gives us a great deal of strength and energy in all that we have achieved. Over the past three and a half years, there has been obviously, as I've been going around needing Prime Minister, President, Deputy Prime Minister of senior ministers and all the cabinet ministers in the course of the last few weeks and days, they have all said how much the relationship has improved in the course of three and a half years. How much has the hikvision done here in terms of visibility in terms of activities and, and which all of them remember to be on an unprecedented scale. They have spoken about how much we have engaged the community at the grassroots level, which is something that they deeply appreciate. But none of this would have been possible without the involvement and support of the community, the Diaspora. When I came here and interacted with people I found that the Indian expat community here is excellent in every field. You look at business, commerce, trade, finance, public life, the legal profession, non-government organisation, social service, you look at even academia in terms of education, research and development, in art and culture in every aspect of public life and business, there is an extraordinarily high level of achievement and they have yet found time to give back and it manifests itself in different ways. This is one city where for example, you can see all the festivals of India celebrate. You can live in Delhi, but you will not be able to see the festivals in South India so big. Yeah. And if you live in South India, you might not be able to explain the vibrant colours of festivals like Durga Puja, or dandiya, Navratri, so everything from all parts of Indian celebrated here, it's a tribute to this country that it has nurtured an environment in which everyone can be both Singaporean and at the same time be part of their own culture and celebrated in ways which they would like to.
And what is interesting is that when you see ministers belonging to different faiths belong to different places, coming to join you in celebration and this is how they have built a society that is founded on a sense of harmony and togetherness and the embrace of diversity.
So, in this is also a city which has a cultural calendar which could easily match any of the major Indian cities. I mean, this is no exaggeration to say that if you see from January till the end, some of them are because of this great talent in the last four or some of the event managers who have brought the best of best from India over here. Then there are religious organisations and then there are festivals, which leads to great cultural events throughout the year you will see something major happen and that's, again, a level of involvement from the community which makes this possible.
Similarly, this is a city where, you know, the spark of the startup community, the spark of innovation, the spark of technology is
really coming from the young minds from India. These are young kids who got I will give you an example that I just experienced, there is a young fellow called who has made a device, which you can, which cost us $18 in dollars, which measures four parameters which are critical, which measures body temperature, heart rate and heart rate, co2 and fatigue levels. And it is synced to your phone and it goes sends the data into a central monitoring system. So, engineering Bangalore manufactured in China and launched in Singapore, I mean, this is again an example of what an in you know, young talent can do. And I came across many examples and many of you in GiIS will grow to break these new horizons create something new and in a very fertile environment. So I think much of what we have achieved in these, there have been so many highlights we could have spoken about. And but all of you Wherever Again, but it isn't, wouldn't have been possible without both the support we got from the community and their participation and involvement.
And I have to say, again, definitely for the record, as I've said in private to Atul Ji, your support and contribution were not just forthcoming, but it was done with so much enthusiasm, that it always gave us the assurance that we can achieve things on scales that were unprecedented in Singapore. And we were able to do it and everyone recognises it here in Singapore, including the top leadership. So and you are also the bridge between India and Singapore. You know, this is a, I was just telling DPM yesterday or two days ago that to sow the seeds of our future partnership we need to get our youth together more. And you are this diaspora has the unique ability to be an interpreter. Turn of India and Singapore and in an advocate for Singapore in India, and therefore you can be the big bridge after all the SM Tharman also that if you really, this has got the best talent of the world, you really need to tap the Indian market and opportunities you need to work with them. Why is this relationship so important? It is important for a number of reasons. And I'm going to put it in very simple terms. And you'll understand what I'm saying one, of course is that we've always had a great relationship for two millennia. Because this is a natural neighbourhood for India we have neighbourhood we speak of South Asia, but look at Myanmar begins from Miramar Southeast Asia. We are just 60 nautical miles from between Indira point and Andaman and Nicobar Islands and Indonesia. If you take a ship from animals to Singapore, it takes only one and a half days. So we're really close. And you see this when you fly from India to Singapore and back. So, this is something it is important because you got to have good relations with neighbours. Second, we are both of us share a strong cultural heritage. Singapore, I mean identity is incomplete without its Indian heritage. That is something they recognise. There is no Singaporean identity without its Indian heritage just added to Chinese heritage and a Malaysian heritage and to an extent even a European. Now, that's a very important factor which has so much in cultural together. We also have a great future when it comes to the economic package. When you look around the world. Singapore is a country that derives its value globally. It's a small country cannot do everything here needs to have a market. DPM Heng was telling me that India is one of the top priorities for them going ahead, but we agreed that we cannot do this without human dent. We need people to go and build these bridges. It's not enough to just speak about the potential. And therefore I'm saying this for the young minds and the young people in our diaspora, you need to be that bridge. To say that okay, we will be the channel through which we will build this economic partnership. It's important for India's prosperity, it is important for Singapore's future. Again, when we think of all the solutions we can provide for them. You know the most important is our synergies, our capacities in innovation, just as India has used technology and innovation, to provide banking, insurance, pension, public delivery of service, access to healthcare, to distance learning to its different kinds of government services, all these things have been possible.
Only because we've harnessed the technology that India could develop Aadhaar, we've got this phone, we've got these India Stack. And we've got this bank accounts of 1.2 billion people. But this is something which is a story in which we now can export to the rest of the world because there are many countries that would need the similar kind of technology intervention to transform lives of a people. We're working with Singapore to try and build what is called India Stack into a global stack and use their capacities in smart nations build that together. And again, it can be a great contribution to realising the vision of sustainable development goals. We have an enormous responsibility to build peace and security in this part of the world. We all know that we are entering a world which is going to be fractious, which is going to be more bitter in terms of rivalry. We are a civilization that believes in Vasudeva Kutumbh to treat the world as a family.
Singapore is a country that believes in the diversity, like us, they believe in the rule of law and a rule-based international order. Only then will the world be a safe, secure place in which everyone can feel they have an opportunity to pursue their dreams. Now, this is something that you cannot take for granted. You cannot assume that the world will be the way we have seen it for the last 70 years. So, therefore, India and Singapore need to work together with other like-minded countries to build that kind of relation. And again, this is something which you as youth can do that which our young minds can do. They are idealistic, they can dream, they're willing to push boundaries, they are not caught up in the baggage of past. So it is, again, an area where I feel that India and Singapore can do a lot more. So whether it is building a peaceful and secure world, for our children, and for our future, whether it is working together for future prosperity. And remember, the pandemic is going to be transformative. We have not yet understood the economic costs of this, it is going to take a year for the full economic toll. To be fair, we haven't understood the impact in terms of employment in social challenges in terms of what it will do for families, what it will do for communities and societies. What it might do in terms of putting pressure on our social fabric.
So it is important for us to find opportunities where there are to restore the economic momentum, repair the economies, recreate those jobs for our people, and which is why we are now giving a higher degree of urgency to the economic partnership between India and Singapore. And all I have that I've heard in the last few weeks from the leadership and from the business community is that they have great confidence in the Indian economy. And they would like to do more over there just as we encourage Indian businesses to be here. And I have to tell you, we have 9000 Indian companies over here, some of them are very active. And just a week ago, the Indian business forum which makes up which is made up of 49 Indian companies made a handsome contribution to the migrant workers Centre for the migrant workers fun. And again, it shows that their commitment to Singapore as a base for their global economy.
So I'd like to say this, the future for this partnership is great, we do not have disputes, we do not have contests, we do not have doubts and hesitation. We only have goodwill and warmth and trust and mutual respect in this relationship. We in India do not believe in a small country or a large country. We believe that all countries, irrespective of size are equal and sovereign, are free. And that is the level of respect with which we must be with each other, which we do within our table.
So I think that you know, as we go forward, I mean, particularly I'd like GIIS to continue this great mission and the work that it is doing. Continue to focus on community, innovation and sustainability besides academic and sporting excellence, you have to prepare to be the leaders for tomorrow.
For the Indian community, I'd like to say that it is extremely important for us to first of all feel like we are part of Singapore, that this isn't just a place where we come to work and make money and have fun, you know, without dreams that as they may be, but while we are here, we must be we are part of Singapore, we must integrate with the larger Singaporean community, we must integrate across the old Indian diaspora and the new experiment because that is how we will because diversity is in our DNA. We Indians are used to hearing multiple languages at the same time living with different traditions and customs. It's natural for us. We grew up like this. And so it's very important to find ways in which we become the part of the Singaporean community, to contribute to society because most of us who are here are relatively well off. We are doing well on the strength of our talent and enterprising and hard work. And this is therefore important for all of us to give back and integrate deeply with the local community. And therefore the kids, I would say, for the young minds, continue being part of a great future, to your continuing pursuit of innovation, the pursuit of building a more, you know, sustainable planet and a more beautiful world around us. All the best to you. GIS I know has its swing spread across a large part of the region.
So we look forward to opportunities for future interaction and to seeing you achieve greater heights in the years to come. Thank you.