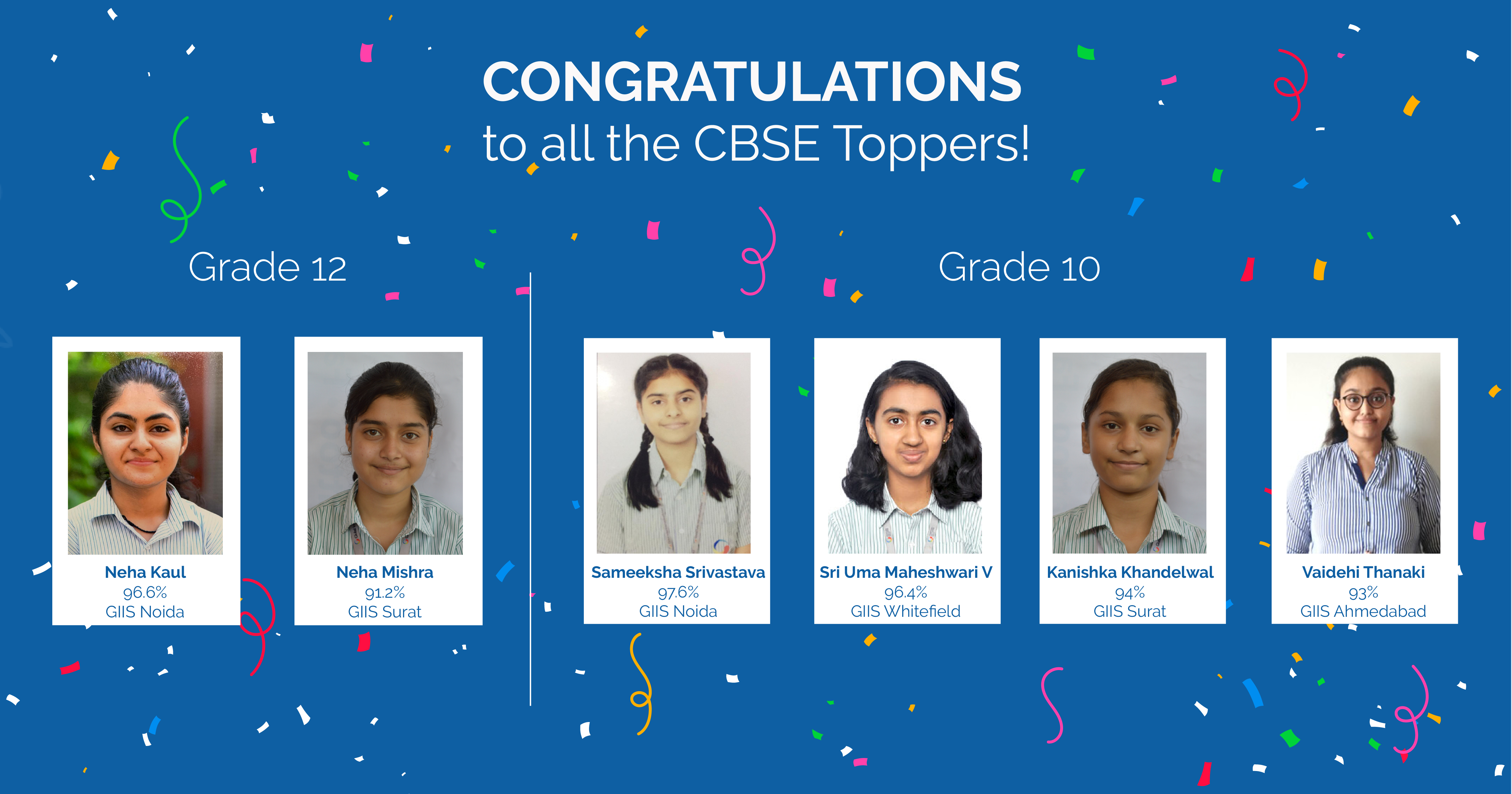 Success is a science; if you have the conditions, you get the result. - Oscar Wilde
Global Indian International School, India has a big reason to rejoice during these pandemic times, with the CBSE Class X and XII results making waves of happy news across in the entire GIIS family across the globe. Out of 7 GIIS campuses in India, students of GIIS- Noida, Surat, Ahmedabad, and Whitefield (Bengaluru) campuses appeared for their Class X exams and achieved a 100% pass percentage. While students of GIIS - Surat and Noida campuses appeared for Class XII exams as well, this being the first batch for GIIS Noida. This year again, GIIS students have lived up to the expectations of the parents and the teachers with a proud smile of accomplishment on every face. Their overall percentiles and hundred percent marks in many subjects have set a new benchmark for all GIIS students to aim for the stars.
The Shining Stars from the Batch of Class XII (2019-20)
In GIIS Noida, Nehal Kaul, a science student of Class XII topped the school with 96.6% marks followed by Ronit (Science) and Pratham Chhabriaa (Commerce) scoring 90.4% and 86.2% respectively. Pratham Chhabriaa has also been selected and received a scholarship at the University of Waterloo in Canada, where he will be doing his Honours in Economics with Business.
With respect to class XII results in GIIS Surat, Neha Mishra topped the class with 91.2%, followed closely by Khushboo Mishra with 90.4%, both from the Commerce stream.
The Smiling Stars from the Batch of Class X (2019-20)
Sameeksha Srivastava, student of GIIS Noida topped her Class X batch with 97.6% while Dhanay Agarwal has scored 96%. The 3rd rank holder, Priyamvada Sinha secured 95%. All these three students have scored a complete centum in IT (Information Technology), to reflect their fondness for imbibing creativity and knowledge through technology.
In GIIS Whitefield campus, Sri Uma Maheshwari topped her class scoring 96.4%, and a perfect 100 in Mathematics in CBSE Class X examinations. She is also an aspiring scholar at the Advanced Learning Centre for bright students by IISC, Bengaluru. The 2nd rank holder Anirudh Pradyumnan Srinivasan scored 95.6% and Himanish Sarkar secured 3rd position with 94.4%. Rushil Verma has scored a centum (100 marks) in Hindi, her achievement is worth mentioning.
GIIS Ahmedabad has Vaidehi Thanaki who topped the batch with 93% in her Class X CBSE examinations. Aakriti Roy and Gaurav Nathani with 91.8% and 91.6% secured the second and the third rank respectively. The campus also achieved a 100% pass percentage.
The batch of Class X in GIIS Surat achieved a 100% pass percentage. Kanishka Khandelwal topped the class with 94%, followed by Ishan Mittal and Suraj Rajput with 92.8% and 90% respectively.
Commenting on the performance of GIIS students, Mr. Rajiv Bansal, Director-Operations, GIIS India said, "It is extremely gratifying to see our students perform well in the board exams with many students scoring centum (100) and near-perfect scores (99) in various subjects. At GIIS, our NINE Gems Framework is designed to focus on the holistic development of our students and academic excellence is a critical aspect of our pedagogy. The constant support from our teachers and the sincere efforts of our students has enabled GIIS to achieve such good results across the country. We are extremely proud of our students' achievements and want to thank the parents for their constant support in nurturing the leaders of tomorrow."
GIIS always focuses on conditioning every student with holistic virtues by delivering quality education with a strong emphasis on enhancing their learning outcomes. This has been a crucial factor in the excellent performance and success showcased by the students. GIIS family wishes every student the very best in their journey of learning and aspiring to become global citizens.