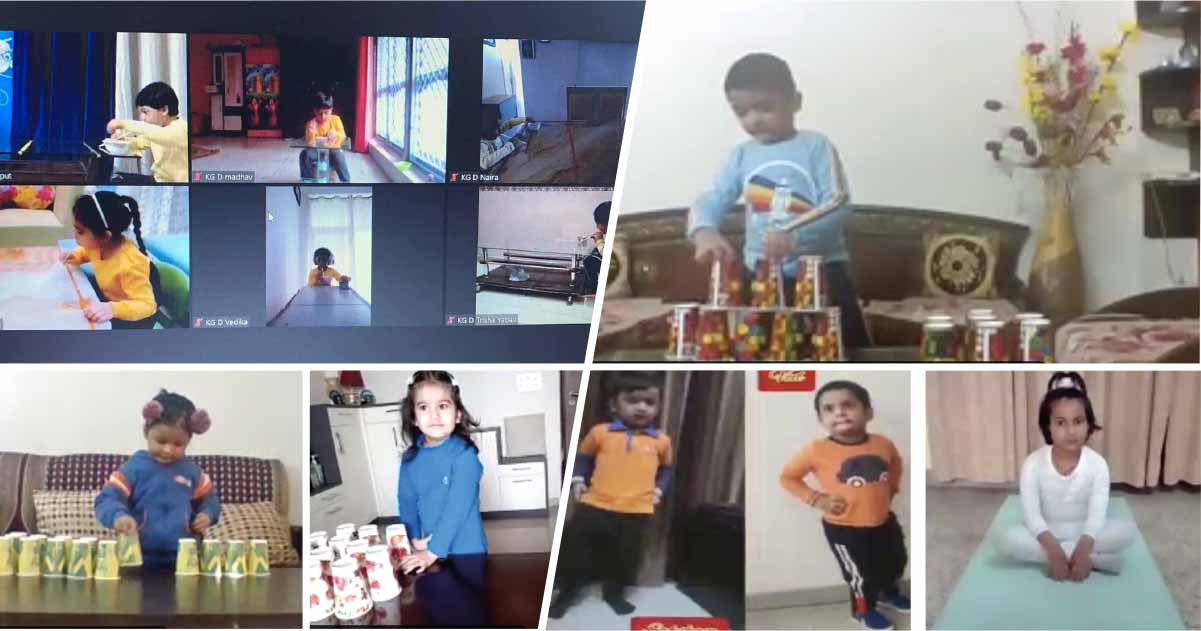 The pre-primary wing of Global Indian International School (GIIS), Noida conducted its 8th Annual Sports event named - Sphoorti, to promote fitness and flexibility among the masses. The event was conducted virtually for the tiny tots to participate in various tasks from the comfort of their homes.
The preliminary round was conducted couple of weeks before the main event where each class was given different tasks that choose the finalists for the day. Yoga was also performed on the final day of the event with two students from each section. There were eight students from the nursery and six students from kindergarten who participated in the final round of the event conducted on 5th December 2020.
The day began with Ms. Rachna Jain - Headmistress, PP welcoming the students and parents to the virtual meet followed by the speech of Ms. Vaishali Borde - GMP Head & Co-scholastics Head, GIIS India. She inspired the parents and motivated the parents to encourage their child(ren) to play and take up at least one sport of their choice.
The event was declared open with the balloon releasing ceremony done by the pre-nursery students of the school. They looked extremely cute as they adorned matching red and black outfits. The first activity that was presented by the students on screen was Cosmic Yoga; children from KG sections were dressed in white outfits to demonstrate various postures like dog, cat, camel, butterfly, etc.
Moving further, Champs feet ( Nur A & B) and Fitness Freaks Drill (KG A, B, C, D & E) showcased outstanding co-ordination and flexibility among the students.
Students from all eight sections of the pre-primary wing participated in various challenges like the ball in bucket, glass pyramid, jumping in and out, travel tunnel, dress up yourself, etc. Even all the Parent's equally involved in the sport meet; mothers' participated in chair squats and fathers participated in lunges. The event was executed outstandingly well, so much that we got numerous emails from the parents appreciating the efforts put in by the segment teachers in organizing the event virtually.
Let's have a look at a few of them:
"Congratulations to you and all the other teachers on conducting a successful event. At first, when we heard of Virtual Sports Day, it was sort of confusing to us but I must say that the day was organized extremely well by GIIS teachers. Also, the practice sessions conducted by teachers gave kids lot of clarity of what is expected out of them on the final day, and kids were all geared up to be part of something which we as Parents were also experiencing for the first time. In fact, as parents, we were more excited compared to our kids.
Happy that my kid is part of GIIS and expecting more such wonderful events. "
Another parent said:
"Really not for a single moment, we felt that this was a Virtual Sports day. Kids enjoyed it like they do in school. Secondly, I'm thankful to the class teachers Shakti Mam and Deepika Mam for their extended support. Without their motivation and hard work, it was impossible for the kids to participate and perform virtually. Thanks once again to Principal Sir, Rachna Mam, and all other teachers and mentors involved who made this happen.Cheers to the whole GIIS Team, Kids, and Parents."
This year's sports day provided the children with an opportunity to develop their social, fine, and gross motor skills, and also enhance their problem-solving skills. They learned to move their bodies in new and different ways to accomplish tasks they have never done before.
The tiny tots even got the chance of improving their confidence and balance, hand-eye and eye-foot coordination while learning basic sports skills they'll need as they get older.