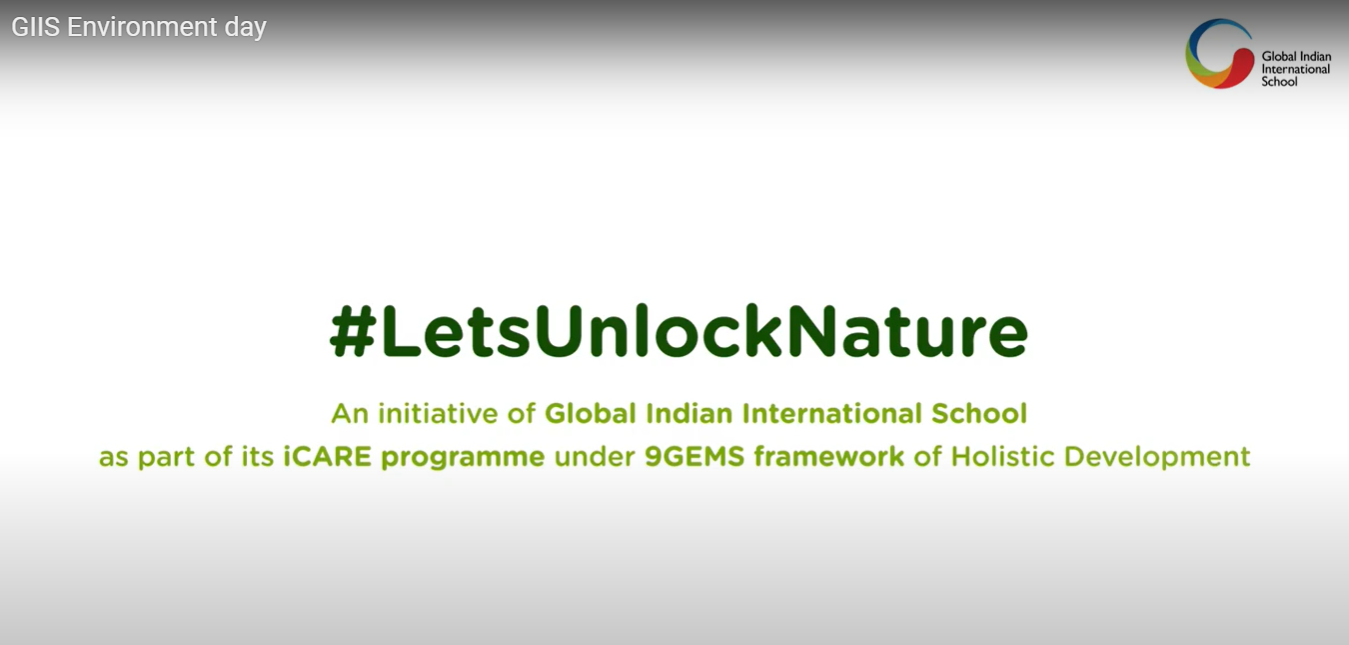 This World Environment day, Global Indian International School launched its digital campaign "LetsUnlockNature" to create awareness. The campaign, driven with a strong social message of conservation of the environment, comprises of a short yet impactful video of students, and the leadership team of GIIS schools across 5 cities in India, who virtually came together to encourage everyone to take small steps at an individual level that can create a larger impact and help in making the world a better place. In the times when we all are helping each other by staying home and staying safe, GIIS India has come together to share the most inspiring message, through this impactful campaign for every human, calling for unlocking the nature, to help it flourish freely, as part of the beautiful world. When Mother Nature gives us in abundance, it is equally our responsibility to give her all the love, care, and respect she deserves so that we can co-exist. Needless to mention, we need her more than she needs us.
With the noble thought of how charity begins at home, through this video, students of GIIS share a unified message that each one of us needs to take the initiative of creating a positive impact on the environment. The campaign has been lauded by Dr. Mahesh Sharma, Member of Parliament, Gautam Buddha Nagar, UP and Former Minister of State (I/C) Tourism & Culture, Minister of State for Civil Aviation, Environment & Forest, Govt. of India, along with Dr. Biswajit Saha, Director-CBSE (Central Board of Secondary Education).
Commenting on this initiative and the campaign, Mr. Rajiv Bansal, Director-Operations, GIIS India said, "We, at GIIS, believe in the holistic development of students. Our aim is not only to provide academic excellence but also to make them responsible citizens and agents of change. Our "LetsUnlockNature" campaign summarises one of the many initiatives undertaken by GIIS to make students socially responsible. We aim to continue with this pedagogy where the environment is learning-centric and students learn to solve real-world problems from early childhood. While schools continue to remain shut amidst the Covid-19 scare, we as an educational institution aim towards providing a seamless learning experience to ensure the holistic development of all our students in this time of crisis."
Extending his heartiest congratulations on this initiative to entire GIIS family, Dr. Mahesh Sharma, Member of Parliament, Gautam Buddha Nagar, UP and Former Minister of State (I/C) Tourism & Culture, Minister of State for Civil Aviation, Environment & Forest, Govt. of India said, "Global Indian International School's initiative to create awareness about the environment amongst its students from early childhood is creditworthy. Students are leaders of tomorrow and it is imperative that schools inculcate the values of sustainable living from early childhood. The pandemic is an unprecedented health emergency that the world is grappling with, but it has taught us an important lesson of conserving the environment and making the world a better place to live in."
"The LetsUnlockNature Campaign of Global Indian International School strikes the right chord with the audience as students aim to create awareness about the Environment. The Covid-19 pandemic has made us all rethink how we took nature for granted all these years. It is the responsibility of schools to inculcate a habit amongst students to care for the environment from a very young age. With the lockdown in force, this campaign creates awareness amongst students and parents, therefore creating a much larger impact on society. I want to congratulate GIIS for undertaking initiatives that not only focus on academic excellence but also help in creating responsible citizens of tomorrow.", commented Dr. Biswajit Saha, Director- Central Board of Secondary Education (CBSE), while applauding GIIS's awareness campaign.
Our 'Lets Unlock Nature' campaign is already making a buzz across social media, enabling us to spread the message to a larger set of audience, doing rightful justice in creating awareness. It has also been featured with the campaigns of various other top brands like Nestle, ITC, Tata, Godrej, Discovery Channel, and many more, in an article by Ad Gully - an online news source that obsessively covers the activities stirring up the realm of media, marketing, and advertising. Not only this, many media houses and online publications, including Business World, UNI India, K-12 Digest, among many others have also covered GIIS's noble initiative.
A number of activities such as slogan writing, planting, writing poems, poster making to raise awareness on environmental issues among children, teachers, and their families were undertaken on World Environment Day. The students unleashed their creative side and displayed heart-warming messages through paintings, words and humble gestures to share unconditional care for Mother Nature. Let's Unlock Nature is a wake-up call to welcome the abundance that Nature has in store for each one of us, to experience a new way of life in unison with the environment around us.
Known for creating and nurturing leaders of tomorrow, Global Indian International School has been undertaking various such initiatives throughout the year including those on Earth Day that contribute towards creating more aware and responsible citizens of the country.