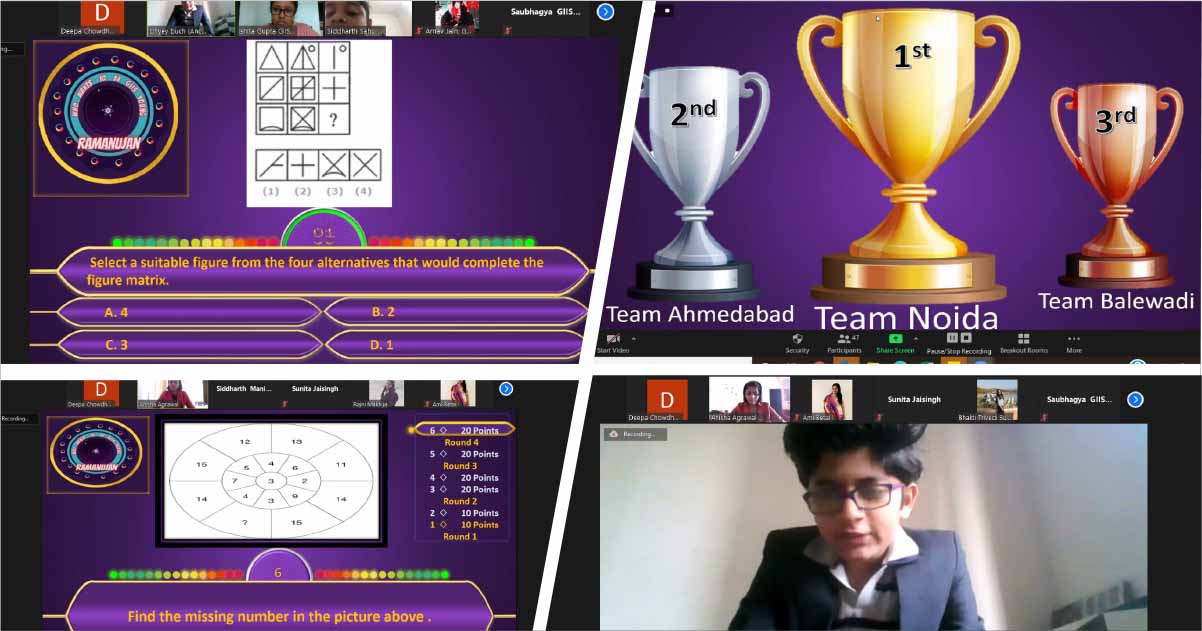 We are happy to share that students of Global Indian International School (GIIS), Noida have bagged the first (Secondary Segment) and second (Primary Segment) prizes in the virtual Inter-GIIS Ramanujan Maths quiz competition organized by GIIS Ahmedabad. The competition was conducted as a part of the Global Student Exchange (GSE) programme to pay tribute to the world-famous mathematician Dr. Srinivasa Ramanujan on his 133rd birth anniversary.
Dr. Srinivasa Ramanujan was a noted mathematician who was known for his knowledge and brilliance with numbers; he was born on 22, Dec 1887, and his birth anniversary is celebrated as 'National Mathematics Day' around the world. He is often referred to as the shining example of a 'Mathematic Genius.' In order to mark his birth anniversary celebrations, the competition had students from various GIIS India campuses i.e. Surat, Noida, Hadapsar (Pune), Bannerghatta, Balewadi (Pune), and Ahmedabad participating with absolute preparation and confidence to win the competition.
The competition had six participating teams who exhibited their knowledge on the subject during the virtual session. The competition conducted engaged students from primary and secondary segments both on different days to test their knowledge on the subject and ability to solve real-life problems at large.
Students got an opportunity to participate and explore the world of Mathematics with several rounds that tested them on their understanding and made them familiar with the significance of the subject.

The team who got the 2nd position had three participants namely Nandhini C (Grade 5D), Anushka Goel (Grade 4A), and Divit Singh (Grade 3E). The team from the secondary wing who won the 1st prize had 3 students representing the segment. They were: Arnav Pandey (Grade 6), Saubagya Kaushik (Grade 7), and Arnav Jain (Grade 8). With their confident attitude, our students answered all 5 rounds with great agility and confidence.
The competition consisted of an array of interesting rounds such as mental round, reasoning round, visual round, puzzle round, and rapid-fire round. It was an interesting competition that engaged students from the beginning till the very end.
The objective behind conducting this math quiz was to teach the students various concepts in an unconventional manner and make the process of learning fun and engaging. It was an attempt to outcast their fear of the subject and thus, promoting critical thinking among them.