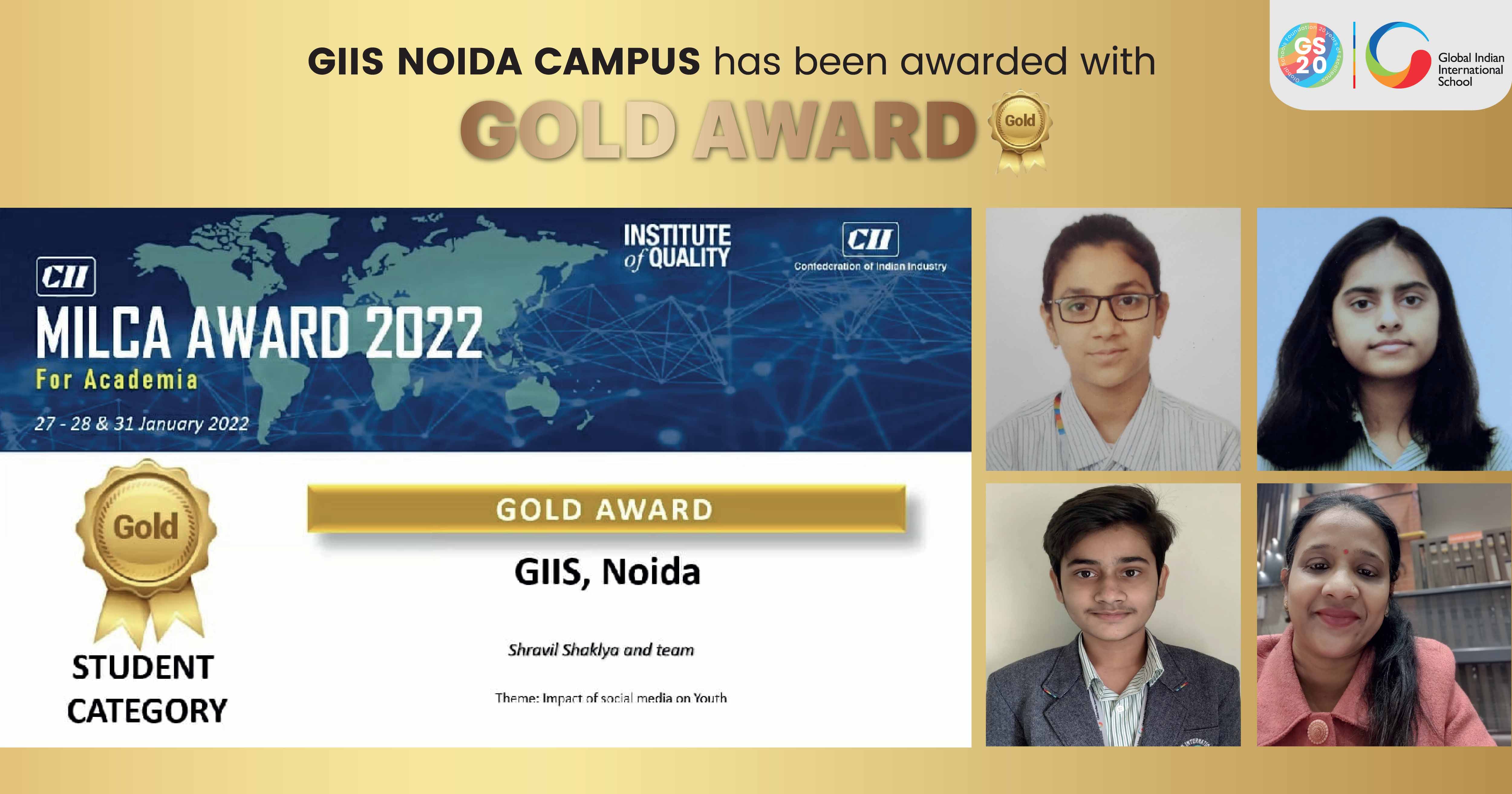 Global Indian International School (GIIS), Noida is proud to share that after successfully bagging the ACE and GED awards, Noida students have now added another feather to their long list of victories. Our senior students have proved their mettle once again by winning the Gold Award at the CII MILCA AWARDS 2022.
We are delighted to share that for this prestigious event, approximately 66 case studies were shortlisted under various categories across GIIS India campuses. Students had to present their take on the topic chosen on the final day of the presentation. Our students competed with other GIIS students from India, Singapore, Japan, UAE, and Malaysia.
GIIS Noida Campus put forth its presentation under the mentorship of Ms Roopa Ghosh – TGT English who mentored three meritorious students from the senior segment- Shravil Shaklya (Grade-IX), Gauri Kaushal (Grade XI) and Sameeksha Srivastava (Grade XII) on the topic 'Impact of social media on youth.'
Our students gave their best and were declared as winners for their outstanding display of knowledge and presentation skills. The eminent jury panel was very much impressed by our presentation and the way how our students answered in Q/A round.
Let's hear what they have to say about their whole experience:
"Being a part these prestigious award has been an enriching experience for me. Right from the very beginning, it has been extremely educational and knowledgeable. Not only have I learnt various things but also gained valuable experience in this journey which I'm sure will be very useful for me in the future. I am thankful to my mentor Ms. Roopa Ghosh and my school for giving me this wonderful opportunity to interact and learn from the eminent personalities of CII." - Sameeksha Srivastava (Grade-XII)
MILCA Awards 2022 provided us with a forum where we could grasp knowledge on various topics. From working of Waste Water treatment plants to the dark side of video-games, MILCA Awards was a platform where we could find a detailed explanation for every issue. It also added to our all-round development and made sure that we were clear with the real-time application of the projects. I look forward to participate in the MILCA Awards again as the platform added to my knowledge and experience. - Gauri Kaushal (Grade- XI)
MIILCA Awards 2022 provided us with a platform to analyze a particular topic and present our views on it. With well detailed and explained projects, we could grasp upon different topics and learn a lot. We could compete across the globe with discrete ideas and well elaborated projects. The jury was keen to know about the projects and we were given intriguing rebuttal rounds to test our real time knowledge about our project. I look forward to be a part of MILCA Awards again so as to acquire knowledge about different spectrums and fields- Shravil Shaklya (Grade- IX).
MILCA Awards 2022 provided the students with a platform to analyse the defined problem and work together in finding a solution for it. The team together researched and found many innovative apps to reduce the negative impact of social media, which has increased a lot in last two years because of the pandemic situation.
We congratulate our team of brilliant students and mentor for putting up an exceptional display onto a global stage and leave a mark behind for all the other to look up and follow.