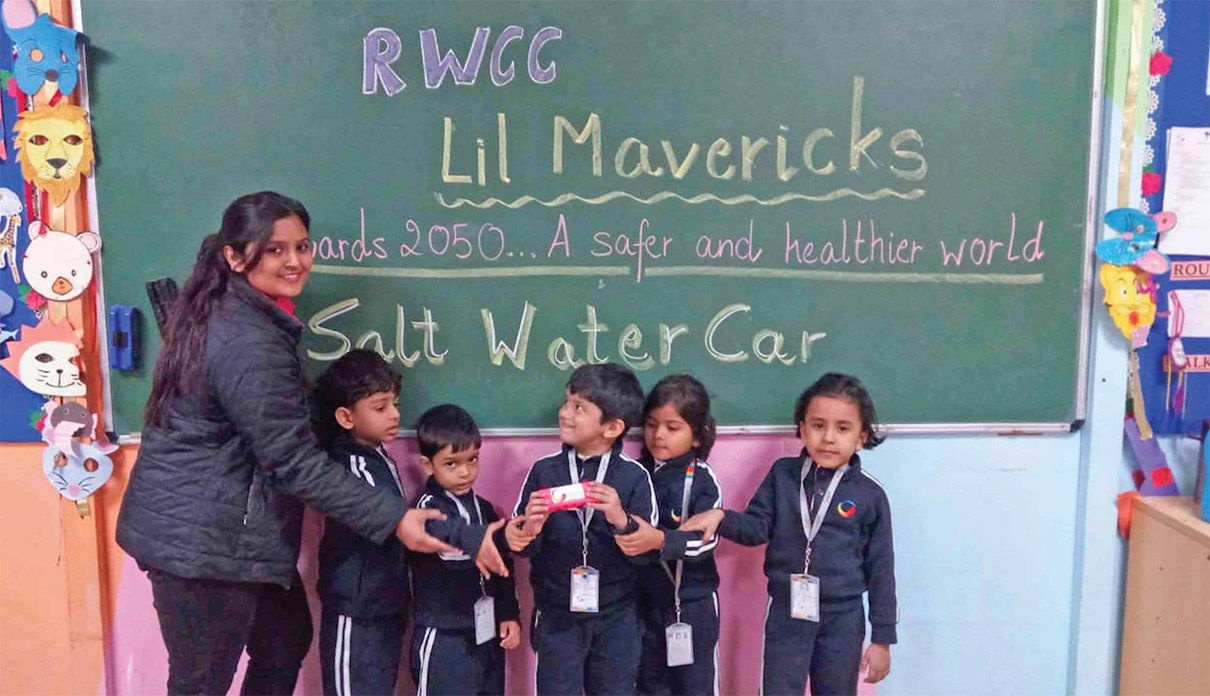 The stage is set and students from GIIS campuses in India are ready to showcase their talents at the finale of the Real World Challenges Convention (RWCC) 2019 happening on 4th December, 2019 at the GIIS SMART Campus, Punggol, Singapore. Students from the India campuses will be competing with students from all GIIS campuses in Asia for on the spot category of the events. Competition is high and so is the preparation of our students who wish to perform their absolute best.
This year's theme is all about enhancing one's Innovative, creative, and entrepreneurial talents by participating in various events and help the students in discovering talents they haven't explored till date.
While they are well prepared for the finale, the celebrations mode is on for GIIS India students as they have done exceptionally well in the pre-judged category of the events. Our students have outshone in events like Quality Circle Presentation (QCP), Perspective matters, Entrepreneurship Challenge, Adzapp, Appnovation, Little Mavericks, etc.
We are extremely happy to share the detailed result sheet of the pre-judged events with you all:
Smart Strokes For Young Folks Category: Lower Primary
Position
Names
School
Winner
Yashveer Lohar
GIIS Ahmedabad
2nd Runner Up
Aaliya Tajani
GIIS Surat
Special Mention
Atiksh Goel
GIIS Noida
An Educator's Perspective: Teachers
1st Runner Up
Aarti Pandita
GIIS Ahmedabad
Perspective Matter: SEC Category
Winner
Ayushi Sanadhya
GIIS Balewadi
1st Runner Up
Priyamvada Sinha
GIIS Noida
2nd Runner Up
Maitreyi Kapse
GIIS Whitefield
Perspective Matter: Middle School Category
2nd Runner Up
Ishani Chowdhury
GIIS Noida
Innovative Social & Commercial Entrepreneurship Challenge: SEC Category
1st Runner Up
Gaurav Nathani
Shreyansh Sharma
Harsh Choudhary
GIIS Ahmedabad
Innovative Social & Commercial Entrepreneurship Challenge: Senior Category
Winner
Krushi Patel; Parina Patel; Bansari Pandya
GIIS Ahmedabad
1st Runner Up
Chaitra Archak; Sumiit Tripathy
Udhayan Anantha Krishnan
GIIS Whitefield
Adzapp : SEC Category
2nd Runner Up
Moksh Bhatnagar; Gaurav Nathani; Shreyansh Sharma
GIIS Ahmedabad
Adzap : Middle School Category
Winner
Inesh Jain; Rhythima Madaan
Vedanshi Singh Rathore
GIIS Noida
2nd Runner Up
Shreya Garg; Sanjana Kalyani
GIIS Noida
Appnovation : Senior Category
Winner
Fardeen Faisal; Chandu G
GIIS Whitefield
Appnovation : SEC School
Winner
Gaurav Nathani; Moksh Bhatnagar
GIIS Ahmedabad
1st Runner Up
Markandeya Behera; Mahin Dhoke
GIIS Noida
Live it, Sketch it, Share it: SEC Category
Winner
Neha Sellappan Devadas; Sanjana Vaishnavi Kalla
GIIS Whitefield
2nd Runner Up
Sarup V. L; Niyathi Ijjapureddy
GIIS Whitefield
Live it, Sketch it, Share it: Middle School
2nd Runner Up
Garv Joshi; Mrunal Rangdal
GIIS Hadapsar
L'il Mavericks : Kindergarten
Winner
Saanvi Agarwal; Aarambh Chaudhry; Reyansh Gupta; Anusha Agarwal; Richan Kumar
GIIS Noida
1st Runner Up
Nandana Vipin; Shayna Bandoghati; Ishani Amit Menon; Daksh Vineeth Shetty; Laya Vishak
GIIS Whitefield
L'il Mavericks - Lower Primary
2nd Runner Up
Ariha Shah; Tanha Brahmakshtriya; Paridhi Yadav; Kavya Baid; Kanisha Korat
GIIS Ahmedabad
Tap into Tomorrow : Senior Category
1st Runner Up
Ronit; Nehal Kaul
GIIS Noida
Big congratulations to all the winners; your success has definitely set the bar and expectations high for the finale.
Best wishes to students who will be travelling to Singapore for the On-the-Spot competitions. May the best talent win!