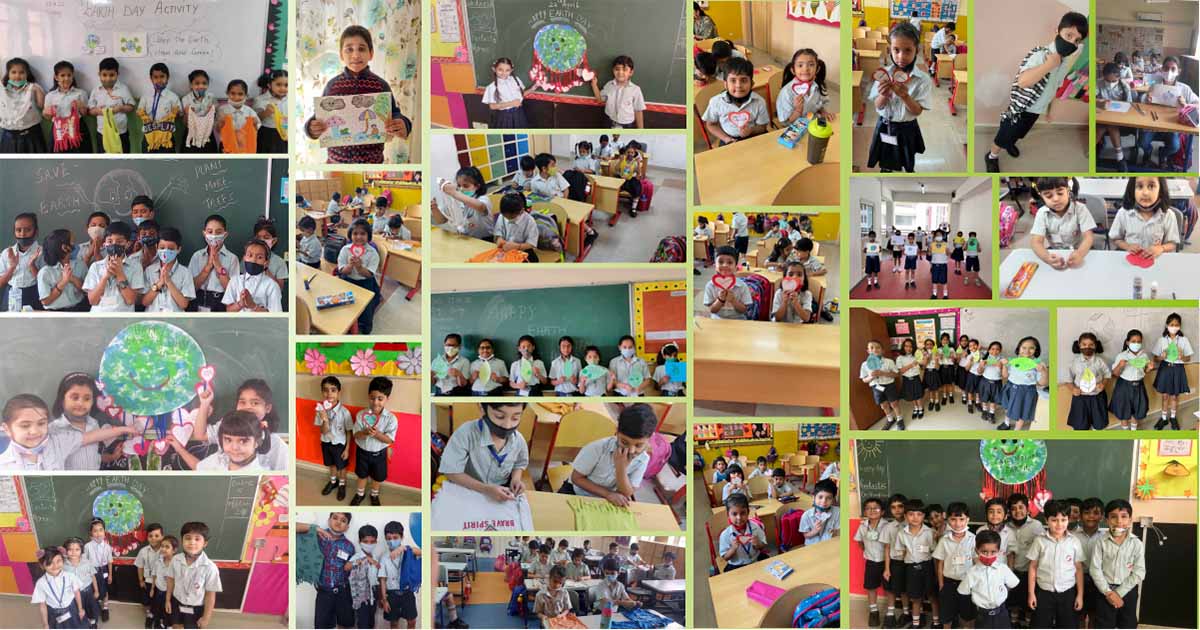 Earth Day is celebrated around the world to raise awareness among various kinds of pollution and human actions that are causing great deal of environment deterioration. It was started by the United Nations in 1970 with an aim of reducing, recycling, and reusing existing resources so that they are available for the future generations to enjoy and utilize.
With the same objective, every year, Global Indian International School (GIIS), Noida celebrated Earth Day to sensitize its students with the need of protecting the mother Earth. This year too, GIIS Noida celebrated the occasion with enthusiasm and ardour.
The children from pre-primary wing were shown Planet Earth song for 2 days along through a PowerPoint presentation on the importance of trees and to save our mother earth. They were familiarized with actions that could save a lot of natural resources and in return help nature and humans at the same time.
The little munchkins learnt about not wasting food and water, switching off the lights when not in use, not littering, growing more trees, reducing fuel emissions by walking whenever possible, and keeping the surroundings clean and green. They were even involved in group activities like sorting of things that are good or bad for our mother earth. The celebrations were concluded with leaf painting activity which was thoroughly enjoyed by the students.
Grade 1 students on the other hand were sensitized about Earth Day and able to identify things they can do to save planet earth. The students were given a list of ideas to brainstorm to save the earth. The students learnt about 3 R's - Reduce, Reuse and Recycle. It was a fun learning celebration which helped the children to know of different ways to save Earth like turning off lights when not in use, use less water, throw trash in the dustbin etc. Children wrote messages to save mother earth and hanged them on the cut-out of earth.
For grades 2-5, a special assembly was organized by the class teachers in their respective classes. Students were sensitized about the importance of a pollution free environment and how it impacts the growth and development of all living organisms. Children were also encouraged to take up responsibility of initiating the change from their homes. On the activities front, grade 2 and 3 made an eco-friendly bag using old t-shirts brought from their respective homes. Grade 4 students created an Eco corner (Tree of Hope) in the class which included various slogans and captions related to happy Earth. Lastly, grade 5 made placards and sensitized their school mates about the importance of sustainable use of resources.