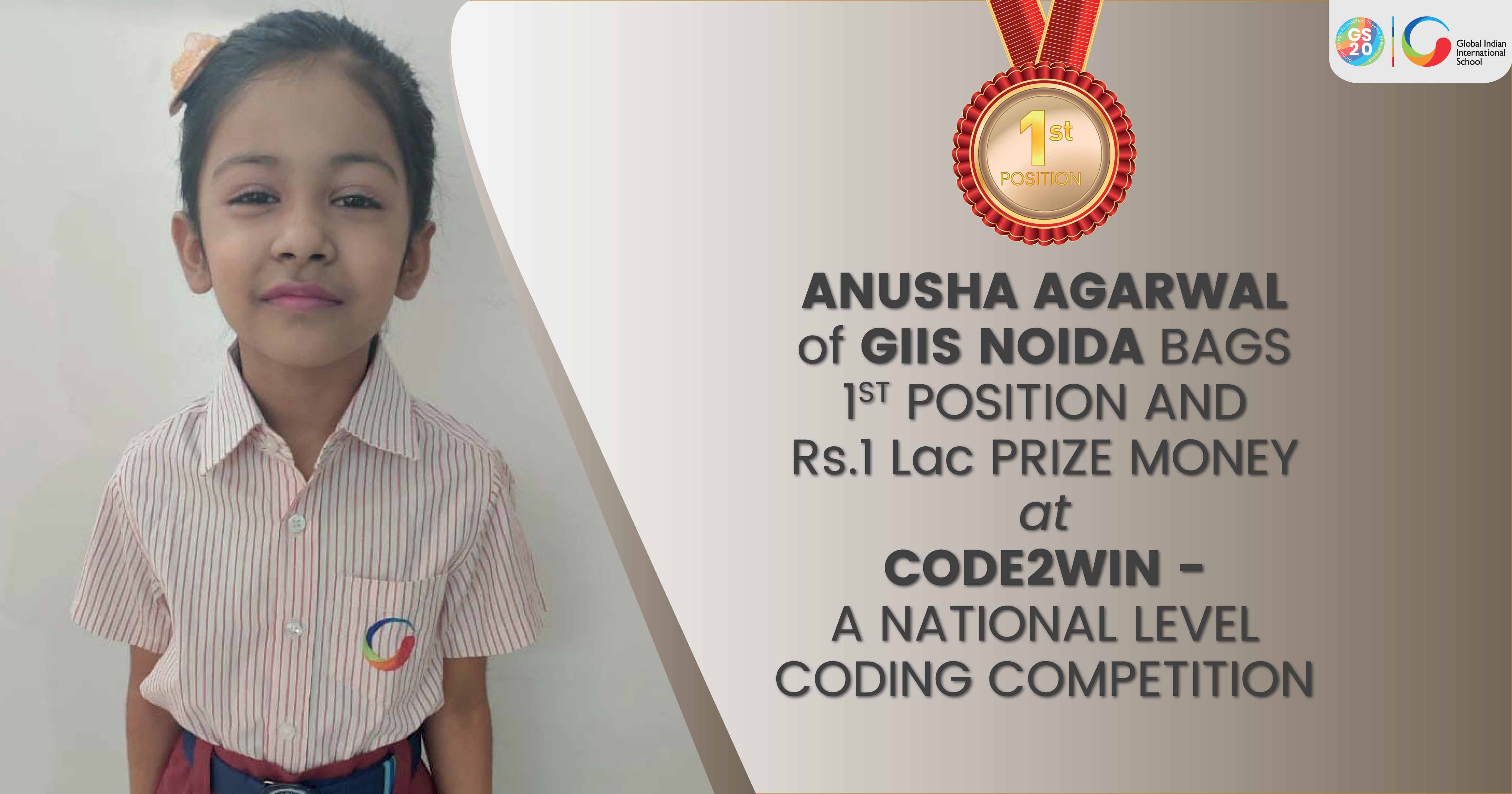 Someone rightly said – A genius brain knows no age; it just knows excellence.
These lines are absolutely true for our coding superstar – Anusha Agarwal of grade 2. Global Indian International School (GIIS), Noida is proud to share with you all that Anusha has won the Code2Win- a national-level coding competition under the primary category. She has got a cash prize of Rs. 1 Lakh after competing with several other students across GIIS India and other schools.
Anusha is a brilliant student and has immense love for science. She loves to get into the know-how of the activities and concepts that are being taught in class or otherwise. The little mastermind of the school won after securing remarkable grades in all three stages of the Code2Win competition and won the final round on basis of her coding knowledge and skills that she further enhanced during phase 2 of the contest which was the self-learning guide and practice material.
"Anusha is always excited to do hands-on coding in IT classes. When the Code2Win contest was announced, she was super thrilled. Anusha completed her tutorials and they were very helpful in developing her design, analytical and coding skills. We would want to thank Ritu Maam (Class Teacher), Kavita Maam (IT Teacher), and entire GIIS Noida family!" said happy parents of Anusha Agarwal on their daughter's achievement.
Her teachers call her a powerhouse of talent as she is known to utilize her full potential in both academics and co-curricular activities. Be it class activities or school and inter-school level competitions, Anusha has always been on the forefront of participation and progression.
"There is no joy greater than watching our young learner Anusha, making remarkable accomplishments at such a young age. This speaks about her purpose, passion, dedication, and hard work. Heartiest congratulations to the proud parents, teachers for encouraging and guiding her towards this extraordinary milestone. It is indeed a moment of pride and elation for the GIIS Noida fraternity." – Tapasya Dixit, Coordinator Primary Wing.
We wish and hope that this little prodigy of the school makes some big waves in the near future. With focus, skill and determination like hers, success is bound to follow.