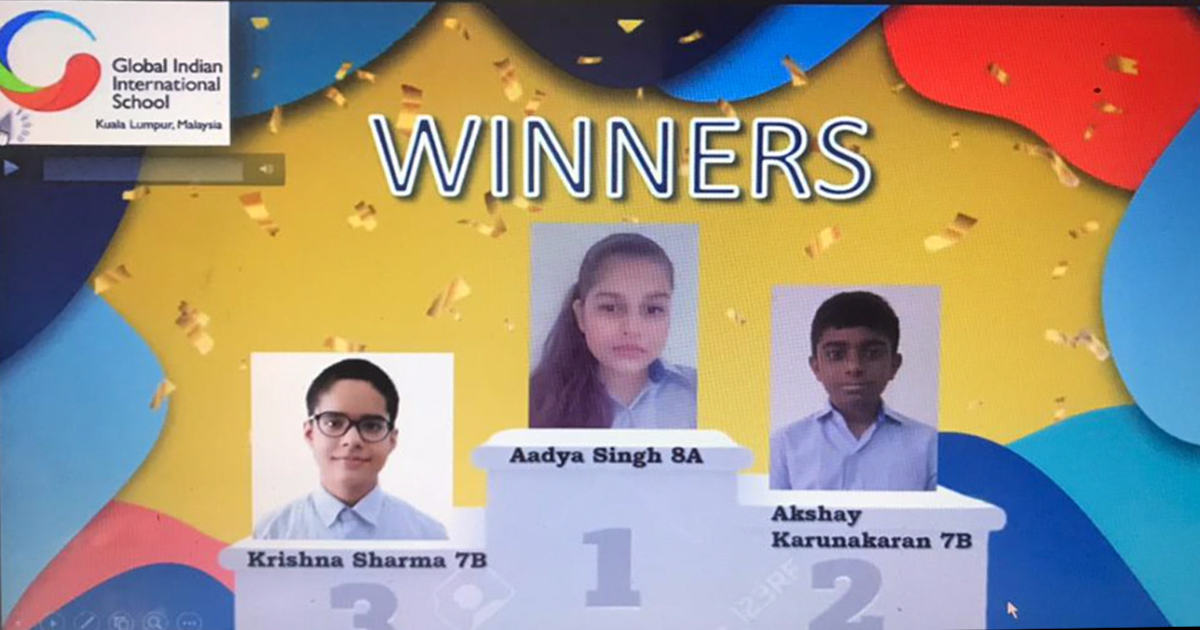 Kuala Lumpur- 31 July 2021- : 'English' is strange. It can be understood through tough thorough thought though. This sentence, as complicated looking as it may, makes perfect sense. Such is the beauty of language English. Sometimes what doesn't make sense at first glance proves to have a much deeper meaning into it. That is what makes English so fun. This was exactly the theme of the assembly held on Zoom, "Mindfulness in Madness", a wonderful example of an oxymoron. English Department of both primary and secondary sections have put together a wondrous display of the wonders of learning and speaking English. The webinar started at 1:30 pm on 31 July 2021 where students of primary and secondary showcased their talents in English.
The webinar started with the primary children displaying their artistic nature by making posters on kindness and even talking about the importance of kindness in one's life. They looked very cute indeed speaking in their adorable voices. After this, the commendable poetry writing skills of the students were also displayed. The final round of storytelling competition also left everyone in awe of their capabilities.
Next, the students put together a play of the famous story, "The Wizard of Oz". Their acting skills were commendable indeed. They delivered all of their dialogues with such clarity that one could almost get the theatrical feel from their performances. After this splendid act, the final round of the iconic Spelling Bee competition was broad casted . There was quite a tough competition among the finalists, but in the end three of the wonderful finalists have won first, second and third positions.
This event was made even more memorable by the video clips of parents giving inspirational talks, sharing some finest moments of their childhood, talking about how they were when they were in their teenage years. They delivered words of great motivation which was certainly very enlightening. Some parents even articulated some very hard-to-say tongue twisters professionally, they are probably masters of tongue-twisters now.
Subsequently, there was an epic display of teasers to give everyone a sneak peek of what the senior classes have done. Class 11 students were preparing their very own puppet show through animations, whereas the students of class 12 were in more of a fashion mood this time. The saree challenge teaser had left everyone desperate for more than just a glimpse of their children in such activities.
Such a show cannot be put together without the support of teachers, the technical team, and of course, the emcees of the show. Ms. Anuradha Bhardwaj, the head of English Department of secondary appreciated the teachers and students' efforts in putting together such a noteworthy show together for everyone to see. She even thanked the effort of the parents who sent their videos to the teachers. Last but not the least, the principal spoke words of motivations and appreciation. Her talk was certainly very illuminating for everyone.
"This was certainly a wonderful and informative session! I absolutely loved it.", said Sanjana, a student of class 12. Even the parents truly enjoyed watching their children's efforts through this platform. It was indeed a wonderful way to host an English language based webinar which left everyone enthralled towards the end. Such interesting and informative webinars are definitely expected to be held more in the future, which keep the kids as well as the parents enlightened and entertained throughout. 'English' is truly a beautiful and amazing language! One can never stop learning it.