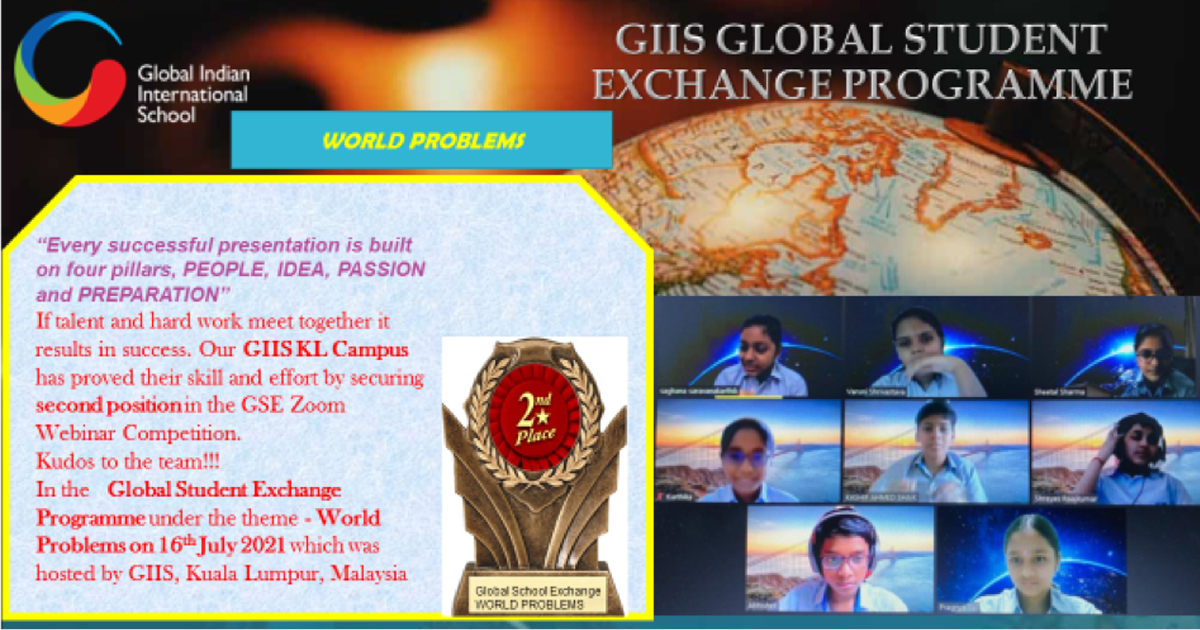 KUALA LUMPUR, 29 July 2021:
"Every successful presentation is built on four pillars, PEOPLE, IDEA, PASSION and PREPARATION"
'Every country no matter how developed, is riddled with social problems'- Keeping this concept in mind, Global Student Exchange Programme with the theme – "World Problems" was conducted on 16thJuly 2021 which was hosted by GIIS Kuala Lumpur campus.
The students of classes 6&7 with 4 members in each team participated in the competition. From each school, two teams were required to participate. Three various campuses of GIIS namely GIIS Ahmedabad (2 teams), GIIS Bannerghatta (1 team) and GIIS Kuala Lumpur (2 teams) participated in the competition.
The students were asked to undertake a research on some social problem from their country or state and evaluate the current policies to overcome the issue. They were asked to create an awareness of the problem and the related policies through a medium of power point presentation. The students were to give their suggestions to overcome or solve the issue at hand.
GIIS KL campus conducted the selection procedure in two rounds. In the first round all the students from classes 6 and 7 were asked to prepare the power point presentation. Eight students were selected to showcase their presentation in the event from GIIS KL. The topic chosen by KL Team was "Cyber bullying as well as unsustainable biomes and depletion of resources." Spontaneity and confidence were the hallmarks of the competition. The students left everyone awe-struck as they put forth their knowledge immaculately and effortlessly. They were applauded for their superb performance by the judges and secured second position in the Global Student Exchange Event Zoom Webinar Competition.
The esteemed judges of the occasion were - Datuk Dr A.T Kumararajah- DPSM, MD, MRCOG(UK), MBA (Maastricht) and Mr. U.K Menon-LLM (Monash) Barrister
The other dignitaries were - Ms. Sunita Jaisingh, Mr. Manoj Nair- Country director, Malaysia and principals of other Global schools.
Dr. Kumararajah and Mr. Menon even asked the questions based on the team performances and gave their valuable comments. They praised the students for their apt knowledge about today's problems and the way each team projected and presented their topics.
GIIS, Kuala Lumpur principal, Dr. Capt. Dinisha Bhardwaj Singh declared the results and concluded the event with the vote of thanks.