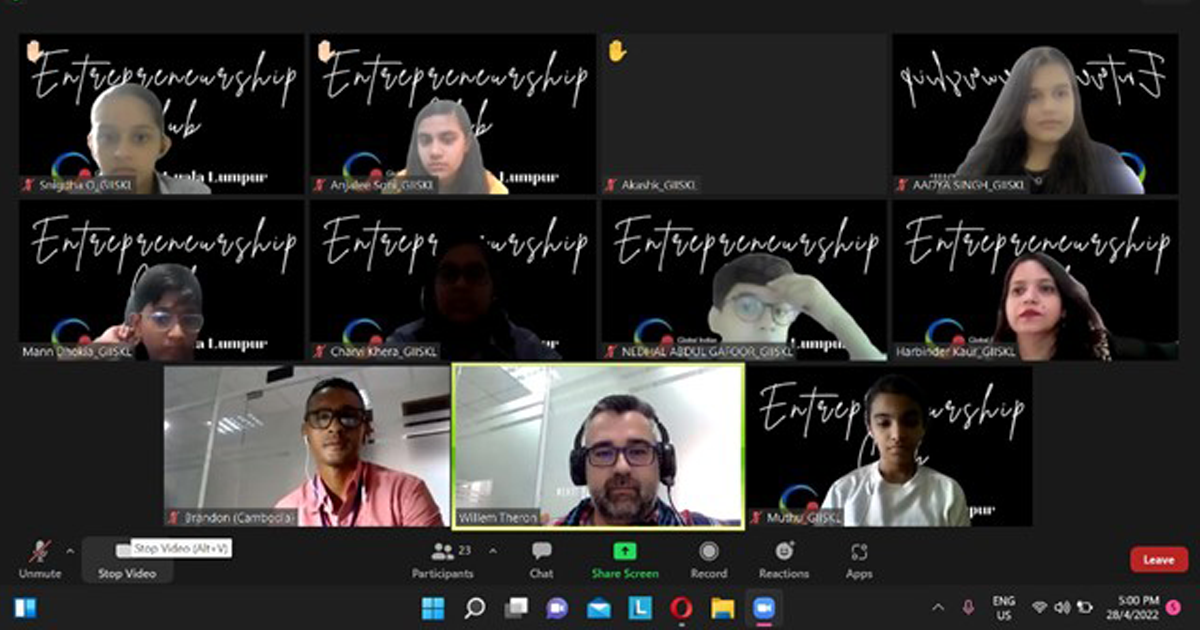 The GIIS KL Entrepreneurship Club had an online interaction with the Cambodia commerce team on 28 April at 4 pm MYT, where students of GIISKL asked various questions about the Cambodian market in relation to the demand and details of various health care products.
As GIISKL students are getting geared up for the FedEx challenge, students had various questions about market entry Business strategies in Cambodia.
Mrs. Louisa Condorelli, School Principal Waterbridge Global Education Co Ltd. assigned Mr. Brandon Roberts and Mr. Willem Theron, Business Studies teachers from Cambodia to answer their questions and clear their doubts.
The session lasted for about an hour and comprised teachers from Cambodia sharing extensive insights on the market and touched on various topics including current trends and tactics on how to successfully launch a product with certain limitations as well as overcoming barriers to entry.
This initiative is closely tied to Gem 6 (Entrepreneurship & Leadership) of the GIIS 9Gems Holistic Education Framework, which aims to foster great young minds with the ambition, skillsets and diligence to succeed and thrive in both present and future economies.
Here's what a few of the team members had to say about the extremely insightful session:
"Our team had a great session today. We picked up quite a lot of things we had no idea about, today we gained knowledge and experience from this event and we would also like to thank the organisers of the event along with you ma'am, for making such an interesting and fun event possible" - Team Tanishq Goel and Charvi Khera
"We learned a lot with this cultural exchange session, the real market value to interests to advertising and costing. It was really helpful and new for our team and with this I think we will be able to make change for better" - Team Aadya Singh and Anjalee
"We learnt a lot from this. It was highly productive and useful for our project." - Team Muthu Mekala An and Snigda Okade