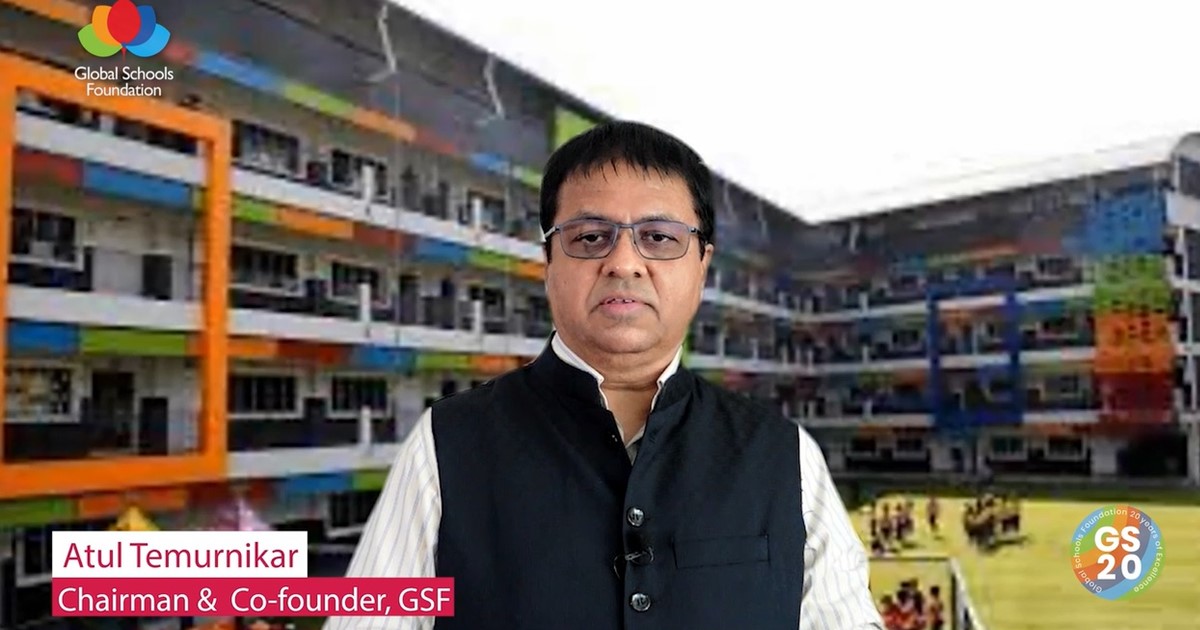 On the official opening ceremony of the GSF's 20th Year Anniversary, Chairman and Co-founder Mr Atul Temurnikar addressed the gathering, highlighting the GIIS KL Campus' journey and growth through the years.
Watch the full speech here.
"Dear Friends,
On the commencement of the GS20 or Global Schools 20th year anniversary celebrations, we extend our warmest greetings and best wishes to the GIIS KL campus family.
We also thank each and every student, parent and teacher fraternity for supporting GIIS KL Campus to reach this incredible milestone of success.
GIIS KL is one of our finest campuses where the faculty, staff, students and parents are fully tuned in to all that the school has to offer in terms of excellence in education.
The GIIS KL Campus under leadership of Captain Dinisha Bhardwaj and her highly accomplished team of Academic Supervisors. Coordinators has carved a niche for itself as one of the top schools not only in Kuala Lumpur but in the entire Malaysia region as well.
Our GIIS KL campus is the flag bearer of our core values which stand not just for excellence in academics, but also in extracurricular activities.
The GIIS KL campuses have been a trailblazer in many aspects in the GSF family of schools since its inception.
In KL, this vision and mission has made a mark on the expat and local community alike. Kudos to the team for living up to the core values of GSF right from the beginning when the school started in 2006.
There has been an 800 percent jump in the school's popularity since then, going by the steady increase in the number of students at the campus.
It is the only international school in Malaysia that offers an International and Indian curriculum under the same roof. It is also the only school in KL which offers CBSE up to Grade 12.
The Cambridge stream is its most popular curriculum as well which has given students a great choice in academics and opened up more opportunities for them. The school has adapted a highly personalised methodology to impart the Cambridge curriculum, which has resulted in intellectually and socially confident students.
The results have been excellent with our Alumni moving to reputed universities to study further. Students like Mehul Varsha Singh have been a cause of pride for the school. This allrounder is not only a good sportsperson and a great dancer, but has score 90% in her 12th board exams, and is currently pursuing an undergraduate degree in Artificial Intelligence. She represents the school philosophy of producing global citizens through its 9GEMS pedagogy.
Another student who benefitted from our 9GEMS pedagogy was Manasa Varanasi - the GIIS KL Alumna who was crowned the Femina Miss India in 2020. Manasa was a bright student of KL, who teachers remember as a compassionate student who thrive in our pedagogy of community service and universal values.
Our 9GEMS framework brought out the best in her, shaping her as an allrounder who is good in academics as well as sports and who has gone on to show her multifaceted personality to the world. She will represent India at the world stage in December this year at the Miss Universe pageant, and we wish her all the best.
Covid pandemic was not a hurdle for our school and students, as they went on to work around the problem to ensure education continuity through Virtual and Blended learning. Some students received certificates as Covid Youth Icons for their service to the community during the pandemic and other recognitions.
This is just the beginning of the student success journey thanks to the faculty's efforts.
The Cambridge trained teachers have been giving it their best to ensure that students are groomed to be curious, enthusiastic, resilient and lifelong learners. For their diligence, the teachers have been honoured with the Acharya Vinoba Bhave Shikshak Samman. The campus has also won awards at international forums for business and innovation excellence (BACK TO THE SCRIPT)
Data analytics, which is creating a great buzz in every industry around the world, is also at the heart of our GIIS KL's framework, providing the much needed insights and impetus for student success.
GIIS KL has also been a frontrunner in implementing the Data Analytics platform called the 7S.
Our proprietary tool allows detailed analysis for enhancing student performance through collection of relevant data, which helps the teachers understand a student's strengths and weaknesses.
The GIIS KL campus also has a very extensive Student Improvement plan with the philosophy of "No child should be left behind" which ensures each student "excels to their fullest potential".
The strong participation and engagement by our GIIS KL parent community has been one of the key reasons for our students' success.
Our GIIS KL board results showcase the effort put in by the school in student success.
Many parents have acknowledged this fact, and expressed their satisfaction at the way the school framework is helping their wards shape into global citizens.
Safety criteria was also achieved by GIIS KL which is evident from certification for ISO 9001 and ISO 45001.
Today, as GIIS KL students and teachers commence this iconic year with their celebrations, let us all join and give them a big round of virtual applause and wish them the very best for their year long celebrations.
We also wish GIIS KL students lots of love and best wishes from all of us at GSF.
Thank you and have a nice day."