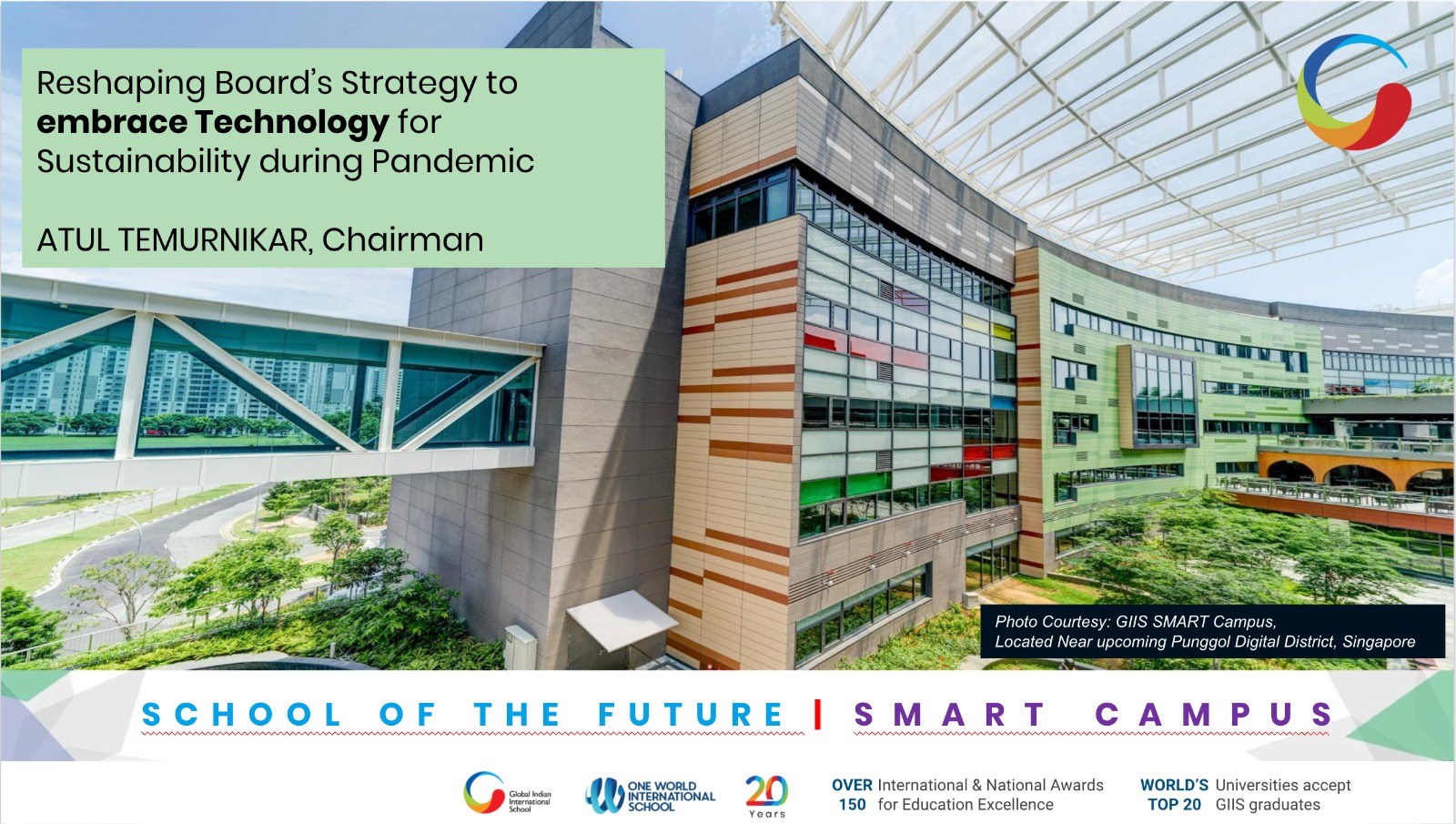 Good Afternoon. It's a pleasure to join all of you, from Singapore at today's IOD webinar.
Welcome to the innovations by people, all happening due to COVID.
Watch the speech here:
The Keynote Speech:
If people & customers are changing this rapidly, then Boards too, ought to change quickly and relook at embracing technology, not just for sustainability, but in some cases for Survival.
JOURNEY OVER 2 DECADES
Over the 2 decades, the Global Schools Foundation has been preparing Future Ready and Responsible Global Citizens. Technology has played a huge role in our Sustainability & Growth plans.
We have 3 broad verticals, first being the International Schools, then being Culture and Sports and last being CSR or Free Community Schools.
By 2008, we embarked on the journey of Business Excellence, and I am proud to say that GSF schools have set a UNIQUE world record, and are winners of over 150 education excellence or business excellence awards from international quality organisations.
By 2014, we started conceptualising the idea of SCHOOL OF THE FUTURE and we started implementing it.vBy 2018, Our first SMART Campus commenced operations in Singapore with emphasis on NextGen Learning. And now in 2020, we are here today with Virtual Schools, ready to take on the latest challenge.
GLOBAL PRESENCE
Today, GSF schools have Students from Seventy countries, Offering Linguistic Diversity & Cultural exposure, giving a Global experience.
This is offered through 21 schools spread across ASEAN & South Asia, Middle East and India which provide a world-class education to over 15,000 students.
Soon, we replicated the idea of SMART campuses in other parts of the world, from Tokyo to Dubai, Bangalore and other locations, building some brilliant campuses.
UNIVERSITY PLACEMENTS
A question that often gets asked is why do the Top 20 ranked universities enrol GSF students.
What's so special about these students or the school, that you get 3X university offers compared to the number of students. It's not a big secret, and I will share key reasons.
For these universities, GSF schools are a place to find THE perfect combination of best academic results + well-suited skills + and "structurally" developed holistic persons.
Each year, over 150++ universities including select IVY league visit GSF schools. Sometimes we get 3X offers, and at all times guaranteed Placements & Scholarships.
In fact, over 45% of students, each year are placed at the Singapore Universities, some which feature in Top20 rankings.
And it gives me immense pleasure to share with you, a GIIS ALumni, linked to SpaceX. Yes, the famous Elon Musks' SpaceX launch, that launched 2 American astronauts to the International space station and rolled out a historic space program.
GIIS Singapore student, of IB Class 2014, Ms Kanika, was a proud team member of the SpaceX team and had served there on Falcon 9 landing legs. She has not only made GIIS Proud, but also Singapore & India.
SCHOOL GRADUATING CLASS RESULTS
Year upon year, our students give exemplary results in their board exams.
Given the fact that we are not a selective school, we take these students and transform them into extraordinary performers.
In the IB Diploma exams, 39 students have ranked as World topper (45/45) and Near Perfect scores (44/45).
In International Cambridge IGCSE examinations, 78 students scored A*s in ALL the subjects.
In CBSE, we had a GIIS student, who was CBSE topper in South East Asia and the Middle East.
THE GIIS 7S - STUDENT DATA ANALYTICS
Every teacher in our school is empowered with a very powerful, inhouse developed education analytical tool, called The 7S, which provides comprehensive analysis about the students' academic strengths and, and plan ways to improve & enhance performance - based on this data.
These Student Improvement Plans (or SIP) strategies are evidence-based carefully crafted, improvement programs.
THE GIIS SPEDAS - SPORTS DATA ANALYTICS
Similarly in Sports, we use data analytical tools called (SPEDAS) or "Sports Performance Enhancing Data Analytics System" This is part of our efforts to uplift school sports to the international levels. These are very high-end systems that are used by the likes of NBA teams in basketball or FIFA teams in soccer.
SPEDAS is currently available at the SMART Campuses in Singapore and India and being rolled out to other countries as well.
CREATIVITY AND PROBLEM SOLVING
Every year we run the Entrepreneurship and Innovation Bootcamps and are joined by senior faculty of INSEAD Business School.
This is to boost the Creativity and Problem-Solving capabilities and skills for each child.
BLENDED LEARNING SPACES
We were always a technologically-advanced school. After we have seen COVID, it is interesting to see how our early adoption of "School of the Future" concepts is now making absolute sense.
Our introduction of Blended learning combines the learning from digital classrooms with learning from virtual classrooms and with learning from nature classrooms or from open classrooms.
With this unique COVID experience, students are going to see a bigger proportion of Blended learning in their future.
DIGITAL CLASSROOMS
The digital classrooms were a major part of our School of the future initiative. They were like the heart or central nerve system and widely researched, prototyped and benchmarked to be the best amongst schools in the world.
The GSF digital classrooms had everything. From Video-Conferencing, Screen sharing, Location Sensing, Touchscreen Displays, Facial Recognition, RFID Lockers, High-Speed WIFI, CCTV etc
All classrooms are ZOOM webinar ready, allowing students to join classes from the comfort of their homes or engage in student exchange programs with other GIIS campuses globally. Each classroom has one or two 65" Multimedia touch screens which make lessons more engaging.
Location sensing is used to create data mining for student movements and staff movements and further generate heat maps for better facility optimisation.
Digital Students Lockers using RFID locks are made available to students for books storage and sports equipment. Facial recognition is provided to each classroom or floor for student attendance. CCTV for safety is provided in each classroom.
Of course, we had ensured our network infrastructure had very high end 40Gb performance and so we chose to work with CISCO for switches and back in 2015, I got a chance to have a side chat with Mr John Chambers of Cisco and got a chance to share our vision of School of the Future.
LEARNING FROM HOME
With Covid-19, Learning from Home (LFH) became synonymous with every child and is every day being used extensively by our 15,000 students. LFH is used heavily not just for regular classrooms but also for Enrichment & Remedial classes, or for Co-Curricular or Cultural Centre activities.
SKILLS BASED STUDIO
Our skill studios complement our Digital classrooms, Virtual Classrooms, Open Classrooms and Nature-based classrooms.
We, through 42 skills studios, believe in offering skill-based learning to develop multi-dimensional talents, in our students which go beyond just academic and sports excellence.
In the SMART Campus, skill-based studios like Digital Design, Maker Studio, Robotics and Innovation studio, Ceramic Studio, Radio and TV Studio, Culinary Studio, Music and Dance Studio, Language Studios and others, where we successfully implement various skill-based learning modules.
SAFETY and SAFE DISTANCING
The safety of our students is very important to us, especially in the post COVID era. We already had a number of elements in place to ensure students are safe on the premises.
Besides traditional security guards, we have installed over 700 CCTV cameras at one of our campuses, to provide that extra layer of safety. Then there are non-touch Facial Recognition readers outside every classroom, which provides contactless attendance as compared to biometric scanners, which are contact based.
Going forward, in the COVID era, we will have face masks, face shields, desk shields in every classroom, to ensure minimum physical contact. Contact tracing will also be enforced in all schools.
POST COVID REALITY
Covid-19 has taken us all back on the backfoot. Economies are affected and the education sector has been impacted too.
For GSF schools, Now that a system is in place, and education continues unhindered, it is time to think about what the post-COVID reality will be, for the education industry
Social platforms like FB, Google and others will soon see an opportunity to scale up their video conferencing platforms for allowing teachers to provide education. With 5G, a large part of school education will move to Mobile but the 5G is still way ahead in many countries.
The teachers' job would expand in breadth and depth, to be influencers and guides to direct students, stimulate them and encourage them to become better global citizens.