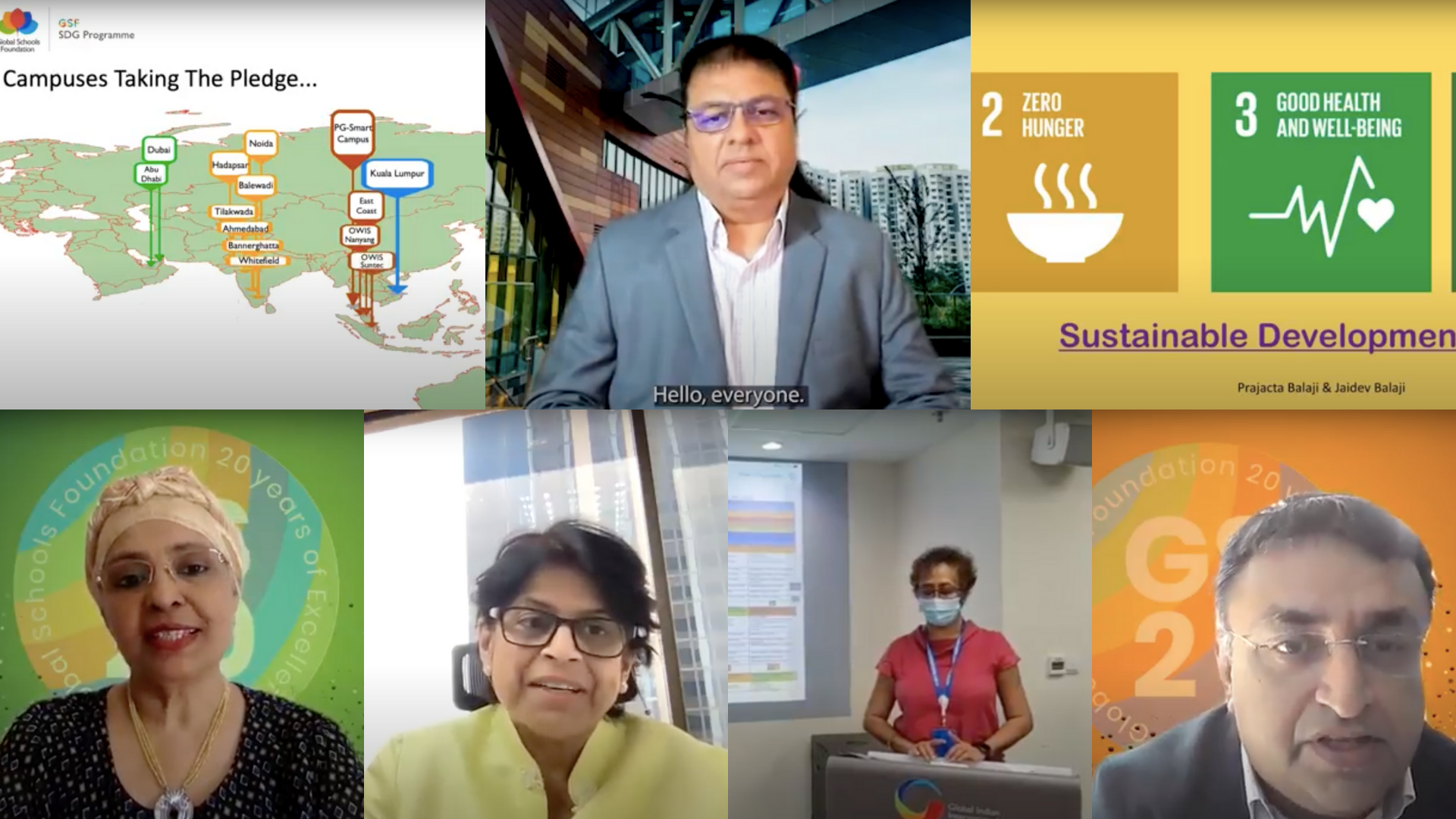 On the occasion of World Sustainability Day, the Global Schools Foundation inaugurated its very own Super 20 Sustainability Initiative featuring 20 Sustainable Development Goals that its schools will follow through.
Watch the opening ceremony highlights here.
Watch the full opening ceremony here.
The opening ceremony was held virtually, delving into the past and present initiatives of the GSF schools, while also highlighting the plans for the future. The event was kickstarted with a brief introduction by the students emcees, followed by a welcome address by Ms Melissa Maria, Principal of GIIS SMART Campus. The virtual audience was addressed by the Guest of Honour next, Ms Kirtida Mekani, who is a dedicated environmentalist and the Director of CIS Agrifest Pte Ltd. She also started the "Plant-A-Tree" initiative, which has seen more than 12,000 trees being planted since its inception.
Following her inspiring speech, various video presentations were showcased, including the following - a video featuring the past initiatives of the GSF schools, an explanatory video by Ms Manju Nair, GIIS SMART CAMPUS PYP coordinator, on the PYP program's contribution to sustainability as well as a presentation on Hunger Warriors, a campaign undertaken by Jaidev Balaji, Ms Prajacta Balaji and team to help those in need. The event also showcased the SMART Campus and the East Coast Campus' current initiatives in practice, which contribute to a more sustainable and green way of living.
GSF Chairman and Co-founder Mr Atul Temurnikar spoke a few words on the occasion, highlighting the Foundation's strive to Sustainable living and also officially declaring the GSF's SDGs open. Ms Melissa, along with GIIS Whitefield Headmistress of Pre-primary Ms Preetha D'mello, took the audience through the virtual signing of the official sustainability pledge, acknowledging the GSF's vision towards complete sustainability. The event was wrapped up with closing remarks from the Associate Director of GCEE Mr Rathin Khandhadia, leaving the GSF's Sustainability Program officially inaugurated.
The GSF has always believed in a sustainable and green growth, inculcating these values into the students' academic journey to become global leaders of tomorrow. The Super 20 SDG Initiative will hence be yet another stepping stone in the GSF's quest to excellence achieved through a sustainable growth.