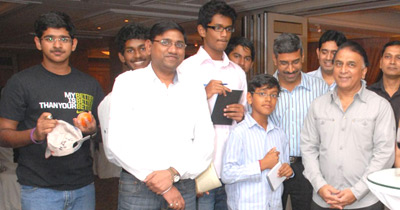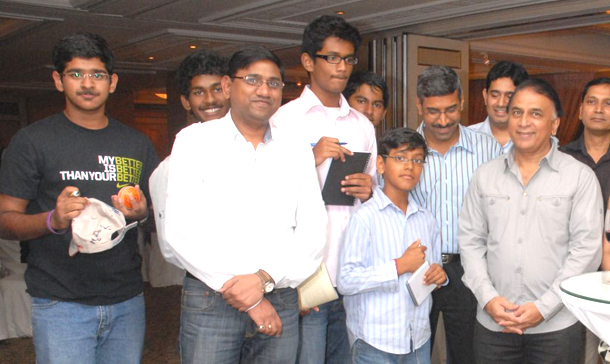 The Little Master with the GIIS team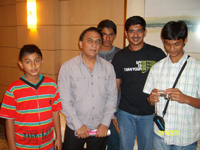 GIIS cricketers with Gavaskar
The 'Little Master' as Sunil Gavaskar is popularly called, has inspired many a cricket heroes to a superb cricketing career while creating legends from his own achievements. Sunil Gavaskar interacted with GIIS students at the 'In Conversation with Sunny' event recently held in Singapore.
For GIIS students meeting the cricketing legend was a once in a lifetime opportunity and a dream come true! For one of them, Abhishek, it was "a memorable experience that I'll cherish for the rest of my life. I want to thank the school for such an enriching opportunity of meeting my inspiration Sunil Gavaskar. I'll remember his revelation about concentration always being his biggest strength as a batsman." His interaction with a group of enthusiastic GIIS students was very interesting and he also answered questions from the up-coming GIIS cricketers very patiently.
GIIS student: How did you cope with the pressure when you walked out to bat in the presence of 100,000 spectators?
Gavaskar: It is impossible to ignore that, but you should try to block out as much of it as possible. In addition, you need to have a lot of concentration.
GIIS Student: When should one play the hook-shot and when do we leave the ball?
Gavaskar: Only if the ball is in front of your front-shoulder should you play the hook-shot, not in front of your back-shoulder.
During the course of evening, Gavaskar who is a professional commentator, answered questions with ease, looking younger than his age and in command of the meet. In response to questions from the Master of Ceremonies, he spoke, among other things of winning the 1983 World Cup being his most memorable moment and mentioned that it was probably the turning point of his career.
Gavaskar penned a special message for GIIS cricketers and students towards the end and wished them well.
Message from Sunil Gavaskar for GIIS cricketers:
Practice hard and practice with a view to get better. Enjoy it. It is still a sport.