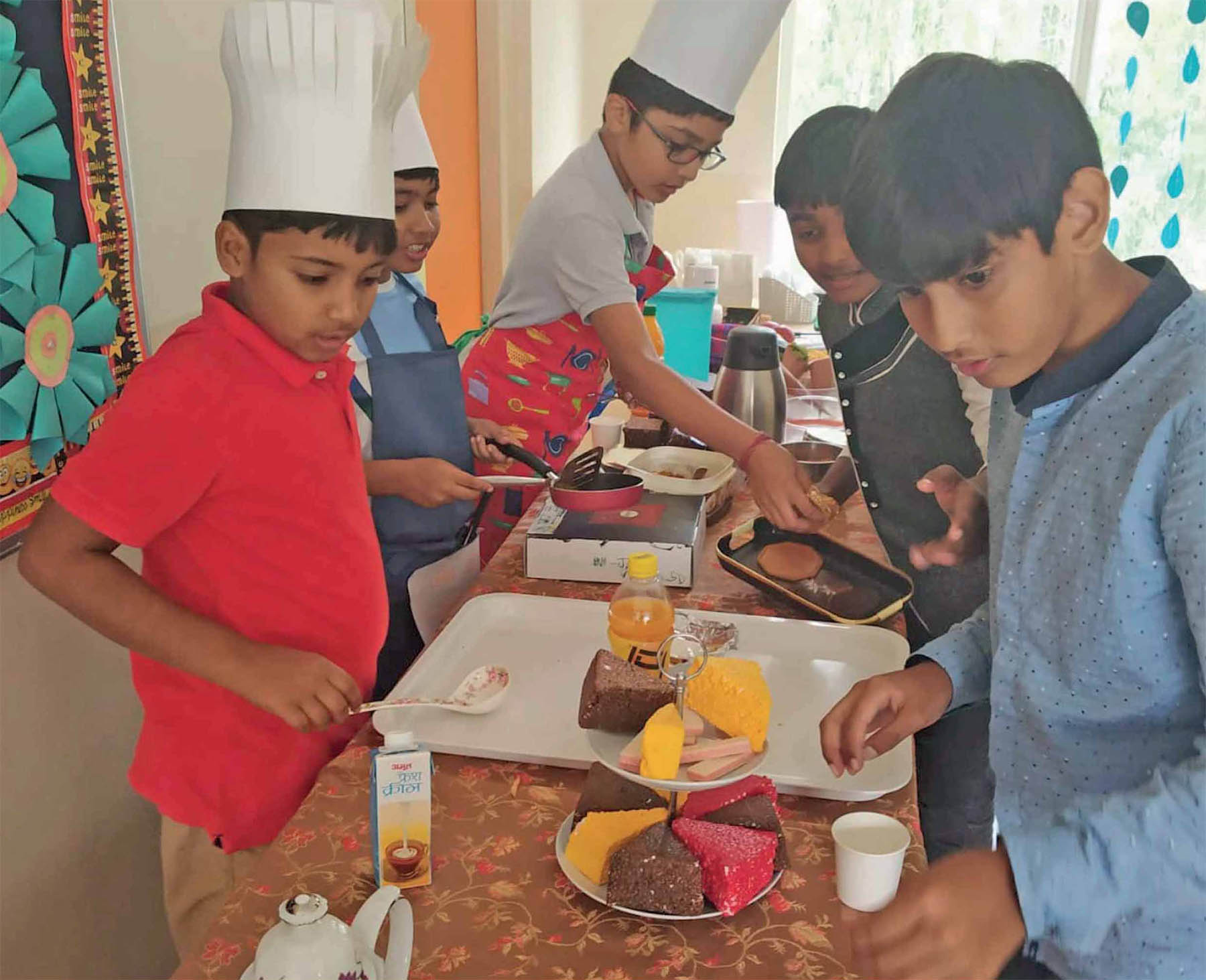 The introduction of blended learning in Global Indian International School, Whitefield curriculum has brought a magnetic change in the concept of the existing learning methodologies. An example of this is the recently conducted blended learning activity 'Pretend and Play' on the theme of entrepreneurship for Grade 5 students. Academic Coordinator of Primary Segment, Ms. Jeelu Mary Varghese implemented a unique combination of technology and tradition centric learning for the students through an array of activities customized for different levels. This new age of activity-based learning platform involves both teachers and students to come together and contribute towards the amalgamation of different elements and accelerate the rate of learning and ease the understanding of subject-wise concepts through experiential learning.
For this entrepreneurship activity, students displayed two business module. They after much deliberation finalised a beauty parlour and a restaurant for this activity. Each section was divided into 2 groups and significant roles were assigned to the students. The activity was divided into two phases namely the planning and execution phase. In the planning phase, project details were shared with the students and the business plan was discussed between them. Post this they got together to decide the name of the restaurant and the parlour. Then they finalised the menu & price list, allocated the manpower and finalised the infrastructure requirements. Real props were used to give the two businesses a natural look like for the restaurant home-cooked food was brought by the students. Principal Sir Dr. C.S Shivananda and the Headmistress Ms. Preetha D'Mello were invited to inaugurate the restaurant and the beauty parlour. Students were excited to have them as their first customers along with the Academic coordinators Ms. Jeelu and Ms. J Anuradha. The efforts and contribution made by teachers and students towards making this activity a grand success was praised by everyone. Students were congratulated for maintaining the high engagement level and their polished marketing skills. The business that has high customer service levels requires one to have a sharp presence of mind, great communication skills, pleasing persona and also a quick enquiry resolving skills. These were the parameters that this activity aimed at teaching the students through experiential learning method.
This activity boosted the confidence of the students and enhanced their creativity levels, improved their communication and developed their analytical & business planning skills. The active participation of the students' right from the inception level was commendable and proactive. This helped to train them easily on how effectively they should manage time and pace while executing a big business strategy keeping in mind to coordinate and control all the aspects in the right manner. It also helped to inculcate the salient features of blended learning, with communication being the chord that connected all the stages seamlessly.
Grade 5 students proved that they are the aspiring young entrepreneurs of the future world.