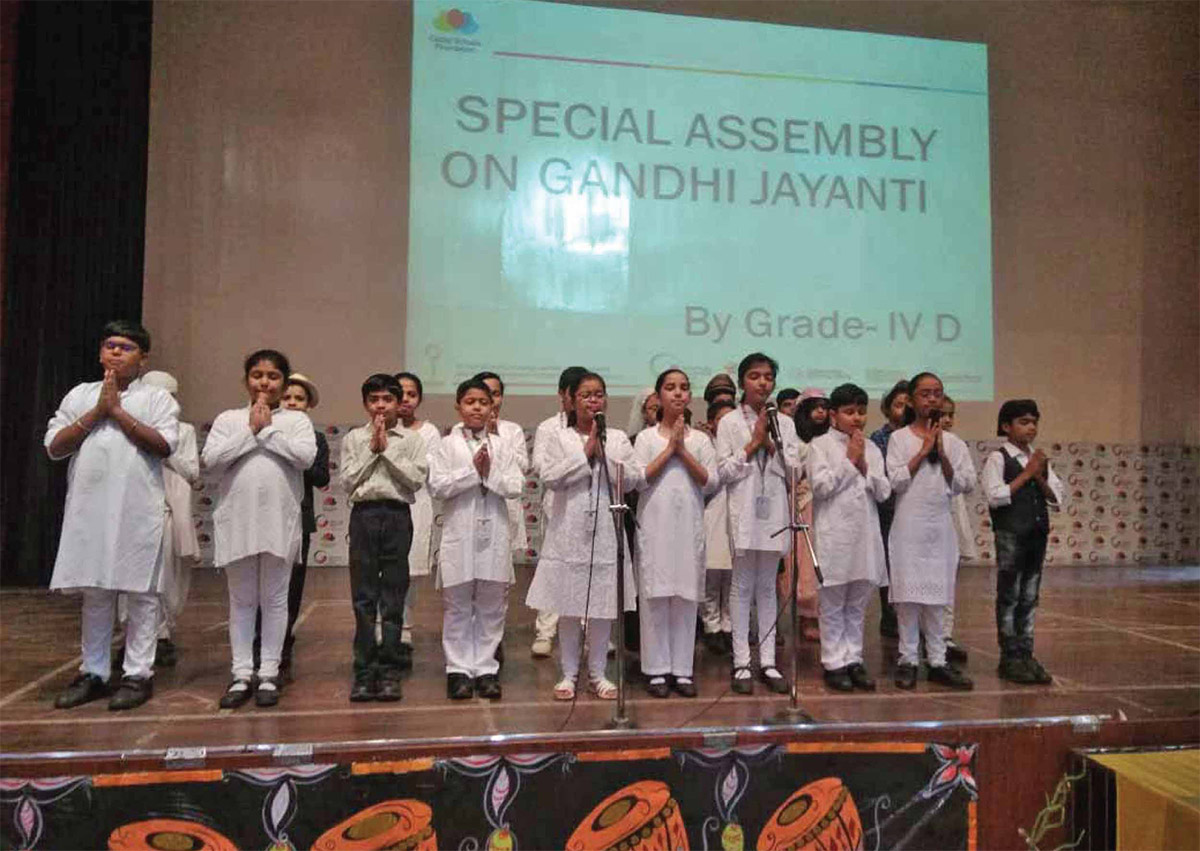 Global Indian International School (GIIS) campuses in India celebrated the 150th birth anniversary of Mahatma Gandhi to commemorate and remember Gandhi ji and his teachings. Each campus celebrated the occasion in a special manner to pay tribute to the Father of Nation who led India towards freedom and independence.
Celebrations conducted at each campus depicted one true cause GIIS wishes to achieve i.e. imbibing values like peace and love for mankind with a hope to build a nation that is free of hatred, racism, violence, prejudice, etc.
GIIS Ahmedabad carried out week long celebrations which were concluded with half km of Dandi March by over 60 school students, and the "Festival of Giving" drive to help the needy and under-privileged. GIIS Bannerghatta organized Global L'il Stars event and celebrated a day long Gandhi carnival along with over 90 students of eight pre-schools of the city amid a gathering of 250+ parents, teachers and staff members. All the activities conducted were around Gandhian values and his teachings. GIIS Balewadi on the other hand invited and interacted with senior citizens from old age home to express their belief that money isn't the most important factor behind happiness; it is the good virtues of a common man towards the living. A cleanliness drive was also carried by the students to put forth the message of "Clean India, Green India".
On this occasion, GIIS Noida celebrated for two days and engaged each and every child in some activity that taught them about ideologies and teachings of the mahatma. Students planted trees within the campus as a part of their Green India campaign; a nukkad natak was also staged by senior students outside the school premises to promote equality, love and brotherhood. For GIIS Surat, it was a multi-day celebration as students were taken on a field trip to Sardar Patel Museum that gave them a glimpse into the contribution of Sardar Vallabhbhai Patel and Gandhi ji.
GIIS Whitefield organized a rally holding placards with Gandhiji's freedom quotes and the students also sang patriotic songs; senior students of the campus did small actions activity based on Gandhigiri like appreciating each other with a note, random act of kindness and by planting medicinal plants to respect Mother Nature.
GIIS Hadapsar took students to Agha Khan Palace where they witnessed few glimpses of Mahatma Gandhi; a documentary movie was also shown to promote the teachings and ideologies of Bapu. Students even carried out a Dandi March within the campus to pay their tribute and respects.
Every GIIS campus has a Mahatma Gandhi Centre of Universal Values that is replica of Sabarmati Ashram; it reflects all the Gandhian values that are deeply engraved and still relevant in the lives of current generation. Overwhelming number of participation was observed in other activities that were part of the campus wise celebrations including Poster Making, Portrait and Poem Writing, Collage Making, special assemblies, green medicine activity, to name a few.