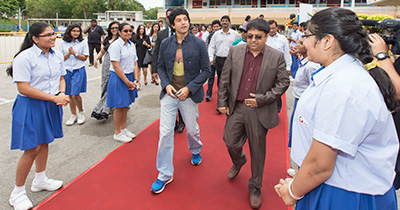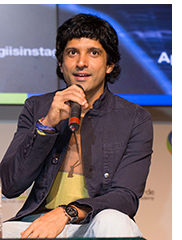 "It is truly possible to achieve anything you want in an honest way if you are willing to submit yourself to the cause," writer, director, and actor Farhan Akhtar told GIIS students. It was yet another glorious moment for the students of the school as they engaged in a dialogue with the immensely talented film icon, Farhan Akhtar as a part of the GIIS Leadership Lecture Series on April 12, 2014. The rousing event was hosted at the GIIS Queenstown Campus in Singapore and was simulcast live across all GIIS campuses worldwide through myGIIS, the school's information portal; thereby connecting thousands of students and parents to witness the inspirational actor-director and to ask him questions over a live video link.
Mr Akhtar, as a role model and achiever in the field of performing arts, has influenced many young minds. He was received by Mr Atul Temurnikar, Co-Founder and Chairman, GSF; Mr Kaustubh Bodhankar, Deputy CEO, GSF; and Mr Rajiv Vasudeva, Country Director (Singapore), Global Indian International School. Other dignitaries included Mr Subodh Gore, Mr Sudan Wargantiwar, Mrs Aparna Temurnikar, Mrs Wrushali Bodhankar, Mrs Smita Wargantiwar, Mr GSS Rao; and Principals - Ms Madhu Khanna, Ms Melissa Maria, Ms Sheela Karia and Ms Rekha Varghese.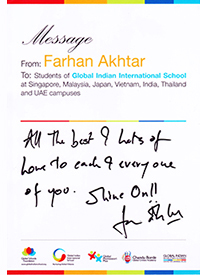 Mr Akhtar, who arrived at the campus to an enthusiastic cheering from the students, first paid homage at the statue of Mahatma Gandhi along with Mr Temurnikar. The excitement among students was palpable as he made his way to the auditorium. As he stepped in and waved to the students, a thunderous chant of Mr Akhtar's name broke out in the audience. After lighting the traditional lamp to mark the commencement of the event, Mr Akhtar watched with attention as GIIS students presented a band performance of his songs followed by a dance sequence on songs from his movie Zindagi Na Milegi Dobara.
Following the performances, Mr Akhtar was invited on stage with Mr Temurnikar. A reverberating applause struck across the auditorium in honour of Mr Akhtar who started out by sharing that being amongst the students of GIIS was very special for him. "This is the best time of your life. Enjoy it," he said. "When we are children, we need right people to guide us. I was fortunate to receive the right guidance from my teachers and parents," Mr Akhtar added.
The visit was a motivational experience for the students across GIIS campuses across South East Asia to develop qualities of courage, character and strength - values that will guide these budding leaders throughout their careers. Previous speakers under the GIIS Leadership series have included industry stalwarts and achievers like Sachin Tendulkar - legendary cricketer; Dr. A.P.J. Abdul Kalam, former President of India; A. R. Rahman, Academy award-winning musician, Nobel Laureate Professor Richard Ernst among others.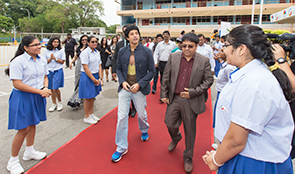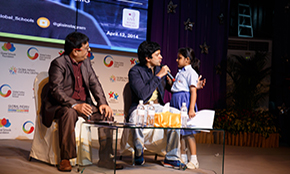 "You are a rockstar!"

Multi-talented actor-director Farhan Akhtar might have a wide fan following. However, during his visit to the Queenstown Campus as part of the GIIS Leadership Lecture Series, six-year old Jeenal Agarwal from Class 2 of GIIS Balestier Campus, floored the actor. As Jeenal took the mike to ask her 'Farhan Uncle' a question about his success in many roles, Mr Akhtar left stunned by her confidence. "How old are you Jeenal?" he asked her. On hearing that she was six years old, Mr Akhtar said "You are a rockstar! If I had to ask a question when I was six years old, I would have fainted. You are so brave," he added before calling her on stage and hugging her.
Mr Akhtar reflected great humility while engaging with students during his visit. As a part of his interaction, he shared many instances from his work life and gave a glimpse of his personal professional philosophy. Arnav Pratap Singh of Class 5 from GIIS Noida Campus, India wanted to know the best lessons Mr Akhtar had picked up while doing his recent nationally-acclaimed movie, Bhag Milkha Bhag to which he replied, "I learnt that it is truly possible to achieve anything you want in an honest way if you are willing to submit yourself to the cause. If you have the will, everything is possible. Approach every new challenge in a very excited, child-like fashion. It is very important to stay true to your goals and to listen to your inner voice. In every task, do your best otherwise if you fail you have only yourself to blame," he said.
When Atharva Ghosalkar, of Class 12 from GIIS Queenstown Campus asked him about the advice for aspirational writers, Mr Akhtar reiterated the importance of being disciplined and dedicated in pursuing one's professional goals. "When I was 19 years old, I started working under Mr Adi Pocha, whom I consider my Guru. He taught me a very important life lesson. He told me that if you want to be a good writer, you have to create the discipline of writing every day. He asked me to dedicate two hours every day to my writing. 'Have the discipline and the inspiration will follow' he told me. So every day I would sit for two hours in front of my computer wanting to write something. A day went by, two days went by and still I could not think of anything. This continued for three weeks and I had only three words written down! At that point it gets frustrating. But I persevered and what came out at the end of the exercise was the script of my directorial debut film Dil Chahta Hai. So my advice would be to inculcate the discipline and eventually everything will fall into place."
Mr Akhtar also shared that when he decides to take up a movie project; he stays true to his personal sense of aesthetics.He further shared that when he decided to make the movie Lakshya it was also with a sense of gratitude to the Indian Armed Forces who had then defended the country's borders from an invasion on Kargil. His aim while making the movie was to reinstate pride in a profession that engages in selfless service. "No matter what project I do, I submit myself to it" he concluded.