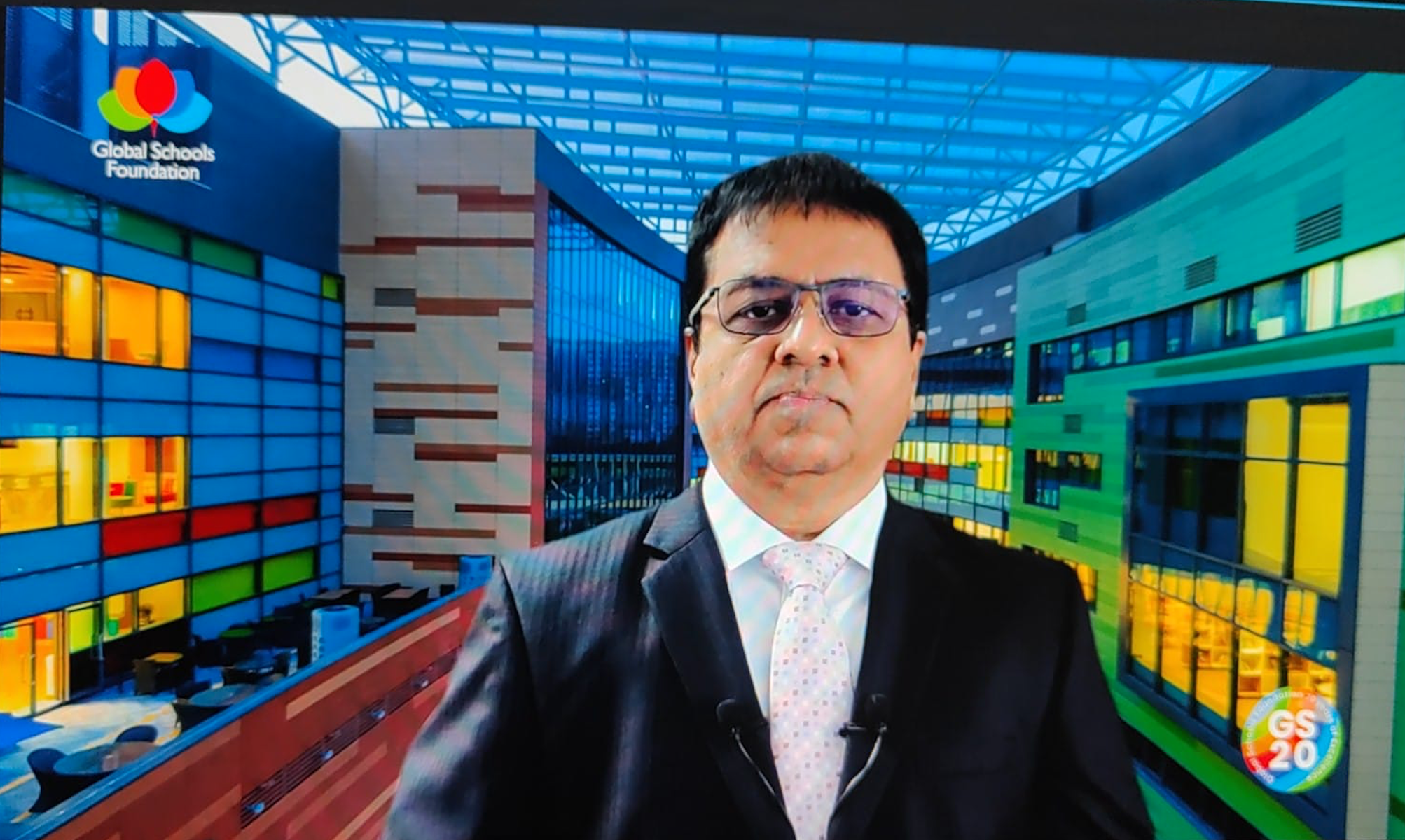 Dear GSF Family,
Today, we commence the countdown for the 20th-anniversary celebrations of the Global Schools Foundation or GSF.
On this joyous occasion, I - on behalf of the GSF patrons, advisory board members, and board of directors - extend my heartiest congratulations to each and every member of the GSF family, i.e. our students, parents, and teachers.
1. Founding Overview
A famous philosopher once said: A journey of a thousand miles begins with a small step.
For the Global Schools Foundation that small step came in the form of a tiny school that started nearly 20 years ago, with 48 students.
It had a handful of staff and a modest campus space near Singapore's Presidential palace called Istana.
I am grateful to the kind pastors of the Full Gospel Assembly Church, who were kind enough to allow us to lease their space and enable us to start a school campus.
We remember that first day of school, as clearly as we would remember any other important milestone of our life.
It was the proverbial first step in a journey that has lasted for 20 solid years and is well prepared to chart its journey towards completing a century.
The idea of the first school was born at a cafe behind the IBM Towers when a group of friends was discussing an issue that was a conundrum for ex-pats.
Those friends wondered why an international school with an Asian curriculum was missing in a city-state like Singapore - which is home to so many Western International schools?
The idea struck a chord in the hearts of one of those friends. And you must have guessed by now, that person was me!
My view was simple: have a top-quality school that provided everything under one roof on what the community wanted.
Children could have better schooling, certified degrees, and of course more time to play and be creative.
GSF was born on that instant. It was not just the need of the community but the call of the hour.
That call was answered by like-minded luminaries, visionaries, and phenomenal achievers who shared the dream of creating a strong institution that was created by the community and worked for the community.
It was the answer to the needs of the progressive South Asian diaspora which wanted an education that was holistic in nature, allowing students to Think Global and Act Local.
Today, this has hugely benefited citizens from nearly 70 countries over the past two decades.
2. Visioning by Patrons & Advisory Board Members
I have watched the transformation of Singapore since I landed in this country as a 26-year old young techie back in 1991.
This small nation has a strong footprint that has redefined the way success stories are written.
It was amazing to watch Singapore transform steadily into a smart nation, by the sheer power of logic and forward-thinking.
For me, their use of logic and common sense drove most of their generational policies, which in turn guaranteed development.
At the core of each of these policies was the idea of benefit at grass root level common man. It was inspirational.
The Singapore success story became our biggest inspiration.
We decided to use in our idea, the concept of the "grass root" benefactor or here in our case the "student", and that formed our DNA, and shaped all our policies and our efforts.
Every single founding and Advisory Board member brought in their wealth of knowledge and achievements and by contributing to the foundation, left an indelible mark on the story of GSF.
Take the example of Dr LM Singhvi, a leading jurist, and constitutional expert, who was passionate about nurturing cultural awareness in the diaspora.
He championed the cause of 21 Million Diaspora and was instrumental in GSF opening cultural centers in various countries which allowed students to have access to national languages, music, dance, ethnic games and other cultural exchanges.
Then there was Dr Justice CS Dharmadhikari. The visionary believed deeply in the concept of Peace and Universal values and came up with the idea of having a curriculum that incorporated these values in the new generation.
Thus was born the Centre for Peace & Universal Values, under the patronage of Gandhi Centre.
This showed the way to thrive in a multicultural society, where students would balance their globalized outlook with national perspectives.
Former diplomat and GSF Patron Dr Abid Hussain suggested the concept of unique holistic education, which led to the creation of 9 GEMS holistic frameworks.
The idea to balance academics with sports, skill-building, community service, values of kindness, racial harmony and happiness, in a measured and structured basis was way ahead of its times.
These were the pillars on which GSF was built, and look how strong these pillars made us as an institution.
Our GSF patrons also include big names like the legendary Infosys founder Narayana Murthy who showed us the way to excellence by giving us the idea of being benchmarked by the world's leading quality and business excellence institutions.
Then there was Prof MGK Menon, whose contributions to space science are world-renowned.
He gave the idea to set up the Global Centre for Innovation and Entrepreneurship.
GSF President, Prof Aftab Seth and GSF Vice President Ambassador K Kesavpany, Tan Sri Datuk Seri Mohd Hussin, Mr Julian Whitley, Mr Arjun Malhotra, and every single advisory member have consistently given precious guidance and support to the institution.
Over the years, many more ideas have been seeded and have grown deeper roots and wider reach.
3. Execution & Implementation.
But an organization does not run on visionary ideas alone.
Attention to detail, flawless execution and quality implementation are also a must.
A Profession of Innovation once said: Of every 1000 ideas, only one idea is implemented and 999 don't see their way. They are scrapped.
For GSF, we kept quality in execution and kept raising the bar. The initial years were those of struggle.
But then again: No journey is easy, no path is smooth and no milestone is unworthy of mention.
By 2006, Justice Dharmadhikari was reminding the executive management to prepare themselves to face attacks.
Being a community foundation, this was part and parcel of life.
He said our role was to stay focussed on our ideals and grassroots students and deliver quality education and this will convert our strongest critics into ambassadors.
Wise words from a wise man.
Needless to say, in the last 20 years, there were many brickbats, much criticism, and many challenges and threats.
We faced the scrutiny of law in some jurisdictions, even faced questions raised on us in a country's Parliament, and even faced some powerful people who did not wish well for GSF, but the truth in the end prevailed.
When we look back at the long, arduous path of GSF in the last two decades, we see not just the successes and the milestones, but also the ups and downs, the twists and turns, and more importantly, the stumbles and the balancing reflexes that we put together.
But the GSF team stood rock solid through all such instances and kept its eye focussed on the larger goal of excellence.
The entire team GSF which will have over 2000 full-time members by year-end, comprises educationists & professionals who bring with them years of experience, depth of knowledge in school education or their relevant sectors.
Learning outcomes & Technology benefits. Aiming to big data and analytics plus AI going forward
Independent, benchmarking bodies have pointed out that the value added by GSF schools has increased substantially over the years and the student learning outcomes are 25% better than their counterpart schools.
At GSF Learning outcomes didn't just transform by sheer luck, but by design.
Learning outcomes are often linked to several factors and educational best practices play an integral role in these.
GSF schools have embraced the best academic practices and Education technologies to bring the most innovations and improvements in student learning outcomes.
This was achieved with the help of our own in-house Software company which brought together a team of 50 plus strong software developers and solutions architects.
GSF will continue to enhance its big data & data analytics initiatives that provide significant insights to our teachers to improve the child's learning outcomes.
It will in the future explore the benefits of bringing in Artificial Intelligence (AI) and other emerging technologies for the benefit of the students.
4. Measuring Indices for Culture, Happiness & Kindness & Values
GSF was among the first in the world to introduce measuring indicators for school students on culture, Happiness, Kindness, and Values.
These indicators give valuable insights to raise awareness effectively among the students.
Let's now talk about the Local community
Engagement with the community has been one of GSF's strengths.
Communities related to the schools have always been at the forefront of our initiatives.
We always worked closely with the communities to bring the benefits of the school facilities to the neighborhood.
The students too could provide community service and help out our neighbors.
Today, as we are preparing to commence this eventful year with simple but impactful celebrations giving due consideration to the present pandemic situation.
Essentially we are going to witness some amazing student-led initiatives to represent all of the 20 years condensed in one.
GSF schools offer something so unique and well-designed, that the benefits were obvious to more and more stakeholders.
For the convenience of students, we have introduced multiple curricula under a single campus, excellent learning facilities, experienced teaching faculty, and a dynamic ecosystem that allows every student to thrive and excel.
They can choose the multicultural, diverse, and dynamic environment of our international schools for their children.
Over the years, the Foundation evolved with the times and worked with more and more communities across Asia and the Middle East.
GSF realized the challenges communities and nations faced and did its small part to assist the underprivileged communities and those during times of crisis such as pandemics.
Over the years, GSF has contributed to more than S$ 7 Mil in donations to charities, National funds, and community welfare funds along with Scholarships to deserving and meritorious students.
Another area that is of major concern to our students is environmental sustainability.
GSF schools are now associated with the Sustainable Development Solutions Network, a global initiative of the United Nations.
GSF schools have committed to integrating many of the United National SDGs into the school activities and become part of the Sustainable school's network.
5. Our GSF Alumni
What really drives the Team GSF is our Alumni. Today GSF alumni have spread across the world, from New York to Seoul, from Latin America to Bangalore. And it is their achievements at such an early age that are commendable.
The international schools under its umbrella grew in numbers, diversified their global reach and increased their presence in a sustainable manner.
In the process, we embraced everything that was beneficial to our student community to excel as global citizens and we have outdone ourselves as a school of excellence.
GSF has transformed into a unique Institution that represents the best of academics and Edtech.
GSF is cautiously and effectively blending newer data analytics technologies and platforms into education to give the best academic and non-academic outcomes to our students.
We revolutionized the existing learning processes to impart an education that respects every child's uniqueness and helps them to achieve success.
Through smart classrooms and smart learning, we make learning more fun and accommodate a whole intuitive world of learning.
We have been providing Blended education which has now catered to the needs of the time and has transcended into the future.
All this has translated to excellent results for the institution.
In International Baccalaureate, 70 of our students have ranked world toppers and near-perfect scores.
In Cambridge Curriculum IGCSE, more than 130 of our students have scored A* in all subjects.
In CBSE too, our students have done exceptionally well. Our Japan school has been ranked 9th by CBSE in 2020 from amongst 16,000 CBSE schools in India and Overseas for having achieved a 10th board average of over 94%.
One of our students was a World Topper in CBSE Grade 12 amongst all overseas CBSE Schools.
There were many natural challenges on the way as well. The SARS, MERS, and Covid-19 pandemics caused major challenges to the foundation, but we found a way to work around these in an effective way.
6. International Awards in School Excellence
GSF team's hard work and dedication paid off in the form of recognition by world quality organizations, who have acknowledged our achievements and awarded us for them.
Organizations like Asia Pacific Quality Organisation, Enterprise Singapore, IMC RB National Quality Awards, and others have been recognizing us with quality awards for academic and business excellence.
In fact, in June 2021, the World Book of Records has recognized GSF as 'World's Most Awarded Network of Schools' for our achievement of 235 awards.
Now we have crossed 278 quality awards and of these 77 awards have been won in 2021 itself.
Our students deserve the real kudos for these awards. Of these 278 awards, at least 20% were student-led or student involved.
Soon we aim to cross the 300 marks and I am sure before we cross 2023, Team GSF will have achieved over 500 education excellence awards.
We have improved our health and safety standards to a level that gained us the ISO 45001 OHSAS certification, and we are probably the first K12 school chain to be certified for Integrated Management System (IMS) comprising of ISO 9001 and ISO 45001 standards.??
Many of you have been on this journey with us since day 1, many joined in later and continue to this day. All of us will continue on this path of school excellence for many more years to come.
To each and every one of you, I say this: To work with students is like a lifelong marathon, where Direction is as important as speed.
As we run the marathon, let's not forget our grass-roots students, our friendly parents & community, and look at our GPS coordinates or milestones from time to time with the same urgency as we look at our speedometers.
Going forward, we wish each and every member of the GSF family to remember that keeping a finger on the pulse of the child's learning and keeping in step with the times will take us further than anything else.