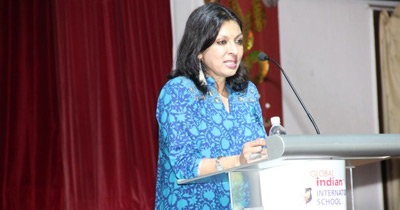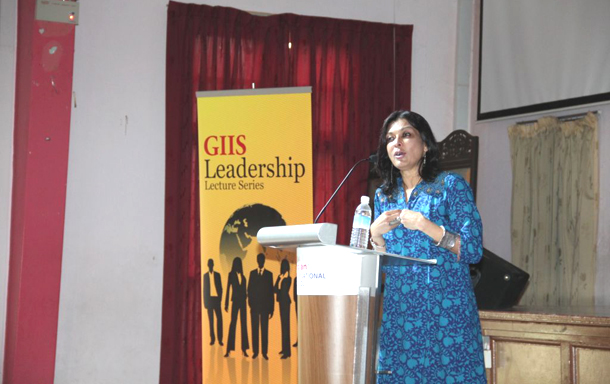 Celebrated danseuse, actress and publisher Dr Mallika Sarabhai addressed students at GIIS East Coast campus as a part of the GIIS Leadership Lecture series on 9th Nov.
In the GIIS Leadership Lecture Series, prominent personalities from various fields interact and share their insights with GIIS students. GIIS believes that achievers from different walks of life can engage, energise and inspire students to take up challenges and persevere towards success.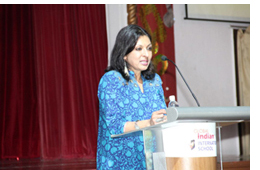 Currently at the helm of India's oldest performing arts academies, Dr Sarabhai regularly gives lectures to students at the Indian Institute of Management (IIM), Ahmedabad and several other educational organisations. The daughter of well-known scientist Dr Vikram Sarabhai and legendary classical danseuse Ms Mrinalini Sarabhai has carved a name for herself by using art as a tool of empowerment to help change the lives of countless people in rural India.
On 9th Nov, teachers and students alike welcomed Dr Sarabhai at the GIIS East Coast campus enthusiastically for a talk titled, 'Why each of us needs to make a difference'.
Dr Sarabhai pointed out to the riveted student audience that there are two types of people in society; those who blindly choose to follow the path laid down by society and those who question what they believe is wrong . She gave examples from her childhood and the obstacles she came across as she grew up in a society, which had a different set of norms than there are in the world today. The anecdotes about her and her father introduced students to Dr Vikram Sarabhai, considered to the father of Indian space research programme.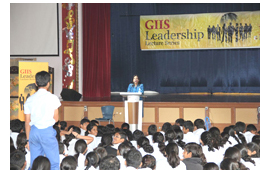 Dr Sarabhai talked about her work involving the community and critical issues of developmental concerns in India. Her techniques of leading the young children through these issues was innovative with the use of videos from theatre productions to expound on child labour, biases against girl child and other conservative dogmas which ruin society at large in rural India as well as parts of expanding metros. Students listened with a realization that this wasnt just somebody who preached but she also lived each and every word of what she said. The topics discussed by her were not new for students and yet what interested them was the understanding that she had worked first hand towards these.
In the second part of her talk she spoke about the challenges in behavioural attitudes of schoolchildren and gave examples of typical problems faced by all kids. Her talk also weaved in a variety of solutions for children to counter the problems they face. Students learnt ways to shake off anger and overcome disappointments. She told them, You must smile because it makes you feel good, not because you want a response. Although we cannot change people and their thoughts, we can change ourselves, our reactions and our thoughts." She explained to them that they needed to learn how to deal with problems without blaming themselves. "Acceptance is the key. We do not need to learn to control our anger; we only need to learn to deal with it," was one of the several pearls of wisdom students took home with them.
As GIIS East Coast Head girl Keeratika Lertnamwongwan, Class 10 put it, "She had us completely engrossed since the moment the spotlight caught her. We learnt that each of us can make a difference and each of us must make a difference. Small things, small smiles, small actions do make a difference."
A message specially penned for GIIS by Dr Mallika Sarabhai:
"Teaching is about the ability to create learners. Not about subjects or skills. To be facilitators to opening minds. As privileged children in a school like this we need to know that it is in our power to open windows of light in other people's lives. It is our duty. We owe it to the shared humanity – we owe it to ourselves."
Image link:
http://picasaweb.google.com/GIISHQ/DrMallikaSarabhaiAddressesGIISStudents#