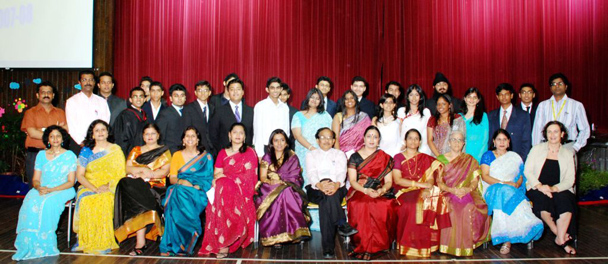 GIIS Queenstown student Apoorva Sachdeva has scored 45, a perfect score in the IB Diploma programme. We heartily congratulate Apoorva for making us proud. She has set an example for the coming batches of IB to look up to.
We spoke to Apoorva and she says that, "Both GIIS and IB Programme curricula have been instrumental in making my last two years of schooling thoroughly enjoyable and enriching. There was always something new and creative happening at GIIS in terms of house competitions, club activities, CAS activities etc that kept all of us grossly involved and on our toes. The school provided me with a lot of opportunities for personal development and gave me a platform to express myself, learn new things, meet new people, be more confident and strengthen my bonds with friends and teachers. I believe that the teachers at GIIS make it more enriching and interesting by putting their heart and soul into the Programme. Whether it was through internal assessments or explaining difficult concepts numerous times, organizing extra classes for us, they have always been there and have been very patient with each one of us. I am grateful to all my teachers for all their help and guidance. And of course, my friends who have supported me all through IB and given me golden memories to treasure!"
Sanghamitra, IB Class Teacher: It doesn't surprise me that Apoorva achieved a perfect score of 45. She deserves and has earned every point! An extremely intelligent and conscientious student, she never allowed her focus to deviate inspite of the various extra-curricular activities she has been participating in and the numerous responsibilities she shouldered as school official. You gave her work and could relax.
Omkar Joshi, Vice-Principal IB programme: Apoorva has achieved this fete as a result of attending classes regularly, meeting the deadlines and also by taking part in almost all the non-academic activities held in the school. She has put in 200% additional CAS hours with total involvement and dedication.
Apoorva Sachdev joined our school for IB Diploma in July 2006. She holds the distinction of being the second highest in Singapore in the IGCSE program with 6 A* and 1 A. She is a rare student who took two board exams at the grade 10 level - MYP of IBO and IGCSE of Cambridge.
She has continued her brilliant performance by securing the perfect IB score of 45 points in the May 2008 IB exam.
She has also secured the perfect score of 800 in all 3 SAT subject tests – Physics, Chemistry and Mathematics level 2.
She has won several awards for 'Academic Excellence' including a prestigious State bank of India award of S$5000. She has been a part of student council in various roles. In her role as Head Prefect of the school she has fostered team spirit among fellow students and is a much sought after team member.
She has shown excellent organizing skills and caring as Community Service Director of Interact Club. She spearheaded the tie up between GIIS and The Singapore Association for the Visually Handicapped.
In spite of not taking Business Management as a subject, Apoorva participated in the highly competitive 'The Singapore Stock Challenge' International competition organized by Citigroup and her team won the second prize.
Apoorva has been offered admission to three prestigious universities- NUS, University of California- Berkeley and Imperial College of London to pursue Engineering.

We wish her an excellent career ahead.