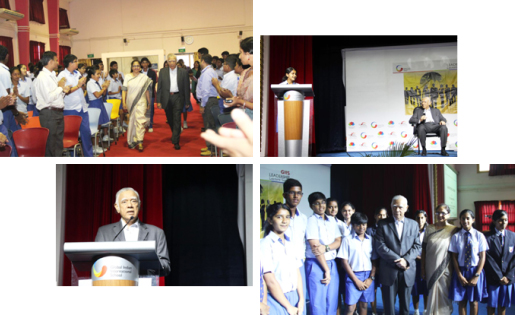 On May 14, Mr Gopinath Pillai was welcomed to GIIS East Coast Campus as part of the GIIS Leadership Lecture Series to address the students. He was received at the campus by Principal, Ms Madhu Khanna and Coordinators, Ms Kiran Garga and Ms Gita Puri.

An Ambassador-at-Large with the Ministry of Foreign Affairs, Mr Gopinath Pillai had served as Singapore's High Commissioner to Pakistan and was Singapore's Non-Resident Ambassador to Iran between 1990 and 2008. Mr Pillai is Chairman of the Management Board of the Institute of South Asian Studies, as well as Deputy Chairman of Ang Mo Kio Community Hospital. Ambassador Pillai, was awarded with the Padma Shri by the Government of India in the Trade and Industry category in 2012.

Mr Pillai started the lecture with implications of success and when does one truly achieve it. Citing an example of the 2nd World War, he pointed out that success was achieved, the western part won the war, but it divided the world into two parts, triggering off a Cold War era. "Success has to be questioned, is it durable, is it all encompassing, what is success?" He explained that in that era of history, success was not achieved in the field of politics, but in scientific, medical, health and telecommunication fields was certainly achieved. This success was durable and beneficial for mankind."

Touching upon the topic of the success of Singapore model, Mr Pillai pointed out the benefits of living in Singapore where there is law and order, where people can live with dignity are far more than many other countries. He also spoke at length about his work over more than five decades, that he started his career as a teacher before moving on to work in bank progressing from teaching to project financing to project management, general management and then as an Ambassador. He advised the students to clearly define what they want in life, oblivious to the fact that they aim for becoming doctors or lawyers or engineers. He quoted the example of Andre Agassi, Grand Slam champion in tennis, who is running free schools for the underprivileged children in USA as well as Microsoft co-founder Bill Gates who funds various causes and medical research through his foundation. As reminded by Mr Pillai, the true success of these individuals has been serving the people and creating a legacy of doing something for the community at large.

In a Q&A session following the lecture, Mr Pillai interacted with the students, answering questions ranging from his work in Iran to importance of research at such a prestigious think tank as ISEAS to the relevance of labour movement in Singapore.
Mr Rajiv Vasudeva, Country Director (Singapore), GIIS said, "To have such a learned personality as Ambassador-at-Large, Mr Gopinath Pillai - who has contributed towards Singapore in many ways from labour movement to running MNCs - was of significant advantage to GIIS students as his lecture provided them insights on the relevance of success at a global level. We are glad that under the GIIS Leadership Lecture Series, we have been able to provide opportunities to our students to meet and listen to such experienced personalities as Mr Pillai."
Link to view video excerpts of the event:



http://www.youtube.com/watch?v=IjeCE1EHxDc