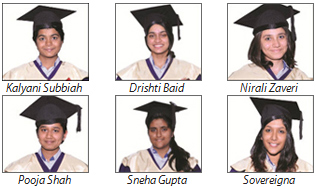 GIIS has produced yet another round of stupendous results with Kalyani Subbiah and Sneha Gupta scoring 44 points in the International Baccalaureate Diploma Programme (IBDP) Examination held in May 2013, giving credence to the institutions academic caliber.
Drishti Baid, Nirali Zaveri, Pooja Shah, Yash Mimani and Sovereigna Lakhotia added to the glory with exceptional scores of 43 points. The schools subject average stands at 6.15 with 75% students scoring 35 points and above.
Kalyani Subbiah and Sneha Guptas achievement bears testimony to the sincere commitment and value of hard work put in by teachers and students. She and her peer achievers through their sterling performances have further contributed to bringing recognition to their alma mater and its reputation of being an educational institution par excellence.
The accomplishment has spread a sense of success and euphoria among the members of the school community. The exemplary efforts and results of GIIS students will serve as inspiration to the forthcoming batches. The results are a reflection of the efforts put in by the team of teachers and students.
Achieving a 7, the highest grade possible in any IB subject is a feat worthy of celebration and the school congratulates all GIIS IBDP graduates for their exceptional scores.
Overall Outstanding Performers:
Name

Score
(out of 45)

1

Kalyani Subbiah

44

2

Sneha Gupta

44

3

Nirali Zaveri

43

4

Pooja Shah

43

5

Drishti Baid

43

6

Sovereigna Lakhotia

43

7

Yash Mimani

43

8

Nandini Karthik

42

9

Ashwin Venkatram

41

10

Gaury Nagaraju

41

11

Harini Madhavakkannan

41

12

Rusha Saha

41

13

Anamika Misra

40

14

Siddhanth Maheshwari

40

15

Sriram Sivakumar

40

Kalyani Subbiah

Drishti Baid

Nirali Zaveri

Pooja Shah

Sneha Gupta

Sovereigna
Lakhotia

Nandini Karthik

Yash Mimani

Ashwin Venkatram

Gaury Nagaraju

Harini
Madhavakkannan

Rusha Saha

Anamika Misra

Siddhanth
Maheshwari

Sriram Sivakumar
Highlights of IB Diploma 2013 Results
100% pass result
School Average is 37.97 out of maximum 45 grade points
41.66% students scored 40 points and above
75% students scored 35 points and above
80% students scored perfect 7 in Economics SL
80% students scored perfect 7 in Tamil SL
77.78% students scored perfect 7 in Physics SL
66.67% students scored perfect 7 in Computer Science HL
62.50% students received perfect 7 in Economics HL
GIIS Queenstown Campus Principal, Ms Meenakshi Mehta conveyed, "The IBDP Class of 2011-13 has produced phenomenal results. With almost 42 percent of the cohort having scored above 40 points, the commitment and perseverance is amply evident. I am confident that our IB diploma graduates have been equipped with the skills needed to excel in an increasingly connected world and are now uniquely poised for success both at university and beyond."
"The outstanding IB Diploma results reiterate the trust placed in our teachers and dedicated hard work by students," said Mr Rajiv Vasudeva, Country Director (Singapore), GIIS. "I congratulate all the students on their success and wish them all the very best for their future endeavours."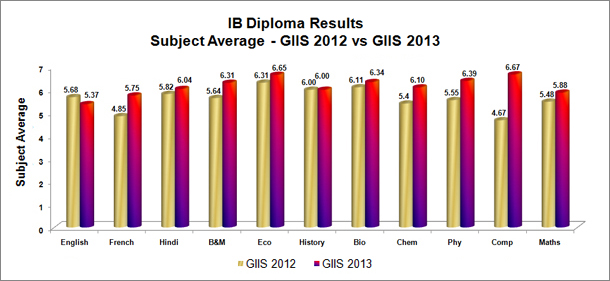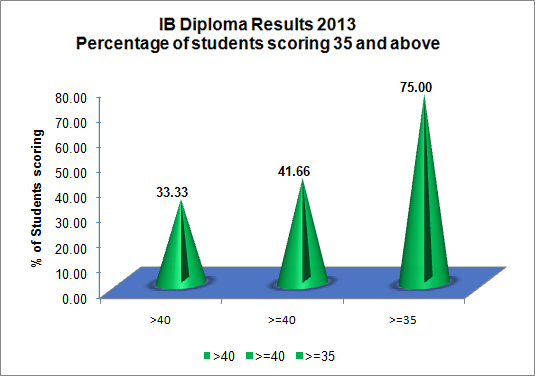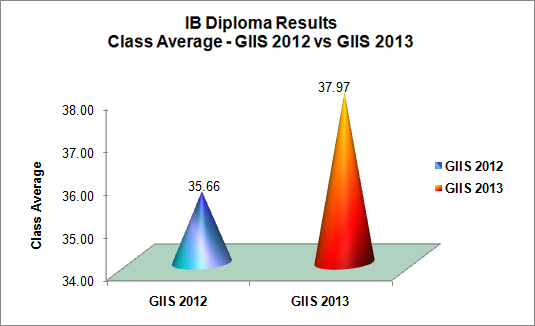 Subject Average - 6 and above
| | |
| --- | --- |
| Subject | Average |
| Economics SL | 6.80 |
| Tamil SL | 6.80 |
| Computer Science HL | 6.67 |
| Economics HL | 6.50 |
| Physics SL | 6.56 |
| Biology HL | 6.42 |
| Business & Management SL | 6.36 |
| Chemistry SL | 6.33 |
| Business & Management HL | 6.25 |
| Biology SL | 6.25 |
| Physics HL | 6.21 |
| Mathematics HL | 6.13 |
| Hindi SL | 6.07 |
| Hindi HL | 6.00 |
| French SL | 6.00 |
| History HL | 6.00 |