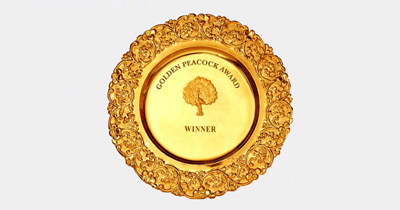 GIIS innovative approach to education delivery and business excellence practices has won recognition with the prestigious Golden Peacock Innovative Product/Service Award (GPIPSA) 2012 by the Institute of Directors. GPIPSA is designed to encourage systemic innovation in organisations, in order to offer products and services required for the 21st century. The award will be presented to GIIS team by Honble Prof K V Thomas, Minister of State for Consumer Affairs and Food & Public Distribution on February 9, 2013, at a distinguished gathering of business leaders, jurists, academics, environmentalists, economists, legislators and policy makers during the 23rd World Congress on Leadership and Quality of Governance in Bangalore, India.
Expressing happiness at the win, Mr B G Shenoy, Director, Global Centre for Education Excellence, said, "The award is a testimony for GIIS relentless efforts towards developing and deploying innovative teaching and learning approaches in line with our Vision, effectively and efficiently across all segments, to ensure every child learns happily. The award is a validation for our innovative tool used to predict results and plan results with appropriate action plans is Scientific, Logical and well accepted and rightly acknowledged by a reputed team of assessors and distinguished Jury."
The Golden Peacock Awards were initiated by Institute of Directors, an apex association of Directors, in 1991. The Golden Peacock Awards Secretariat receives over 1000 entries each year for various awards, from over 25 countries worldwide.
Award Criteria
The Golden Peacock Awards Secretariat (GPAS) instituted the 'Golden Peacock Innovative Product / Service Award'. This award is given to a product or service, which shows a quantum jump in the exploitation of current technology to achieve maximum customer satisfaction at minimum cost. While calling for more sustainable pattern of production and consumption, it motivates to carry on their pursuit of excellence.
The Golden Peacock Award
The Golden Peacock Innovative Product/Service Award - named after Indias national bird the Peacock - is awarded every year for developing the most cost-effective innovative product/service, consistent with the societys goal of sustainable development. The award would not only spark creativity and innovation throughout the enterprise, but also is the surest route to market leadership by helping the organisation thrive from the change and uncertainty that have become the hallmark of the new age.
The Golden Peacock Award is given separately for manufacturing and service organizations in different sectors.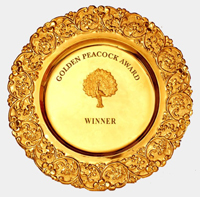 Previous winners in this award category include Hindustan Unilever Limited (FMCG; 2011), Samsung India Electronics (Electronics; 2011), CavinKare Pt Ltd (Consumer Products; 2010) and Tata Consultancy Services (Consultancy; 2009).
The Golden Peacock Awards Secretariat invited applications for the following Institutional awards for the year 2012 from Corporates including SMEs, Public Private and Government Enterprises:
Golden Peacock National Quality Award (GPNQA)
Golden Peacock National Training Award (GPNTA)
Golden Peacock Innovative Product/ Service Award (GPIPSA)
Total 173 applications were shortlisted after critical scrutiny for final selection through a 3-tier Assessment Process from 320 responses.
WINNERS
GOLDEN PEACOCK INNOVATIVE PRODUCT/SERVICE AWARD S. No

Organization
Category

1

RBS Business Services Pvt Ltd
Mumbai
BANKING (Business Services)

2

ICICI Bank Ltd
Mumbai
BANKING (Financial Services)

3

YES BANK Ltd
Mumbai
BANKING (Financial Services)

4

Convergys India Services Pvt Ltd
Gurgaon
BPO

5

Serco Global Services
Mumbai
BPO

6

Vodafone India Ltd
Mumbai
COMMUNICATION

7

Global Indian International School
Pte Ltd Singapore
EDUCATION

8

Samsung India Electronics Pvt Ltd
Gurgaon
ELECTRONICS

9

Hindustan Unilever Ltd
Mumbai
FMCG

10

Dell International Services Pvt Ltd
Gurgaon
INFORMATION TECHNOLOGY

11

Infosys Ltd
Bangalore
INFORMATION TECHNOLOGY

12

HDFC Standard Life Insurance Company Ltd
Mumbai
INSURANCE

13

The Times of India
Mumbai
MEDIA

14

Hindustan Petroleum Corporation Ltd
LPG Department
Mumbai
OIL & GAS

15

ITC Ltd
SBU: PPB
Munger
PACKAGING & PRINTING

16

Ranbaxy Laboratories Ltd
Gurgaon
PHARMACEUTICAL

17

PTC India Ltd
New Delhi
POWER

18

Comviva Technologies Ltd
Gurgaon
TELECOM SOLUTIONS

19

Karnataka State Road Transport Corporation
Bangalore
TRANSPORTATION
GOLDEN PEACOCK NATIONAL TRAINING AWARD
S. No

Organization
Sector

CATEGORY - EMPLOYER

1

Hindustan Aeronautics Ltd
Bangalore
AERONAUTICS

2

Maruti Suzuki India Ltd
Gurgaon
AUTOMOBILE

3

Tata Motors Ltd
Customer Support, CVBU
Mumbai
AUTOMOBILE (SERVICE)

4

State Bank of India
Mumbai
BANKING

5

Ambuja Cements Ltd
Solan
CEMENT

6

Coromandel International Ltd
Secunderabad
CHEMICAL & FERTILIZER

7

Indian Farmers Fertiliser Cooperative Ltd
Aonla Unit
FERTILIZER

8

1 EME Centre
Secunderabad
GOVERNMENT (DEFENCE)

9

ITC Grand Central
Mumbai
HOSPITALITY

10

IBM Global Process Services Pvt Ltd
Gurgaon
INFORMATION TECHNOLOGY

11

Hindustan Petroleum Corporation Ltd
Mumbai
OIL & GAS

12

Indian Oil Corporation Ltd
Bongaigaon Refinery
OIL & GAS

13

Reliance Industries Ltd
Patalganga Manufacturing Division
PETROCHEMICAL

14

Rosa Power Supply Co Ltd
Shahjahanpur
POWER

15

Narora Atomic Power Station
Bulandshahar
POWER (ATOMIC)

16

Steel Authority of India Ltd
Bokaro Steel Plant
STEEL

17

Ericsson India Pvt Ltd
Gurgaon
TELECOMMUNICATION

CATEGORY - JOINT ENTRY

18

Mahindra Institute of Quality
Nashik
AUTOMOBILE

19

Union Bank of India Staff College Mumbai
BANKING

20

Bharat Heavy Electricals Ltd HRDI New Delhi
ENGINEERING

21

Oil & Natural Gas Corporation Ltd
IPSHEM
Goa
OIL & GAS
GOLDEN PEACOCK NATIONAL QUALITY AWARD
GOLDEN PEACOCK NATIONAL QUALITY
AWARD S. No

Organization
Category

1

Mahindra & Mahindra Ltd
Farm Division
Mumbai
AUTOMOBILE

2

Sandhar Automotives
Gurgaon
AUTOMOBILE (ANCILLARIES)

3

Metlife Global Operations Support Center
Noida
BPO

4

Sanmina-SCI India Pvt Ltd
Kancheepuram
ELECTRONICS

5

Britannia Industries Ltd
Kolkata
FMCG

6

Ludhiana Beverages Pvt Ltd
Ludhiana
FOOD & BEVERAGES

7

Hindalco Industries Ltd
Renukoot
METAL

8

Oil & Natural Gas Corporation Ltd
Quality Assurance Department
OIL & GAS

9

Reliance Industries Ltd
Nagothane Manufacturing Division
PETROCHEMICAL

10

Aanjaneya Lifecare Ltd
Raigad
PHARMACEUTICAL

11

Larsen & Toubro Ltd
Power IC
Vadodara
POWER

12

Tata Housing Development Company Ltd
Mumbai
REAL ESTATE & CONSTRUCTION

13

Aditya Birla Nuvo Ltd
Madura Clothing
Bangalore
TEXTILES & APPAREL

14

GVK Group
Mumbai International Airport Pvt Ltd
TRANSPORTATION
SPECIAL COMMENDATION
GOLDEN PEACOCK NATIONAL QUALITY AWARD
S. No

Organization

1

Ordnance Factory Board
Rifle Factory
Ishapore

2

Logistics Park (I) Pvt Ltd
Nagpur