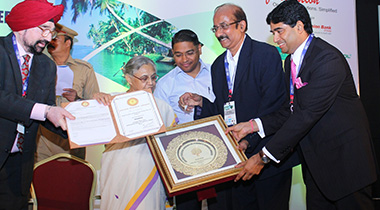 GIIS bags its 31st award, this time for Innovative Product/Service for Nine Gems - Multi Dimensional Identity of a Holistic Teaching Methodology) at the Golden Peacock Awards Ceremony on May 23, 2014 in Trivandrum, India

Globally-reputed organisations honoured at the award ceremony. These included Tata Motors Ltd Customer Support, CVBU, Mumbai, Deutsche Bank AG (Private and Business Clients) for Banking, Hindustan Aeronautics Limited, Bangalore, ICICI Bank Ltd, Mumbai, Tech Mahindra Ltd (Business Services Group) and Nestle India Ltd to name a few.

Strengthening its international footprints with glowing recognitions, GIIS has been declared winner of Golden Peacock Innovative Product/Service Award (GPIPSA) 2014 by the Institute of Directors. The Award was presented at a specially organised Golden Peacock Awards Ceremony on May 23, 2014 in Trivandrum, India in the presence of a distinguished gathering of business leaders, jurists, academics, environmentalists, economists, legislators and policy makers from varied industries and verticals during the 24th World Congress on Total Quality & Leadership.
A letter by the Golden Peacock Awards Secretariat conveys, "Global Indian International School Pte Ltd has been declared as the winner of Golden Peacock Innovative Product/ Service Award for the year 2014 (for Nine Gems - Multi Dimensional Identity of a Holistic Teaching Methodology) by the Awards Jury under the Chairmanship of Justice P N Bhagwati, former Chief Justice of India and Co-Chairmanship of Justice (Dr) Arjit Pasayat, Chairman, Authority for Advance Ruling (Customs, Central Excise & Service Tax) & former judge, Supreme Court of India & Former Chairman, Competition Appellate Tribunal of India".
GPIPSA is designed to encourage systemic innovation in organisations, in order to offer products and services required for the 21st century. The award was presented to Mr Kaustubh Bodhankar, Deputy CEO, GSF, and Mr B G Shenoy, Director, GCEE, by Her Excellency Smt. Sheila Dikshit, Hon'ble Governor of Kerala in the presence of Mr S. Chakraborty, Chief Executive, Innovative Financial Advisors and Lt Gen J S Ahluwalia, PVSM (Retd), President, Institute of Directors, Lt Gen Surinder Nath, PVSM, AVSM, (Retd), former Chairman, UPSC and Vice Chairman, Institute of Directors and Prof Colin Coulson-Thomas, Chairman of Adaptation Ltd, Policy Publications Ltd, Bryok Systems and Cotoco Ltd, UK.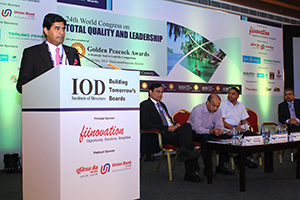 Mr Kaustubh Bodhankar was applauded for his presentation at a plenary session on 'The Role of Leadership in Driving Excellence & Sustainability'. His address outlined "how a leader must institutionalise excellence in his organisation by Giving Direction through formulating the Vision, Mission and Values; by stating High Performance Expectations of himself and the entire organization and by being a Role Model himself, so as to create a sustainable organization". He communicated how Global Schools has devised multiple communication approaches for the different set of stakeholders and expounded upon the attributes of the organisation's Culture Statement and how the leadership has linked it to the Core Values. "Leadership must respond to the continued changes in the industry dynamics and competitive landscape," he stressed. "Leadership needs to continuously challenge the status quo and explore opportunities for innovation and creativity. For example at Global Schools, we have created Innovation Champions to promote Creativity amongst our teachers and students."
In conclusion, he expressed, "At Global Schools we have won 31 international and national quality awards, a strong testimony for our leadership of having institutionalized excellence".
The Golden Peacock Awards were initiated by Institute of Directors, an apex association of Directors, in 1991. The Golden Peacock Awards Secretariat receives over 1000 entries each year for various awards, from over 25 countries worldwide.
Award Criteria
The Golden Peacock Awards Secretariat (GPAS) instituted the 'Golden Peacock Innovative Product / Service Award'. This award is given to a product or service, which shows a quantum jump in the exploitation of current technology to achieve maximum customer satisfaction at minimum cost. While calling for more sustainable pattern of production and consumption, it motivates to carry on their pursuit of excellence.
The Golden Peacock Award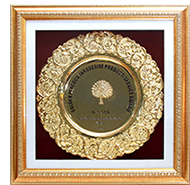 The 'Golden Peacock Innovative Product/Service Award' - named after India's national bird the 'Peacock' - is awarded every year for developing the most cost-effective innovative product/service, consistent with the society's goal of sustainable development. The award would not only spark creativity and innovation throughout the enterprise, but also is the surest route to market leadership by helping the organisation thrive from the change and uncertainty that have become the hallmark of the new age.
The Golden Peacock Award is given separately for manufacturing and service organisations in different sectors
The Golden Peacock Awards Secretariat invited applications for the following Institutional awards for the year 2014 from the corporate sector including SMEs, Public Private and Government Enterprises:
Golden Peacock National Quality Award (GPNQA)
Golden Peacock National Training Award (GPNTA)
Golden Peacock Innovative Product/ Service Award (GPIPSA)
Total 204 applications were shortlisted after critical scrutiny for final selection through a 3-tier Assessment Process from over 455 responses for the Annual Golden Peacock Award.
WINNERS
Year 2014

S.No

Company

Sector

City

Remarks

1

Tata Motors Ltd Customer Support, CVBU, Mumbai

Automobile

Mumbai

Winner

2

Punjab National Bank, New Delhi

Banking (PSU)

New Delhi

Winner

3

ICICI Bank Ltd, Mumbai

Banking (Pvt)

Mumbai

Winner

4

Global Indian International School Pte Ltd, Singapore

Education & Training

Singapore

Winner

5

Welspun Energy Pvt Ltd, Kutch

Energy

Kutch

Winner

6

Hindustan Aeronautics Limited, Bangalore

Engineering

Bangalore

Winner

7

UTI Mutual Fund, Mumbai

Financial Services

Mumbai

Winner

8

Fullerton India Credit Company Limited, Mumbai

Financial Services

Mumbai

Winner

9

Spice Retail Limited, Noida

FMCG

Noida

Winner

10

All India Institute of Medical Sciences, New Delhi

Govt (Healthcare)

New Delhi

Winner

11

Rail Wheel Factory, Bangalore

Govt (Transportation)

Bangalore

Winner

12

E-Meditek Global Private Limited, Gurgaon

Healthcare

Gurgaon

Winner

13

Bajaj Allianz General Insurance Company Ltd, Pune

Insurance

Pune

Winner

14

Lenovo India Pvt Ltd, Bangalore

IT

Bangalore

Winner

15

Hindustan Petroleum Corporation Ltd Operations & Distribution Department, Mumbai

Oil Refining

Mumbai

Winner

16

Wipro Limited, Bangalore

Software

Bangalore

Winner

17

Aditya Birla Nuvo Ltd Madura Fashion & Lifestyle, Bangalore

Textiles & Apparels

Bangalore

Winner

18

GVK Mumbai International Airport Pvt Ltd, Mumbai

Transportation (Aviation)

Mumbai

Winner