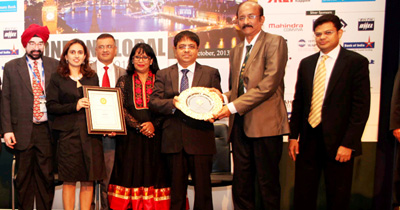 Singapore@aps@s first international school to win the prestigious award
GIIS bags its 27th award, this time for excellence in Human Resources at the London Global Convention 2013 that incorporated the 13th International Conference on Corporate Governance & Sustainability
Globally-reputed organisations honoured at the award ceremony. These included Credit Suisse Group AG (Switzerland), Campbell Soup Company (USA), Time Warner Inc. (USA) and Iberdrola S.A. (Spain) for 'Excellence in Corporate Governance', and Volkswagen AG (Germany), The Royal Bank of Scotland Group plc (UK) and MasterCard (USA) for 'Sustainability'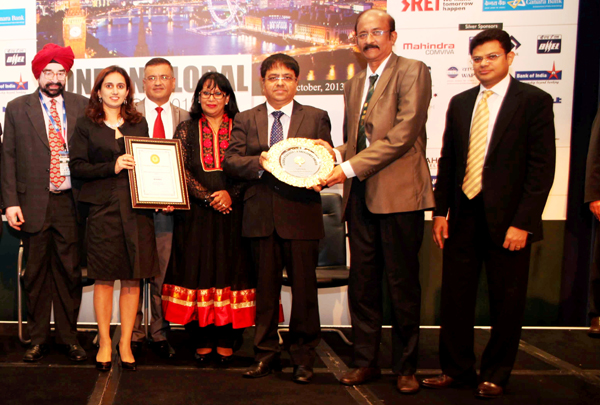 GIIS team receiving the Golden Peacock HR Excellence Award 2013 (L to R) Lt Gen JS Ahluwalia, Ms Deepti Bhanot, Mr Rajiv Vasudeva, The Rt. Hon. Baroness Verma, Mr Atul Temurnikar, Mr B G Shenoy and Mr Milind Kangle
Winner of twenty six international and national awards for Excellence in School Education, Global Indian International School (GIIS) in Singapore added the prestigious international 'Golden Peacock HR Excellence Award' for the year 2013 by the Institute Of Directors (IOD), India into its list of awards.
On October 2, 2013, The Rt. Hon. Baroness Verma, Parliamentary Under Secretary of State for Energy & Climate Change, Government of United Kingdom, presented the award to Mr Atul Temurnikar, Co-Founder and Chairman, Global Schools Foundation at a specially organised @aps@Golden Peacock Awards Nite@aps@ at the Tower Hotel in London, in the august presence of business leaders, jurists, academics, environmentalists, economists, legislators and policy makers.
The award recognises leading organisations and practitioners in driving impactful human capital strategies. It also highlights the quality of work and the impact that GIIS has had in the field of education as a result of its commendable Human Resource and people management practice.
"The Golden Peacock Award not only recognises the best practices in our management of Human Resources, it also strengthens our commitment to supplement the skills knowledge of teachers and administrative team members at GIIS. Our healthy working environment and culture has motivated our vital stakeholders like staff and teachers to strive for the best results, thus contributing positively to the overall performance of the organisation," said Mr Temurnikar.
Mr Kaustubh Bodhankar, Deputy CEO, Global Schools Foundation; Mr Rajiv Vasudeva, Country Director (Singapore), GIIS; Mr BG Shenoy, Director, Global Centre for Education Excellence; Ms Deepti Bhanot, Manager, Human Resources, GIIS; and Commander Bharat Unercat, Director Infrastructure, GSF, were also present to receive the award with Mr Temurnikar.
Furthermore, organisations like General Motors India Pvt Ltd, JK Tyres, Reliance Infrastructure Ltd amongst various other premier organisations, were adjudged as Global HR Excellence Award winners, in their respective sectors.
Key highlights of the awards function:
Guest of Honour: The Rt. Hon Mr Gregory Barker MP, Minister of State, Department of Energy and Climate Change, Government of United Kingdom
Special Addresses: Mr Ron Somers, President, US-India Business Council; Mr Sunil Kanoria, Vice Chairman, SREI Infrastructure Finance and Sr Vice President, ASSOCHAM, India
Also seen, were Mr Milind Kangle, Group CEO, Lycamobile, UK; Lt Gen JS Ahluwalia, PVSM (Retd), President, Institute of Directors, India; and Mr Amar Singh, Indian politician and member of the Rajya Sabha, India
Awards Jury: Constituted by panel of judges under the Chairmanship of Justice PN Bhagwati, former Chief Justice of India and Member, UN Human Rights Commission and Co-Chairmanship of Justice (Dr) Arijit Pasayat, Chairman, Authority for Advance Ruling (Customs, Central Excise & Service Tax) and former Judge, Supreme Court of India and former Chairman, Competition Appellate Tribunal of India
A gala dinner at the House of Lords was organised on October 1, 2013, a day preceding the awards ceremony where special business leaders and parliamentarians were present
About Golden Peacock HR Excellence Award
Golden Peacock HR Excellence Award is bestowed upon organisations that have achieved overall excellence in their HR and people management practices, thus contributing to the needs of business, the profession, employees, industry and the nation. The Award serves to confer distinct recognition on organisations and HR professionals as an employer and employee champion to bring out the best through sound and commendable HR and people management practices. Golden Peacock HR Excellence Award recognises leading organisations and practitioners in the drive for impactful human capital strategies.
Certificate - Golden Peacock HR Excellence
Award 2013

Trophy - Golden Peacock HR Excellence
Award 2013
Winners of the Golden Peacock HR Excellence Award 2013
Sl. No.

Organisation
Category

1.

General Motors India Pvt Ltd, Pune

Automobile

2.

J K Tyre Industries Ltd
Vikrant Tyre Plant, Mysore

Automobile (Ancillary)

3.

State Bank of India, Mumbai

Banking (PSU Sector)

4.

The Federal Bank Limited, Aluva

Banking (Private Sector)

5.

Aegis Limited, Mumbai

BPO

6.

Global Indian International School Pte Ltd, Singapore

Education

7.

Muthoot Finance Limited, Kochi

Financial Services

8.

Reliance Infrastructure Limited, Mumbai

Infrastructure

9.

HDFC Standard Life Insurance Co. Ltd, Mumbai

Insurance

10.

Virtusa (India) Pvt Ltd, Chennai

IT

11.

Essar Oil Limited, Mumbai

Oil