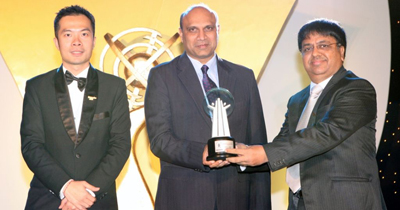 | | |
| --- | --- |
| | |
| Mr Atul Temurnikar, Chairman, GIIS receiving the Award from Mr M M Pallam Raju and Mr William Ng | Award winners with the organising committee |
Retaining its coveted title as Asia@aps@s most awarded school the Global Indian International School received the prestigious Asia Responsible Entrepreneurship Award (AREA) 2010 for exemplary contribution to community development. On 25th November at a grand ceremony held in New Delhi, the GIIS management team were presented this award to honor GIIS s outstanding efforts and achievements in active engagement and contributions toward community development. The award was given by Mr M M Pallam Raju, Minister of State for Defence India and Mr William Ng, President of Enterprise Asia to the Global Indian Foundation (GIF) and Global Indian International School (GIIS) represented by Mr Atul Temurnikar, Chairman and Co-founder.

The recognition comes for the initiative taken by GIIS in placing the well-being and satisfaction of their employees and clients at a high level as a sign of respect for their people. Commenting on the award bestowed on the Global Indian Foundation and GIIS, Mr Atul Temurnikar said, "GIIS has always strived to be a role model for social change. We are a social entrepreneurial initiative, which uses entrepreneurial principles to

organize, create and manage a social profit. Across the world East Asia, we bring together the Diaspora and measure its success in terms of the impact it creates on the society".

This award redeems Global Indian International School@aps@s leadership, commitment in incorporating responsible and ethical values, legal compliance, respect for people and individuals, involvement in communities and


Asia. The other prominent winners of the APEA and AREA 2010 in India were Lifetime Achievement Award 2010 went to Mr H S Singhania of J K Industries, Entrepreneur of the year 2010 was awarded to Mr Adi Godrej of Godrej Group, Woman Entrepreneur of the year 2010 was Ms Vandana Luthra of VLCC Healthcare Limited. Young Entrepreneur of the year 2010 was Mr Terence Lewis of Terence Lewis Inc and the Special Achievement award


The GIIS team at the awards ceremony

protection of the environment into the way they run their businesses.

Enterprise Asia is a non-governmental organization in pursuit of entrepreneurship development across the AsiaPacific region. The organization strives to promote fair and equal opportunities for emerging entrepreneurs. The organization is supported by a panel of prominent industry and government leaders who truly believe in the mission of championing entrepreneurship in


2010 was given to Mr Aamir Raza Husain of Stagedoor.

These awards strive to cultivate a culture of honest, fair and responsible entrepreneurship across Asia. With honest, fair and responsible entrepreneurial spirit ingrained within a country@aps@s culture, numerous social and eco nomic issues, including urban poverty, urban-rural income disparity, inter-racial and inter- cultural conflicts, labor exploitation and economic slavery can be diminished and eradicated.