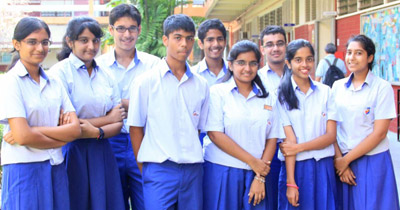 Brilliant scores achieved yet again by GIIS students in IGCSE Class 10 , 2012 exams draws attention to the consistency in academic results in competitive exams by GIIS students worldwide.

With 77% students from GIIS Queenstown Campus scoring A* and A and 100 % students from GIIS East Coast Campus scoring Distinction or Merit, the academic trail is illuminated with success. In keeping with the unparalleled track record of academic excellence, the super scorers of GIIS have carried forward the legacy of their seniors.

The results of the IGCSE cohorts from both GIIS campuses in Singapore proves once again that the exceptional academic achievement at board examinations is as a culmination of intellectual prowess, goal setting, diligence of both teachers and students and a conducive teaching and learning atmosphere.
GIIS Queenstown Campus Class 10 IGCSE result highlights:
43 students appeared for IGCSE May/June 2012 examination
100% student success
86% students secured ICE Distinction [ Highest level in ICE award ]
77% students scored A* and A
100% students secured A *and A in Additional Mathematics
92.8% students secured A* and A in Computer Science.
90.6% students secured A* and A in Extended Mathematics
88.2 % students secured A*and A in Chemistry
87.8% students secured A* and A in Biology and Physics
100% students secured A* and A amonst the current Class 10 students (June 2013) in Extended Mathematics examination
GIIS Queenstown Campus topper, Kanaka Kulkarni is quite excited about her fantastic achievement, "The joy of getting 9 A*s in IGCSE is beyond the realms of expression, and was possible due to the support of my dedicated teachers, parents and peers."

Another student, Shreenidhi Jayaram from GIIS Queenstown Campus says "I want to thank all my teachers for their continuous support through the last two years to help me to achieve these amazing score.Through my experience I have learnt that the hard work and consistency never fail."
Students

Number of
Subjects
with A*

9 and 8 A*
Kanaka Rajendra Kulkarni

9

Kuhuk Parashar

8

Nisha Sanjay Verma

8

Salonee Shubhen Phanse

8

Shreenidhi Jayaram

8

Banerjee Anirban

8

Bhatt Paras Krishna

8

Kaustav Das

8

Kaustubh Jagtap

8

Shashank Khanna

8

7 A*

Prateek Malshe

7

Varun Srivatsan

7

Sutej Robert Shingare

7

Anantya Bhatnagar

7

Aravind Srinivasan

7

Pradhan Siddhee Viraj

7

6 A*

Alysia Marilia Martins

6

N. Nickith John Williams

6

P. Camilla Roshal

6

Varun S. Rajagopal

6

5 A*

Tanvi Ambulkar

5

Megha Singhal

5

Tushar Vishnu Hari

5

GIIS Queenstown Campus toppers
What do GIIS Queenstown Campus teachers have to say about the results:



IGCSE - Coordinator Ms Sutha Ramakrishnan: It is with great pleasure I congratulate my students for their outstanding and commendable performance which is a manifestation of our excellent team work. Our dedicated teachers have given individual attention and trained our students to develop all the skills needed to excel academically. On a personal level the fantastic achievement of the biology students brings a great sense of satisfaction.

Ms Anjali Dharmadhikari, Chemistry Teacher: The excellent IGCSE results for Chemistry are the culmination of a tri- fold effort of the hard work put in by the students, the dedication of the teachers and the thorough coaching arranged by the school in the form of remedials, bench marking, intensive coaching and the mock exams. The paper solving, discussions and counselling have helped build the childrens confidence to finally achieve this feat.

Mr Giri Babu, Maths Teacher: All students have performed extremely well in Maths, with 80% students of Additional Maths securing A* and the rest scoring A grades. While the excellent result was possible mainly due to the hard work put in by all the students, the teachers provided extra guidance and practice tests for the final exams. I congratulate all the students for their achievements.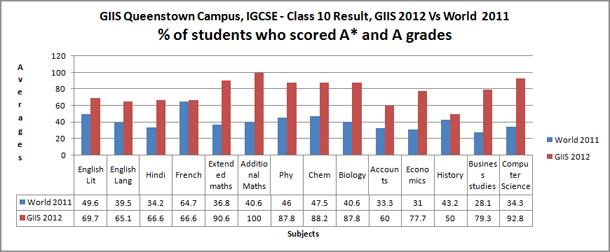 GIIS East Coast Campus Class 10 IGCSE result highlights:
100 % of students secured a Distinction or Merit
21 out of 28 students secured ICE Distinction, (an increase of 29% from June 2011) and the remaining students secured a Merit
Overall Percentage of A* and A is 70.7 % (an increase by 14% from 2011)
100% students secured A and above in Tamil and History
90% students secured A and above in Chemistry.
88.9% students secured A and above in French
86.4% students secured A and above in Physics
82.4% students secured A and above in ICT
82.1% students secured A and above in Mathematics (Extended)
100% students of current Grade 10 (2012-2013) secured A* in Extended Mathematics
GIIS East Coast Campus topper Ashwini Sridhar who scored10 A*s achieved her goal by scheduling her studies and following it up to the dot. She says, "More than me, my teachers and my parents truly believed that if I put in my heart and soul, I could achieve 10A*s. Their dreams became my goals."
| | |
| --- | --- |
| Names of Students | No. of A*s |
| Ashwini Sridhar | 10 |
| Manvi Motiani | 8 |
| Brendan Dias | 8 |
| Pareen Chaudhari | 8 |
| Aditya Mehta | 7 |
| Gauresa Nanwani | 7 |
| Monisha Sathya | 7 |
| Arshi Dalvi | 6 |
| Arunav Pal | 6 |
| Pritika Shenoy | 6 |
| Umachandar Naveen | 6 |
| Grace Baiju | 5 |
| Robin Ramdin | 5 |

GIIS East Coast Campus toppers
GIIS East Coast Campus teachers on the results:

Ms Geeta Puri, IGCSE Coordinator: It is with a great sense of pride that I wish our second batch of IGCSE students, congratulations on having achieved exceptional results. This has been possible with the unrelenting and conscientious efforts on the part of students themselves and the whole hearted support and guidance extended to them by their Principal, teachers and parents. We would like to attribute this stupendous success to the Bench- marking exercises conducted in school, which helped the students to recognize their strengths and weaknesses. It also helped them to set achievable goals for themselves and to work hard to attain them. Intensive revision sessions conducted in all subjects, at school also proved to be very fruitful.

I am glad to have been an integral part in supporting them through this journey and I wish the class of 2012 all the very best for their future endeavours.

Ms Alka Gupta, Maths Teacher: It is a great pleasure to see the excellent results achieved in IGCSE Extended Maths by the students. I extend my heartiest congratulations to the students and their families. Their sincere hard effort has made this possible. My best wishes for their future.