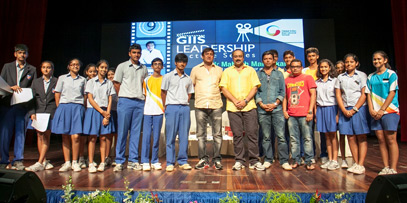 Acclaimed film director, actor and producer, Mr Mahesh Manjrekar and noted actor Mr Sachin Khedekar visited GIIS Queenstown Campus on October 5, as part of GIIS Leadership Lecture Series. They were accompanied by well-known cinematographer Mr Mahesh Limaye and Mr Ravi Jadhav, director of the children's film in Marathi, 'Balak Palak'. The celebrities' visit was highly anticipated by students, teachers and staff members at GIIS. The talk, as well as question and answer session with students, put spotlight on topics as varied as social relevance of films in India to impact of regional films in the country and career possibilities in media.

The guests were received at GIIS by Mr Rajiv Vasudeva, Country Director (Singapore) GIIS. Also present at the event were Mrs Aparna Temurnikar, Mrs Smita Wargantiwar, GIIS Principals as well as Vice Principals and parents. Comperes Meghna Ray and Varun Rajagopal introduced the guests to a rousing welcome by the students.
In the GIIS Leadership Lecture Series, prominent personalities from various fields interact and share their insights with GIIS students. GIIS believes that achievers from different walks of life can engage, energise and inspire students to take up challenges and persevere towards success.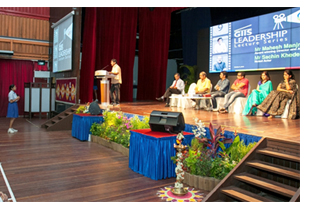 A critically-acclaimed director, Mr Mahesh Manjrekar is known for making award-winning films like Vaastav: A Reality, Astitva and Viruddh... Family Comes First. Apart from being a director, he is also an actor and producer. Mr Manjrekar gained recognition for his acting in films like Kaante (2002) and the Academy-award winning Slumdog Millionaire.

Mr Sachin Khedekar is known for his award-winning performance as an actor in films like Vaastav: The Reality, Shyam Benegals Netaji Subhas Chandra Bose: The Forgotten Hero, Astitva, Kaksparsh and TV series including Imtihaan, and Sailaab.

Addressing the audience, Mr Mahesh Manjrekar said, "Its a privilege for me to be here in this school. Its a beautiful school." He gave the audience a glimpse into his life. "The kids today are very privileged. They know at a very young age what to do in life. I am an actor, director and writer, but at one point, I wanted to do too many things. I wanted to be a cricketer and even had a wonderful coach. I became an actor by accident. I started off by doing theatre which I still do. Many years back we started a theatre group in a locality where we stay in Mumbai. The rehearsals happened at night and we started enjoying the participation. Then one day, one actress from our society bagged the role of Kasturba in the film Gandhi (by Richard Attenborough). She was Rohini Hattangadi. That inspired us to be an actor. One thing led to another. Later I switched to direction. My first film was Aai followed by Vaastav, Astitva and so on. I did about 20 films. The last film I did was Kaksparsh. It is a film I am very proud of. Sachin Khedekar plays the main lead in the film."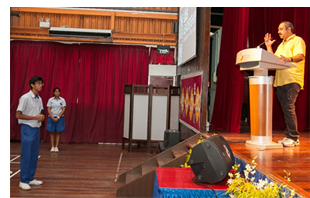 Mr Sachin Khedekar said in jest that he was so used to speaking lines which were pre-written that when he had to speak on his own it becomes difficult. He too shared with students insights on his career and his approach to his work.

"I have been an actor for 20 years now. I started with theatre, did my bit of TV and now I do films while continuing with theatre. An actors life in India is like a whirlwind, one work leads to another. There is a process about this madness and it is about improving oneself as an actor. Whatever I have learnt, I have learnt on the job. By the time I found out that there is National School of Drama, Film and Television Institute, media schools, I was already working and I could not go back to learning theory. For students like you who want to learn about TV and media there are schools which offer these subjects. I believe every art has a theory and this can be learnt. In theatre you go through a process where you learn about posture, voice, expressions and one would have to think how it can be inculcated while working in front of the audience. I was lucky to get some good directors and good friends like Mahesh."

He said that the most important day of his life was when he was offered the role of Subhas Chandra Bose by Mr Shyam Benegal. "Mr Benegal briefed me for about three months and we worked on the film for about two years. The film had everything an actor could ask for, it had a grand script, it had scale and costumes. Every time I did a scene, I was briefed a lot as the script was derived or had references from 40 different books. From one scene to another there would be gap of three months and Mr Benegal said that if you would do the scene in continuity you would know what had transpired. The process felt fruitful when I saw the film and I felt that I have convincingly portrayed the character." Mr Khedekar confessed that the film, Netaji Subhas Chandra Bose: The Forgotten Hero had changed his outlook towards his work and personality. He added, "More than what an actor can give to a role, a role teaches you a lot more individually. What is left in me is a whole lot of roles now. I wanted to live differently and I am still managing to do that."
Interactions with these prominent personalities from Indian cinema left the students and audience enriched. The question and answer session that followed, gave students an opportunity to get further insights from two inspiring personalities.
Q & A session with Mr Manjrekar.

Syamantak Das: You have won a National Film Award and Star Screen award for Astitva. Do these awards pressurise you to work better or do they give you more satisfaction?
Mahesh Manjrekar: I do not rely too much on awards but you certainly feel gratified that someone is appreciating your work. What happens is there is a jury which decides the award. Five people see films and select the best out of that. So those five people might like a different genre and it implies that the jury has liked your film. I do not lose sleep over an award and I do not feel bad if I dont receive an award.
Shreya Bhattacharya: I liked your film Vaastav. You have been an actor, director and producer. Which of these do you enjoy doing the most?
Mahesh Manjrekar: I enjoy direction the most because I lead a team; I am the captain of the ship. A director creates something. I am also a storywriter. I write my stories, so when I make a film it gives me tremendous satisfaction to see it taking shape. I like to do acting because it is my bread and butter but I love directing. Every day I write a story in my head and I can visualise that film.

I feel you all should write a story. Technically, you learn a lot of things when you do a course in direction. If you want to take inspiration, you should take it from your grandmother. If she tells a story brilliantly, what a director does is that he tells the story to the audience in a good way. A good director can make even an ordinary story look good. You should write 60 scenes to begin with, that is how a screenplay is written. The technical things will come later.

Rasika Kale: You have made so many films with so many different storylines, so what exactly inspires you to make a film?
Mahesh Manjrekar: Anything. If you look around you, that is your source of inspiration. I made the film Vaastav on the life of a gangster who becomes useless at the end. When he becomes a vegetable he knows he is cornered and tells his mother to kill him because a gangster without a gun is the biggest coward in the world. Astitva came about when my daughter was born. In India, women do not even retain their names so I had a question that is my daughter going to carry my name. With that thought, Astitva was born.
Rujuta Khanapurkar: In India, as a film director, what sort of challenges does one face?
Mahesh Manjrekar: Film making in India is actor-driven, that is the biggest challenge. Actors decide what films will be made. If you go to the West, directors are the bosses. I do a lot of Marathi cinema because I can do my kind of films. In Hindi films, actors have a very short attention span, only 1 1/2 minutes! They want to see what they are going to do so they prefer doing remakes of Telugu, Tamil, English and French films. That is a big hurdle. In the Hindi film world, an actor wants to see what he is going to do. Then there are producers who believe that they know what the audience wants. So to convince a producer to do your type of cinema is going to take a lot. I had thought of Kaksparsh four years back but I could only do it last year as every producer I spoke to said it wont work, so I produced it myself.
Students were eagerly awaiting an opportunity to ask questions to Mr Khedekar and he enthusiastically answered their questions.
Aditya Devsharma: Sir, how do you manage to convey your emotions whether you are in theatre or in film?
Sachin Khedekar: An actor is always cushioned. A writer has written a script for about a year, a director has worked on the script for six months, the cameraman has set the shot, when the actor comes there on the set, he knows what he has to do but in the whole process, 90% of the work is done and 10% is what the actor has to give. He has to convince the audience about his role. The line would have an emotion and you would try and speak the line as if its happening to me now to make the audience believe in you. It comes with experience
Sreya Koman: Sir, you are known for your sensitive portrayal of roles. What gives you as an actor such depth to enact your roles?
Sachin Khedekar: I really like acting and I am at a stage where I want to prove myself again and again. The most inspiring thing about acting is the role, the portrayal of the role and the process through which you go to do that. The process is the most interesting part for me, the result is the afterthought. Whether the audience likes it or not is another thing but the actor-director, actor-cameraman, actor-writer relationship is what I thrive on.
Anagha Mandhare: Sir, in the film industry there are many challenges for you to face every day. Is it important to have a godfather in the film industry?
Sachin Khedekar: Yes, it helps to have a godfather in the industry. I am a purist at heart. I want to do things as they are without manipulation. But in India, 99% of the films are made with the sole motive of entertainment. I want to do meaningful films which rarely come my way. The task here is to do meaningful films and make a difference. Working in Marathi films helps as we can do thought provoking films.
Mr Ravi Jadhav, also answered questions from students:
Paras Bhatt: In your opinion when a film director makes a film should he go for complexity or controversy?
Ravi Jadhav: I think he should go for simplicity. When any director chooses a topic, he is socially conscious as there are thing happening around him. There are two kinds of stories, one is made for social awareness and another is when media is the vehicle for a social message through entertainment and both are very important.
Mr Mahesh Limaye, cinematographer for popular films like Heroine, Fashion, Dabangg, and a childrens film Balak Palak among others was also present at the event.
Palak Sharma: What is your inspiration for making movies such as Balak Palak?
Mahesh Limaye: I have done cinematography for the film. In the media industry, there are many different fields and in future if any of you are interested in pursuing there are many mediums for you to master. You can become a master if you have passion and patience, because you need a lot of patience in this industry. You have to work for years to achieve something. You learn something every day from your director or actors and the best way to learn more is to observe the process around you and then adopt it in your work.
The special visitors expressed their happiness at being able to visit GIIS, with words of admiration for the campus.