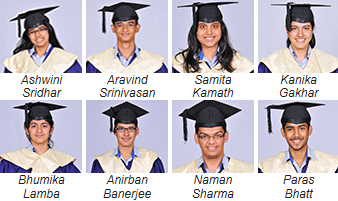 Ranked among IB world toppers, Kaustav Das has achieved a perfect score of 45/45
GIIS IB Diploma Results 2014
GIIS IB Diploma Results since 2007

Ranked among IB worldwide toppers Kaustav Das has achieved a perfect score of 45/45
7 students achieve near-perfect scores of 44/45
22 students achieve IB scores of 40 and above

3 IB worldwide toppers
12 students achieved near- perfect scores of 44/45
52 students achieved IB scores of 40 and above
GIIS students have scaled new heights of success in the International Baccalaureate Exam 2014 with 61% students scoring 35 points and above. The phenomenal results achieved by the students stand testimony to the hard work and dedication put in by them during two enriching years 2012-2014 for which the school and its teachers applaud them. The class average stands at a high of 36.4 points.
The school has achieved groundbreaking results with 82% students receiving grade A in Hindi and 100% students receiving grade A in Tamil, Mathematics, World Studies and Geography Extended Essay.
Ms Deepa Chandrasekaran, IBDP Coordinator, GIIS Queenstown Campus conveyed, "I am happy that the IB batch of 2014 has produced excellent results - a testimony to the efforts of the students and dedication and commitment of the IB team. The months of planning, streamlining the processes of benchmarking and the focused attention paid to students equipped the students to handle the rigour of the IBDP programme and the exams."
Results highlights:
33 % students scored grade points 40 and above
61 % students scored grade points 35 and above
School average is 36.4 grade points
25 % students got A grade in TOK
36 % students got A grade in EE
82 % students scored A grade in Hindi EE
50 % students scored grade point 7 in Business SL
65 % students scored grade point 7 in Economics SL
67 % students scored grade point 7 in Tamil SL
100 % students scored grade point 7 in History SL
100 % students scored A grade in Tamil EE
100 % students scored A grade in Mathematics EE
100 % students scored A grade in Geography EE
100 % students scored A grade in World Studies EE
School Toppers
Ashwini
Sridhar

Varun
Rajagopal

Kaustubh
Jagtap

Samita
Kamath

Aravind
Srinivasan


Kanika
Gakhar

Anirban
Banerjee

Bhumika
Lamba

Naman
Sharma

Paras
Bhatt

Akshay
Nayak

Anantya
Bhatnagar

Srishti
Arora

Tanvi
Ambulkar

Pareen
Chaudhari

Kuhuk
Parashar

Kanaka
Kulkarni

Ashish
Agarwal

Salonee
Phanse

Vipha

Pratik
Malshe
| | | | |
| --- | --- | --- | --- |
| Kaustav Das | 45 | | |
| Ashwini Sridhar | 44 | Varun S Rajagopal | 44 |
| Kaustubh Jagtap | 44 | Samita Kamath | 44 |
| Aravind Srinivasan | 44 | Kanika Gakhar | 44 |
| Anirban Banerjee | 44 | | |
| Bhumika Lamba | 43 | Naman Sharma | 43 |
| Paras Bhatt | 43 | | |
| Akshay Nayak | 42 | Anantya Bhatnagar | 42 |
| Srishti Arora | 42 | Tanvi Ambulkar | 42 |
| Pareen Chaudhari | 41 | Kuhuk Parashar | 41 |
| Kanaka Kulkarni | 41 | Ashish Aggarwal | 41 |
| Salonee Phanse | 40 | Vibpha | 40 |
| Pratik Malshe | 40 | | |