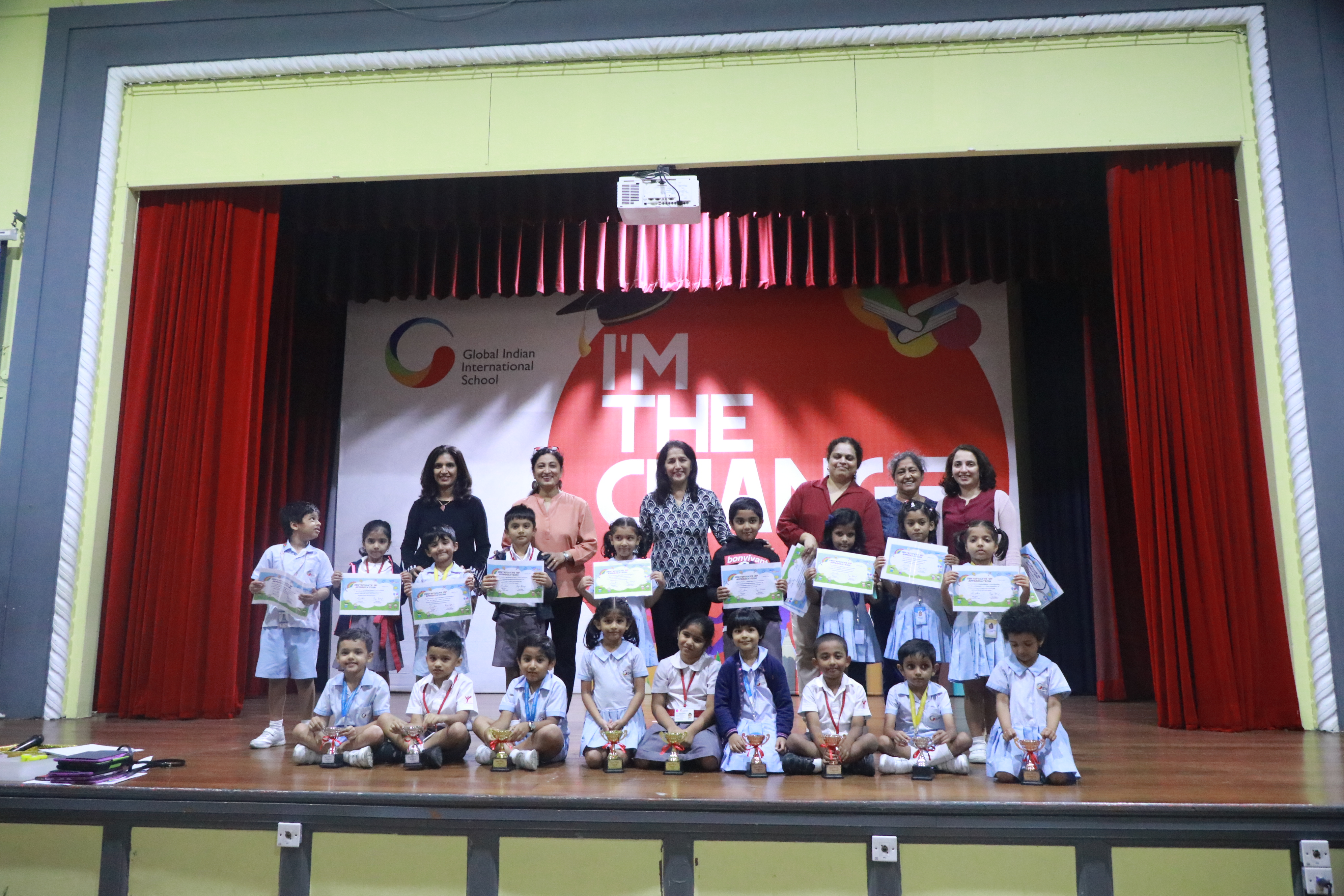 To break away from classroom learning and to encourage students to think critically from an early age, GIIS, East Coast Campus organised Hi-Q quiz, an inter-school quiz competition, for K2 students on September 18, 2019, to emphasise on the improvement of the intellect and general knowledge of the students.
Students from Yuvabharati Kindergarten, PG SMART Campus and GIIS East Campus Campus took part in a highly interactive competition with enthusiasm and zeal.
Eighteen students were teamed into a total of 6 teams with 3 students of each school representing a team. The teams were named after flowers in alphabetical order - Aster, Bluebells, Carnation, Daffodils, Edelweiss and Fuchsia. It was interesting to watch the 6 teams working collaboratively to earn their scores.
They were quizzed on an amalgamation of exciting rounds which comprised of phonics, reasoning skills, language, GK, unscrambling words, logo identification, rhymes, compound words, rebus sentences etc. This is the first time students were given i-pads for the maze round thereby integrating technology.
The competitors fought hard to compete against each other. It concluded with Team Edelweiss as the 2nd runner-up, Team Carnations as 1st runner-up and Team Daffodils were declared the Winners. All the participants were given participation certificates.
DAFFODILS - WINNERS

Names of Students

MARIA JOSHNA ANAND - EAST COAST CAMPUS

AVYUKT KOZHAKKAT – PG SMART CAMPUS

SNIGDHA SRIKANTH SRIKANTH SAMBASIVAM – YUVABHARATHI INTERNATIONAL SCHOOL

CARNATION – 1st Runners-up

S.NO.

Names of Students

1.

AVYUKTH CHAKARVARTHY - EAST COAST CAMPUS

2.

ABIR NANOTI – PG SMART CAMPUS

3.

BALAJI KARTHIK HAVISH DHYUVAN – YUVABHARATHI INTERNATIONAL SCHOOL

EDELWEISS – 2nd Runners-up

S.NO.

Names of Students

1.

SHLOKA CHENGI - EAST COAST CAMPUS

2.

SHAMBHAVI ASMITA – PG SMART CAMPUS

3.

AARAV SAVITHA VENKATRAMANAN – YUVABHARATHI INTERNATIONAL SCHOOL