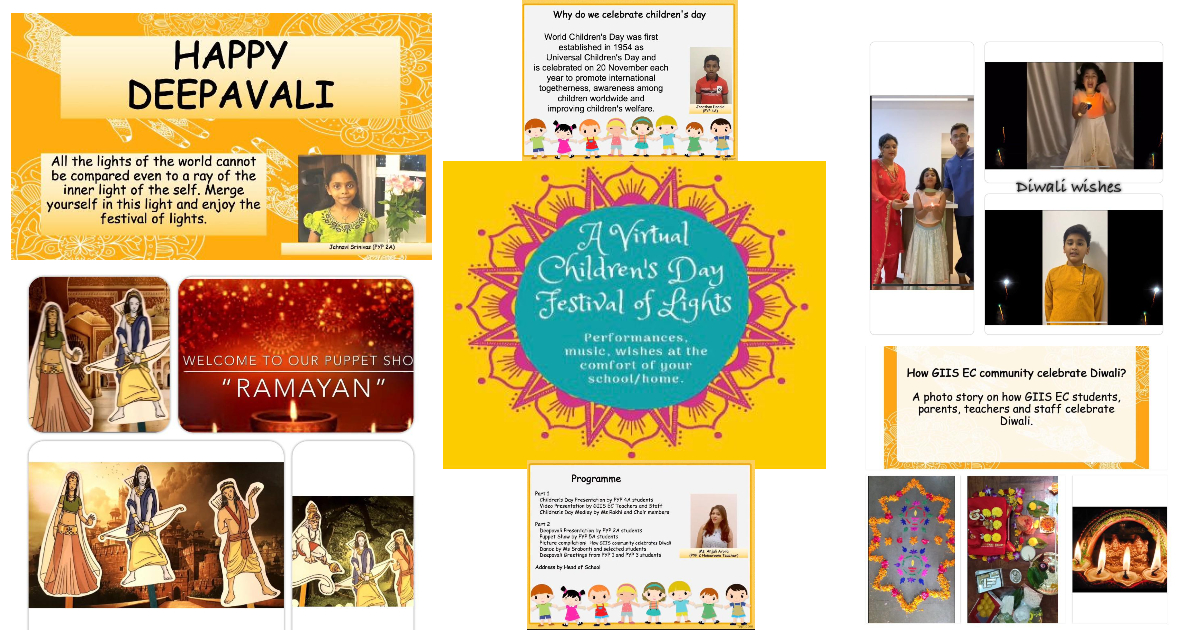 The celebration of Deepavali, the festival of lights came alive at GIIS East Coast campus on 13th November when the whole school gathered to celebrate Deepavali and Children's Day. The celebrations culminated with a virtual get together where the entire school assembled to celebrate two major events of the week –Deepavali and Children's Day. The entire venue was filled with colour and excitement.
The PYP students got the opportunity to share and lead the assembly for the entire school. The PYP community of students, teachers got together leading the presentations, puppet show and greetings.
PYP 1 and PYP 3 students filled everyone's hearts with the Deepavali wishes and messages.
PYP 2 students shared facts about Deepavali and delivered the beautiful message that all the lights of the world cannot be compared even to a ray of the inner light of the self.
Students of PYP 4 spoke about the significance and importance of Children's Day.
PYP 5 students chose a puppet show as a way to introduce the story of Ramayana, which was definitely, a must-watch for everyone!!
The East Coast team of teachers and staff organized a fun-filled dance video presentation for the students which was very touching and loved by the children, parents, and teachers. All the beautiful thoughts, colours, lights, dancing and excitement filled the air with the festive beats.
In the classes, children shared sweets and goodies with their friends, teachers and also participated in the celebrations and demonstrated rangoli, flower arrangements and Deepavali crafts.
Celebrations are a time to reflect and evaluate our thoughts, words and actions. It is a time to discover how we can be loving, kind and respectful towards ourselves and others. GIIS East Coast was truly lit up with smiles and good cheer with the celebrations of the Festival of Lights and Children's Day.