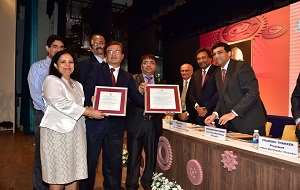 • With an extraordinary score of 900/1000, GIIS East Coast Campus becomes one of the very few institutions in K-12 sector, to have ever neared 900 in IMC assessment
• GIIS East Coast Campus also won the Making Quality Happen (MQH) trophy in the 'Overseas Category'
GIIS East Coast Campus, Singapore has been recognised for excellence in providing quality education with the Indian Merchants Chamber (IMC) Ramkrishna Bajaj National Quality Award (RBNQA) for the year 2014. The award was presented at the 18th 'Making Quality Happen' an annual conference held on 19 - 20 March 2015, in Mumbai.
The Chief Guest for the ceremony, Mr Viswanathan Anand, former World Chess Champion presented award to Mr Atul Temurnikar, Chairman and Co-Founder, Global School Foundation (GSF); Mr Kaustubh Bodhankar, Deputy CEO GSF; Mr B G Shenoy, Director, Global Centre for Education Excellence; Mr Rajiv Vasudeva, Country Director GIIS Singapore and Ms Melissa Maria, Principal, GIIS East Coast Campus.
"We are humbled with this recognition from the prestigious IMC. This recognition acknowledges the breadth of quality education we provide and particularly our core philosophy of a school that learns," said an elated Mr Vasudeva.
The two-day award ceremony included a competition amongst the winning organizations in segmented categories for the MQH trophy. The competition focussed exclusively on best practices and ordained organizations to demonstrate the entire cycle – right from identifying issue, developing a practice innovatively, deployment and thereon monitoring the best practice for effective results. GIIS East Coast Campus clinched the MQH trophy in the 'Overseas Category'.
Based on the Malcolm Baldrige excellence model of US, the IMC RBNQA recognise excellence in six different categories such as manufacturing, service, small business, service, overseas, education and health care. One of the prestigious national quality awards in the India, IMC RBNQA process follows rigorous training and evaluation. Mr Prabodh Thakkar, President, IMC, said, "At the Chamber, we view the IMC RBNQA process as a catalyst for nation building. The award promotes Performance Excellence focusing and encouraging a system oriented approach in the organisations."
Speaking on the award, Mr Niraj Bajaj, Chairman, IMC RBNQA Trust, said, "The IMC RBNQA criteria provide a proven framework as well as best practices for achieving world-class quality. Over the past eighteen years, organisations that have adopted these criteria have grown from strength to strength. The USP of the IMC RBNQA process is the high quality of certified examiners in our mega pool. More specifically, the competencies of the examiners with respect to fundamentals, as well as their adherence to a code of ethics. They are adept at harvesting best practices of applicant organisations." Established in 1907, The Indian Merchant@aps@s Chamber is recognised as India@aps@s top chamber of trade, commerce and industry with over 3000 members.
During the award ceremony on March 20, 2015, Mr Anand, said, "Failures motivated me to be better each time and it's not over till you finish a job. I became a world champion then. Failure can teach you some very important lessons. New challenges, new ways of learning adaptability to technical changes, etc. should be accepted well. I would like to congratulate all the winners for making a mark."
[@NewsTemplate]