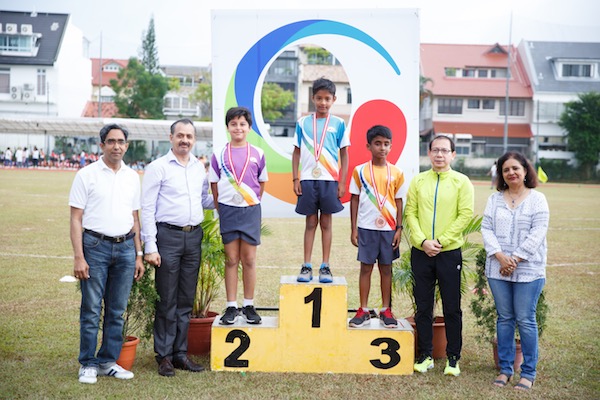 The much-awaited Sports day for the Primary and Kindergarten students of East Coast campus and the Kindergarteners of Mountbatten campus was held at L.M. Singhvi stadium on 24th February 2018. The chief guest for the day was Mr David Shum who is a certified running coach with the Singapore sports Council and the International Association of Athletics Federation. Besides being a marathon runner, Mr Shum has published a book titled, 'Just One step' which includes running related tips raging from shoe selection to training programmes.
The event began with a rendition from the school choir, following by synchronized march past by the four houses. The Sports Day commenced with the hoisting of the Olympic flag and the school flag by the chief guest and the school Principal Ms. Melissa Maria.
Mr Shum in his address emphasised the core values of the school, and their application in sports in order to become a true sportsman. The pupils of classes 3 and 4 displayed their agility, strength and co-ordination in the form of gymnastics which was highly appreciated by their parents.
The track events under various categories kept the spectators glued to the finishing line. Enthusiastic parents participated in 400mts dash. Medals were given to the respective winners of various events. The pleasant morning witnessed drills by the students of classes 2, 3 and 4 who presented free hand exercises to a peppy beat. The boys and girls of the lower primary formed a sapling on the field depicting our school's vision in nurturing global citizens through the nine gems model. The formation also reflected our universal message of conservation which we practice as a green school.
The tiny tots from the kindergarten and the primary one were equally enthusiastic in participating in various events like, Buddy race, Scatter matter race, Pool Noodle Tower Race and Catchoola Race where they worked in pairs with a hula hoop around their waist, passing a ball from one pair of hooped students to another until the ball reached the finish line. Next, was the Tunnobstacle Race where students passed through tunnels and obstacles to reach the finishing line.
Some of the other interesting races were Uniball race where children carried gymball with sticks to finish the race. In Stick Step Race a duo balanced a ball with a pair of sticks to reach the finishing point. It was an absolute delight to see our little ones fighting it out for the winning positions. Our first graders showcased their sporting vitality in different races like 60mts and 4 x100 mts relay.
The stadium reverberated with loud cheers by the students supporting their respective house and exuberant parents passionately cheering for their wards. The eventful day drew to a close with the rendition of the national anthems of Singapore and India.