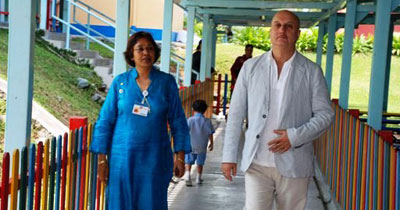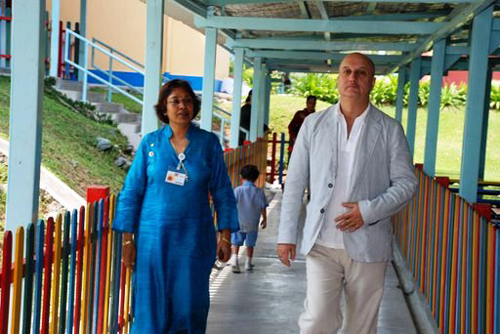 Mr Kher with Dr Anju Aditya
EC students from Class 5 to 10 were thrilled to get an opportunity to interact with well-known Hindi film actor Anupam Kher. He appeared eager to meet the students when he arrived at the campus. Anupam Kher has acted in 368 films and has won several awards for acting. He trains would-be actors in his acting school called Actor Prepares in Mumbai and other cities in India.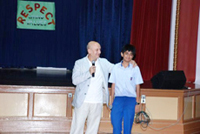 Mr Kher with student Shariq
The students greeted him with a loud applause when he entered the auditorium. EC Principal Dr Anju Aditya welcomed him and invited him to talk to the students. Mr. Kher started by talking about his teachers and told the students how he was unable to converse in English until he came to Mumbai and learnt it. He said, "I had to teach myself to be patient. Once Mr Malhotra asked me if I could gamble and I said yes I am gamble! I had teachers who were very devoted to teaching and so was my Principal. They spent day after day doing the same work, teaching patiently. A teacher's job is the most selfless job in the world…. I consider myself very lucky as many people come to Mumbai to become actors, out of which only 0.1 % succeed, and I'm part of that…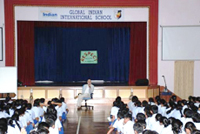 Mr Kher answering questions
from students
When I was younger I got hurt and couldn't speak the letter 'k', but my school Principal told me to fill my mouth with marbles and practice. I tried hard and became successful. I came to Mumbai 23 years ago to become an actor after completing my training at the National School of Drama and struggled to survive in the tough world of films. The path of truth and honesty may appear longer but it stays longer with you."
Mr Kher took a break from talking and invited the students to ask him questions. Many students raised hands for permission to satisfy their queries. Some of the questions are highlighted below.
Student: Who is your role model?
Mr Kher: My grandfather is my role model. He was a very learned man and I spent the first 15 years of my childhood with him. I learnt about Mahabharata, Ramayana and Geeta from him among other things.
Student: Sir, what inspired you to become a successful person?
Mr Kher: I don't know if I'm successful. People feel I'm successful because they see me in popular movies. But I don't think that a successful person has anything to do with a successful profession. I'm a successful person because I didn't change my personality after coming to Mumbai and because I'm a great optimist.
Student: Who inspired you to become an actor?
Mr Kher: Frankly speaking my primary school teachers in Shimla were my inspiration.
Student: What quality do you need to be an actor?
Mr Kher: No quality is required. Can you lie? If you can lie you can be an actor.
Having said this, Mr Kher invited the student Shariq to come forward and enact a line as a son whose bag is stolen. He helped Shariq to improvise and thus demonstrate that anyone can act.
As he signed the guest book at the school Mr Kher said that acting is the best form of expression and students should be taught acting.